OGC Newsletter - May 2004
OGC News:
May 2004CONTENTS
Presidents Message
CTO's Message: Thank you. Goodbye. Hello
Plugfest!
GSDI In The News
Website of the Month
DEPARTMENTS:
IP Update
,
New Members
,
OGC In The News
,
Events
,
Contact
,
Subscribe/Unsubscribe
Back issues of OGC News are
available
.
PRESIDENTS MESSAGE
The Next Level: Helping Those Who Are First to Respond to Local and State Needs
In this time of "homeland security", "infrastructure protection", "location services", and other areas of spatial application that are still not quite "there" yet in terms of traditional "market metrics", it seems to me we should remember our roots. That is, we should look at "going to the next level" in terms of how our work benefits the extensive base of contractors, integrators, consultants and service providers that have been struggling for years with the problem simply of how to make our communities, institutions and governments work better through use of geospatial data and services.
I do not mean to say that eying the future of "spatial killer apps" and portal visions of fully integrated virtual earth models is a waste of time. I have, in fact, done my share of promoting such possibilities. But here where I sit on the front lines of "interoperability," it becomes more obvious by the day that what is truly more relevant than such dreams is the need to help technology providers working at the most basic levels of civil infrastructure to make society and our institutions work better and cost less. And that if anything constitutes going to the next level for OGC, it is developing the capacity to transfer the consortium's experience and technical know-how to this channel, and to bring these companies en-masse into the consortium process and create a requirements dialogue that results in extending the benefits of interoperability more generally and more rapidly throughout society.
In this regard, the "next level" simply put means making sure that the developments facilitated by the consortium are transferred as quickly as possible through existing channels and brought to the community of users in terms of efficiency and automation, economical data access, institutional resource sharing, and generally more cost-effective operation.
For the consortium, this may mean focusing more on outreach and uptake than on advanced development in the near term, but what we and society stand to gain in the process more than justifies the effort. OGC staff and I have been calling on civil engineering firms, local and regional integrators, resellers and solution providers, and the results are very gratifying. These companies, large and small, are truly the "first responders" to the spatial information integration needs of local, provincial, and state governments, utilities and businesses. Their customers face cross-jurisdiction disaster response requirements, pressures to deliver services more efficiently, challenging physical infrastructure projects, data mandates from funding agencies, and multi-vendor CAD/GIS integration conundrums. Undaunted, these companies see in these challenges opportunities to build open web-based systems that are less expensive, more capable, and more adaptable than anything possible before.
We are heartened by these companies' enthusiasm for interoperability. Now that the OGC's technology baseline, basic architecture, compliance testing and other resources are available, they are interested in applying OpenGIS standards, becoming involved in consortium programs, and creatively applying vendors' interoperable products. In the past, they had to provide solutions and services in a world of very limited choices. One vendor and that vendor's third party product suppliers couldn't meet every need. Customers today want open Web-based access to information and collaboration resources. OGC Web Services make it easy for providers to add extraordinary spatial capabilities to such open, Web-based solutions.
These engineering firms, integrators, resellers and solution providers are on the front line, and their comprehensive participation in OGC very definitely defines a next level for OGC growth. They know the neighborhood, whether it's a state or provincial department of transportation or the local health department. They are up to speed and ready to go to the next level themselves, providing better solutions and services than before, at lower cost, choosing the best products for their customers from a wide selection of interoperating products. This is an auspicious time for their customers, and a time in which the spatial market will surely find its "next level."
David Schell
President, OGC
CTO'S MESSAGE: THANK YOU. GOODBYE. HELLO
As most of you know, after helping to start OGC and serving as Chief Technology Officer for 10 years, I am leaving in June to become president of Image Matters, an OGC member company. I'm leaving OGC because I decided it's time to take on a new challenge and because I have the utmost confidence that OGC will continue to develop and maintain the open standards on which Image Matters and many other companies depend. I can't tell you how rewarding it feels to have come to this point, and how grateful I feel. So many of you have contributed so much to OGC's success. Thank you!!! We have such a solid foundation now, and so many rich opportunities.
OGC is entering a new phase. It is now a mature standards organization. Though plenty of new specification work remains, maintenance of existing specifications and operation of the compliance testing program are now critical functions. Also, outreach is now more important than ever to our members. This is because, for both technology providers and technology users, much of the return on their investment in OGC depends on growth in the worldwide network of interoperating geospatial resources that the standards enable.
I want to participate in the growth of the market. We have attained industry buy-in to an open architecture that is being adopted by enterprises and governments around the world. It is a key part of all Spatial Data Infrastructures. Standards-supported growth is apparent, not least in Location Based Services (LBS). OpenLS, along with complementary OMA specifications, is now THE critical set of standards in LBS. One thing gating growth in LBS was the arrival of open standards. Now the value chains are forming and the services are reaching the market. This is happening in other markets, too, wherever people understand the value of interoperability and spatial intelligence.
In my new position I will promote OGC specifications and the architecture they enable, because I see their value for users. I will continue to advocate for OGC because it will save my company and my customers time and money to have quality, robust open interfaces. I wouldn't work for a company that didn't understand the importance of building on this infrastructure.
I hope that users and vendors will join me in expressing requirements and helping develop and refine the specifications. We are past the point where vendors can contemplate *whether* to adopt the specifications. Now every vendor in our market needs to actively focus on *which* specifications to adopt, and which ones to push forward in the specification process.
I remain committed to the ideals and objectives of OGC and I want to stay connected to the process as actively as possible. As a cofounder and now former executive of OGC, I now look forward to joining you, whom I shall soon call my fellow members, in supporting OGC and building on the technical foundation OGC has established.
Finally, to the many, many of you out there who helped OGC get to this point, on the Board of Directors, the Strategic Member Advisory Committee, the Planning Committee, the Technical Committee, in Interoperability Program projects, in standards meetings, wherever and however you helped, I say thank you from the bottom of my heart!
Kurt Buehler, Chief Technology Officer
PLUGFEST!
The first-ever OGC Plugfest will be held on Wednesday, June 16, 2004 in Southampton, UK in connection with the 50th OGC Technical Committee Meeting. This plugfest will concentrate on testing interoperability between clients and servers that are intended to comply with Web Map Service 1.1.1 and Web Feature Service 1.0. Only OGC members who are actually testing interoperability will be able to attend this event.
A plugfest tests a different sort of compliance than a compliance test. A compliance test insures that the interfaces are correctly implemented. A plugfest tests specific clients with specific servers to guarantee they work together.
Participants will be able to test multi-vendor interoperability, will help build confidence in OGC specifications and their own implementations. Further, participation will help reinforce market claims with action.
This first Plugfest a pilot and will help define a process for future events. Participants must sign a confidentiality agreement before participating, and have server products that have passed conformance testing (or pass at the event) but for this first event, there is no fee. Registration is required by June 10.
GSDI IN THE NEWS
- GSDI 8
The GSDI Association will hold its 8th Conference during the FIG Week on 16-25 April 2005 in Cairo, Egypt with the theme: From Pharaohs to Geoinformatics.
The call for papers has just been launched with a deadline of November 20th 2004.
- Small Grants Available
The Global Spatial Data Infrastructure (GSDI) Association is dedicated to bringing about an infrastructure that will allow users globally to access spatial data at a variety of scales from multiple sources that ultimately will appear seamless to all users. The definition of GSDI adopted at the 2nd GSDI Conference best articulates its goals: "GSDI encompasses the policies, organizational remits, data, technologies, standards, delivery mechanisms, and financial and human resources necessary to ensure that those working at the global and regional scale are not impeded in meeting their objectives."
The GSDI Secretariat along with partners and participants has allocated resources from the U.S. Federal Geographic Data Committee to fund a small grants program to support national or sub-national activities that foster partnerships, improve data compatibility and access, and increase political support for data infrastructure. The grants are limited to US$ 2,500. Activities could focus on technical or institutional aspects, as long as there are concrete/tangible outputs and that several institutions collaborate.
Priority will be given to projects in developing countries and countries with economies in transition. Grants can be awarded to SDI coordinating bodies (councils, committees) and GIS user groups, but the Secretariat asks that one institution take responsibility for receiving/depositing the funds. The GSDI Secretariat is accepting project proposals until 16 June 2004.
WEBSITE OF THE MONTH
The team at the Center for Advanced Spatial Technologies (CAST) hosts its IGO,the Interoperable GeoObserver, a Web Map Service (WMS) client. It showsoff data from CAST's own Web Map Service as well as those from EROSdata center, THE GLOBE Program, and the Army Corps of Engineers.Visitors can save and recall XML map definition files, and withInternet Explorer 6.0, add new services.
For now the client, and a few others provided by CAST, can accessCAST's services. In time, all of the state's data will be accessible.According to the website,"CAST is committed to comprehensive interoperability capabilities forGeoStor [the state's comprehensive, web-based geodata delivery system]and the current map server will be connected to GeoStor so that allpublic GeoStor data will be accessible."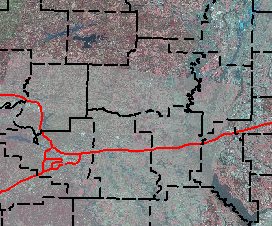 Three data layers, from three different Web Map Services as rendered on IGO.
Know of a website that uses OpenGIS specifications to solve a real world problem or demonstrates an interesting use? Drop the adena [at] opengeospatial.org (editor)an e-mail with the details including the URL, organization behind thewebsite, specifications used, technology used and the goal of thewebsite.
IP UPDATE
Emergency Mapping Symbology Initiative (EMS-1): The project is nearly completed. There is some documentation still in work, and one more sponsor-only demonstration to conduct. Outcomes include a Styled Layer Descriptor (SLD) 1.1 draft candidate, CS/W 2.0 (Web Registry Service profile), and a Style Management Service Architecture Interoperability Program Report. Expect to see these at the next meeting or two depending on their maturity.
LandGML Interoperability Experiment: Registration ends June 10th for a late June kickoff.
Context Interoperability Experiment: Registration ends June 25th for an early July kickoff.
NEW MEMBERS
OGC welcomes new members who joined us recently.
ACG Space Technologies Corporation (Canada)
Small Company
Department of Science & Technology (India)
Principal
First American RES (US)
Associate
Syntegra (UK)
Associate
University of Alaska, GINA (US)
University
Universidade do Minho (Portugal)
University
University of New Mexico, Earth Data Analysis Center (US)
University
OGC IN THE NEWS
OGC in the Press
The Future of Interoperability
Ron Lake
GeoWorld
May 2004
ER Mapper Joins OGC
May 26
Geowise Announces Partnership With Vancouver-Based Moximedia To Resell IMF
May 26
Intel Office Wants Industry Secrets
Washington Technology
May 24
GeoLeaders and CubeWerx Announce Emergency Mapping Solution
May 20
MapInfo Unveils Location Intelligence .Net Platform
May 20
Plumbing is Good: RedSpider Web 3.1 Makes Getting Imagery Easier
Directions Magazine
May 17
The Atlas of Canada's OGC Web Map Service (WMS)
GISUser
May 16
ArcIMS 9 Now Shipping
May 13
Cadcorp SIS V6.1 ships - new products: Map Reader, Map Browser and GeognoSIS.NET
May 8
Wetlands Mapper: View And Print Maps Or Download Custom Wetland Maps Data
GISUser
May 5
IONIC Releases RedSpider Enterprise 3.1 Putting the OGC in EAI
May 3
askTheSpider - The Catalog for OGC web services
GISUser
Apr 30
OGC Press Releases
OGC Invites Participation in Web Services Interoperability Experiment
May 25
OGC issues GO-1 Request for Comments
May 26
OGC Announces First Interoperability Experiment Tackling LandXML and GML Interoperability
May 10
EVENTS
June 14, 2004
Southampton, UK
UK Industry Day (invitation only)
June 15-18, 2004
Southampton, UK
50th OGC TC/PC Meetings
June 23-25, 2004
London, UK
EOGEO 2004
July 5-23, 2004
Near Florence Italy
Summer School on Geographic Information Science
July 19-23, 2004
Bonston, Massachusetts, USA
Boundaryless Information Flow: Enterprise Information Management
Special rates for OGC members; see upcoming member e-mail for details
July 25-29, 2004
Vancouver, British Columbia, Canada
GML Days 2004
September 20-24, 2004
Denver, Colorado
Monitoring Science & Technology Symposium
September 26-29, 2004
Orlando, Flordia
SpatialTech 2004
For further info on events please contact gbuehler [at] opengeospatial.org (Greg Buehler).
CONTACT
Please send comments and suggestions to:
adena [at] opengeospatial.org (Adena Schutzberg)
Editor, OGC News
Open GIS Consortium
35 Main Street Suite 5
Wayland MA 01778-5037
USA Phone: +1 508 655 5858
Fax: +1 508 655 2237
SUBSCRIBE/UNSUBSCRIBE
Visit our public
subscription page
.
Copyright 2004 by the Open Geospatial Consortium, Inc.