From February 20-24, 2023, more than 200 geospatial experts from industry, government, and academia traveled to Frascati, just outside of Rome, Italy, for OGC's 125th Member Meeting – with over a hundred more attending virtually. Hosted and sponsored by the European Space Agency (ESA), the meeting had the theme of "Space and Geospatial."
The week saw the usual abundance of Standards Working Group and Domain Working Group meetings, networking & social events, the annual Gardels Award presentation, and an abundance of special sessions, including a Climate Resilience Pilot demonstration; a Marine Special Session; an Intelligent Transportation Systems ad hoc; a Space Standards ad hoc; a Health Summit; a GeoDatacube ad hoc; a Geotech Interoperability Experiment (IE) session; an OGC Startups and Scaleups session, and the OGC Europe Forum.
Two areas of focus during the meeting included Space Standards and Connected Systems.
Space Standards: OGC members are discussing the requirements for standardization of space data and environments of operation. Such Standards could represent location reference systems beyond the Earth, help track and locate space debris, and provide a reference for space weather data. Expect to see refinement of work from Testbed-18 in the coming year as reflected in both experimentation and standardization. See below for a brief overview of the Space Standards ad hoc, as well as a link to presentations and a recording.
Connected Systems: OGC has long published Standards and Best Practices associated with sensors and sensor networks. Some of these Standards have long been used in government and private sector systems, but may be less responsive to current trends in IT. OGC's SensorThings API – developed as a lightweight interface to Internet of Things devices and the OGC APIs – shows a pattern for RESTful integration of geospatial data. The SensorML SWG has been recharted as the Connected Systems SWG and will be working with legacy and emerging OGC sensor Standards and concepts to create a framework for modern sensor integration.
The full agenda for the 125th OGC Member Meeting is available here. Read on for an overview of the best bits, below.
It Begins
The Monday morning Kick-off Session welcomed attendees and provided an overview of what's been happening at OGC since the previous the 124th OGC Member Meeting, as well as an insightful presentation by Dr. Rune Floberghagen from meeting hosts, ESA.
Dr. Rune Floberghagen, Head of the Science, Applications and Climate Department in the Directorate for Earth Observation Programmes, ESA, provided an overview of ESA programs, with a heavy focus on the use of and contribution to OGC Standards and activities as well as highlighting numerous cases of the practical application of OGC Standards and practices.
OGC's Dr. Nadine Alameh then provided her CEO Update, which included the announcement of the former OGC's Innovation Program renaming to a name that better describes its activities: the OGC Collaborative Solutions and Innovation (COSI) Program.
Nadine then held her regular fireside chat, this time chatting with Amanda Morgan, Technical Executive for GEOINT and IT Standards, US NGA. The two discussed the need to highlight the value of Standards and provided some guidance and insight to young professionals looking to progress their careers.
I, Scott Simmons, Chief Standards Officer of OGC, then took to the stage to provide some logistics information for the week and welcomed the delegation from the State Service of Ukraine for Geodesy, Cartography and Cadastre, whose membership has been sponsored by Strategic Member Natural Resources Canada and travel to this Member Meeting offset by Strategic Members UK Hydrographic Office and Ordnance Survey. Many thanks go out to these members for their generosity.
Trevor Taylor, Senior Director, Member Success and Development at OGC, welcomed new members and detailed the new OGC membership model now in place.
Finally, Jonathan Fath, OGC's Director, Marketing and Promotions, revealed the new OGC public website, which, as you're here reading this, I'm going to guess you're aware of.
Networking, Dinner, and the Gardels Award
On top of the conversations in the hallways, over lunch, and during meetings, no OGC Member Meeting is complete without the Monday evening networking drinks, nor Wednesday night's Networking Dinner. Held at Ristorante Cacciani in Frascati, the Networking Dinner also included the presentation to Steve Liang of the 2022 Gardels Award. Steve was chosen for the award for his work in sensor technologies for geospatial and pioneering web standards for publishing spatial data. Congratulations, Steve!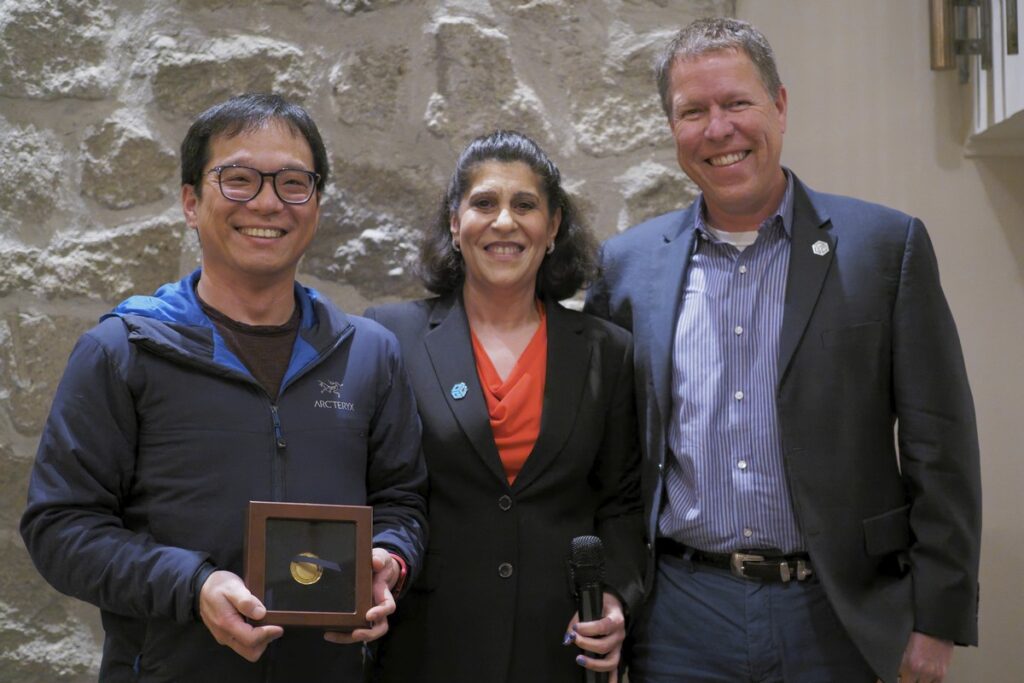 Meeting Special Sessions
Special sessions at this Member Meeting included a Climate Resilience Pilot demonstration; Marine Special Session; Intelligent Transportation Systems ad hoc; Space Standards ad hoc; Health Summit; GeoDatacube ad hoc; Geotech Interoperability Experiment (IE) session; OGC Startups and Scaleups session, and the OGC Europe Forum. Read on for an overview of each – as well as a link for members to access the recording and slides for each.
Climate Resilience Pilot Demo: A demonstration session was held by the participants in the OGC Climate Resilience Pilot to highlight the topics that will be addressed in the newly started Pilot. OGC Members can access the presentations and a recording on this page in the OGC Portal.
Marine Special Session: Marine topics continue to be of high interest to OGC members. A half-day special session was held to discuss "Connecting Land and Sea." The first half of the session focused on past Innovation projects such as the Phases I & II of the Federated Marine Spatial Data Infrastructure (FMSDI) Pilot and marine matters addressed in OGC Testbed-18. The second half summarized the work of Phase III of the FMSDI Pilot and presented an Engineering Report documenting the work. OGC Members can access the presentations and a recording on this page in the OGC Portal.
Intelligent Transportation Systems ad hoc: Discussions about intelligent infrastructure have occurred at several past OGC Member Meetings, mostly concerning road networks. This effort continued in Frascati with an Intelligent Transportation Systems session that focused on the ISO / TC 204 Geographic Data Files Standard and how OGC might become more involved in working on that Standard in the future. OGC Members can access the presentations and a recording on this page in the OGC Portal.
Space Standards ad hoc: OGC's Testbed-18 included work on "Space Standards." As might seem obvious, the scope and nature of Standards that apply to space beyond the Earth is open to quite broad interpretation. A special session was held to identify the landscape of likely standardization activities in the space domain from US NGA, ESA, European Community Defence, and supporting researchers in Europe and North America. The outputs of this session will be documented to help identify priorities for further investigation. OGC Members can access the presentations and a recording on this page in the OGC Portal.
Health Summit: Wednesday saw a day-long Health Summit. Organized by the OGC Health DWG, the summit sought to "provide a forum for geo/location experts to learn what clinicians need in order to advance the practice of healthcare, and for clinicians to explore the possibilities unleashed when location/geo data is incorporated as part of solutions."
Also included in the summit was a "Startup, space, and geospatial panel" consisting of Pablo Fuentes from MakePath, Ugo Celestino from the European Commission, Gianluigi Baldesi, PhD from ESA, Steve Liang from SensorUp, and moderated by Anilkumar Dave, VC Fund Partner & Space Economy Advisor. OGC Members can access the presentations and a recording on this page in the OGC Portal.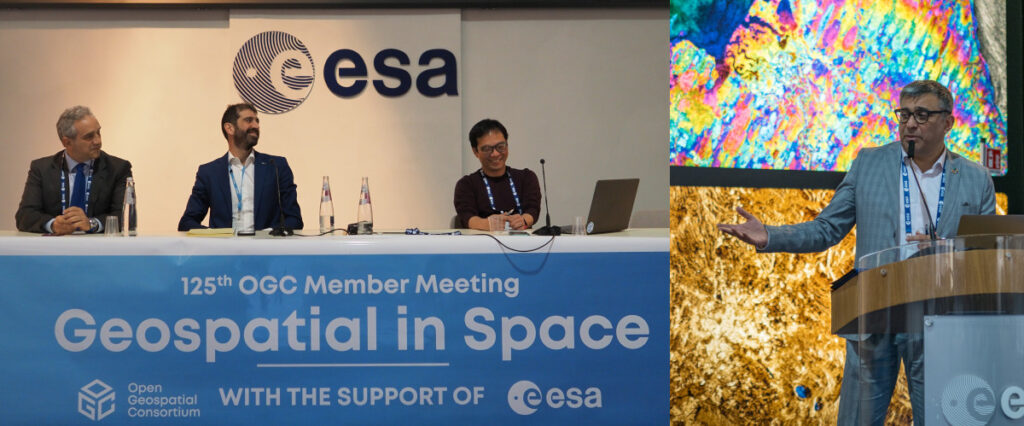 GeoDatacube ad hoc: Multidimensional data associated with geospatial information (referred here as GeoDatacubes) can be encoded and utilized in a number of formats, including existing OGC Standards such as NetCDF, HDF5, Coverage Implementation Schema, Zarr, and more. A GeoDatacube SWG has been proposed to identify a possible API for accessing such data and Standards and Metadata required to bridge across encodings. OGC Members can access the presentations and a recording on this page in the OGC Portal. You may also want to read a blog post outlining the 2021 Towards Data Cube Interoperability Workshop on the OGC Blog here: A User-centric Approach to Data Cubes.
Geotech Interoperability Experiment (IE) session: OGC members have organized the GeoTech Interoperability Experiment (IE) to develop a common model for describing geotechnical engineering data that is spatially-referenced. This experiment is also intended to link the information communities from the OGC with those from buildingSMART International and a variety of geotechnical engineering organizations. A special session of the Geoscience DWG was held to discuss the results to date of this IE. OGC Members can access the presentations and a recording on this page in the OGC Portal.
OGC Startups and Scaleups session: OGC Member Meetings include a session that allows Startup members to highlight their capabilities. The "Startups and Scaleups" session in Frascati included presentations from SpaceSense, Prométhée, Duality Robotics, and Terrsigna. OGC Members can access the presentations and a recording on this page in the OGC Portal.
OGC Europe Forum: Most OGC Member Meetings include a session dedicated to the local regional forum. The OGC Europe Forum met on Friday with a wide variety of presentation topics from throughout the region. Keep your eyes out for an upcoming blog post dedicated to this session and OGC's work in Europe more broadly. In the meantime, OGC Members can access the presentations and a recording on this page in the OGC Portal.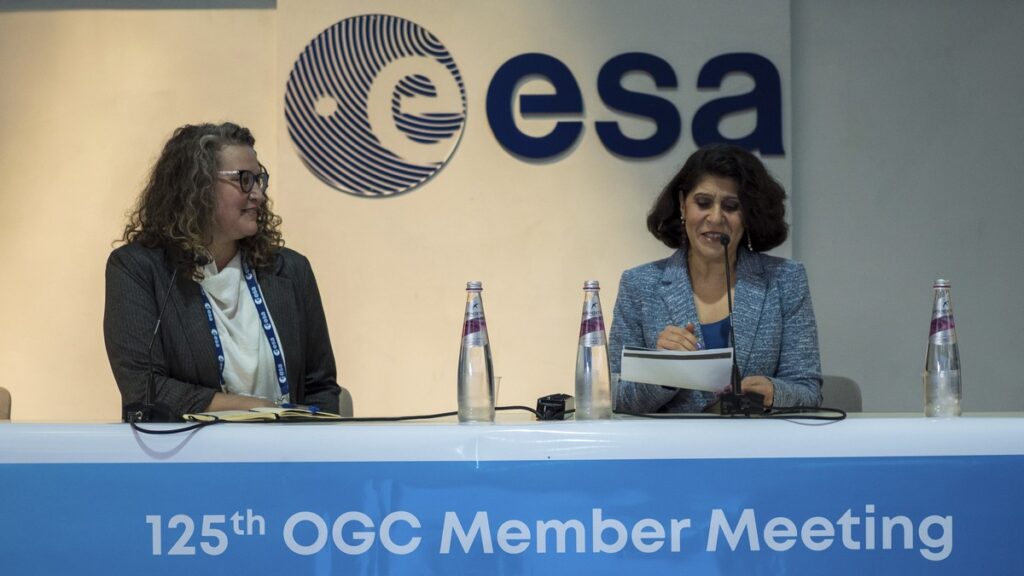 Today's Innovation/Tomorrow's Tech and Future Directions
OGC proactively assesses emerging technologies as they apply to the geospatial community. Some technologies will directly impact geospatial standards and interoperability, others lead to new operational environments that will drive requirements and use cases. These tech outlooks and assessments are briefed to OGC Members during the Today's Innovation/Tomorrow's Tech and Future Directions session, which runs unopposed on Tuesday morning's schedule so that all meeting participants can attend.
The session focused on "Future Space Technologies." OGC's Dr. Gobe Hobona introduced the session, and was followed by several presentations and a panel.
Tony San José of Satellogic described the use of new satellite constellations for monitoring and assisting response to severe flooding in Albania. The use of cloud storage of imagery products allowed for rapid analysis. The presentation also summarized work from the OGC Disaster Pilot '21 where Satellogic performed flood analysis in South America.
Dr. Samantha Lavender of Pixalytics reflected on "the importance of customer perceptions and expectations." She noted that a goal is to have people use data without knowing that they are using data. An example was provided on the use of machine learning to detect plastic waste, acknowledging that the algorithm required retraining for each region in which it is used.
OGC's Rob Atkinson revisited the OGC Reference Model (ORM). He stated that "interoperability is not a one size fits all" and that it has many aspects. The current form of the ORM is no longer useful, but the concept of such a model is very much needed. A new approach must be adaptive and is planned to include a Knowledge Graph to identify and link concepts.
The speakers then joined a panel for open discussion on a diverse range of topics related to their presentations and trends in Space. Dr. Lavender and Mr. San José discussed the increasing ability to process information on the satellite that is more ready for use than raw content.
OGC Members can access the presentations and a recording of the session on this page in the OGC Portal.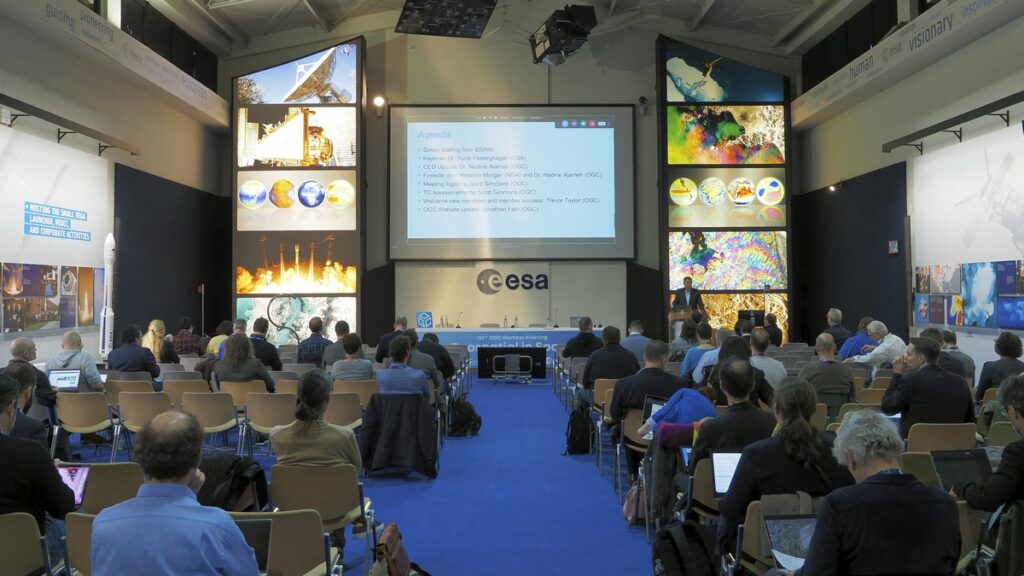 Closing Plenary
The Closing Plenary now runs as two sessions: Important things, and the formal Closing Plenary.
Important Things: this session started with my rapid, 15-minute summary of the entire meeting week. Slides and content from a large number of Working Group sessions were included. The presentation is available for OGC Members on this page in the OGC Portal.
The Important Things session then featured a discussion on the future of OGC's "Definitions Server" suite of registries and linked data capabilities. OGC Staff and Members considered the capabilities under development and debated where these capabilities may be more relevant in OGC outputs. OGC Members can access notes from the session recorded in the Etherpad Important-Things-2023-02.
The Closing Plenary itself is now focused on presentations and voting. Günther Landgraf from ESA provided an inspirational speech on ESA activities that have impacted and been impacted by OGC. The remainder of the session advanced a number of Standards, SWGs, and documents toward vote or publication. Summary slides from the 125th OGC Member Meeting Closing Plenary are available publicly via the OGC Portal.
Thank you to our community
All in all, our 125th Member Meeting was a big success. It was wonderful seeing members interacting, collaborating, and driving technology and standards development forward. It's especially exciting as it comes at a time when geospatial is truly everywhere – even the far reaches of space. Once again, thank you to our members for their time and energy, as well as their dedication to making OGC the world's leading and most comprehensive community of location experts.
Be sure to join us for the 126th Member Meeting, happening June 5-9, 2023, at GEOHuntsville in the Huntsville Botanical Garden, AL, USA. Registration and further info is available now on ogcmeet.org. Sponsorship opportunities are also available see this brochure or contact OGC for more info. Be sure to subscribe to the OGC Update Newsletter to stay up to date on all things OGC, including future OGC Member Meetings, funding opportunities, and how to contribute to our open Standards.

Tags:
Climate Change
,
Connected Systems
,
Data Cubes
,
ESA
,
Geospatial in Space
,
Health
,
Intelligent Transport
,
Marine
,
Member Meeting
,
Space
,
Start-ups