Climate Resilience Pilot
For more information please contact innovation@ogc.org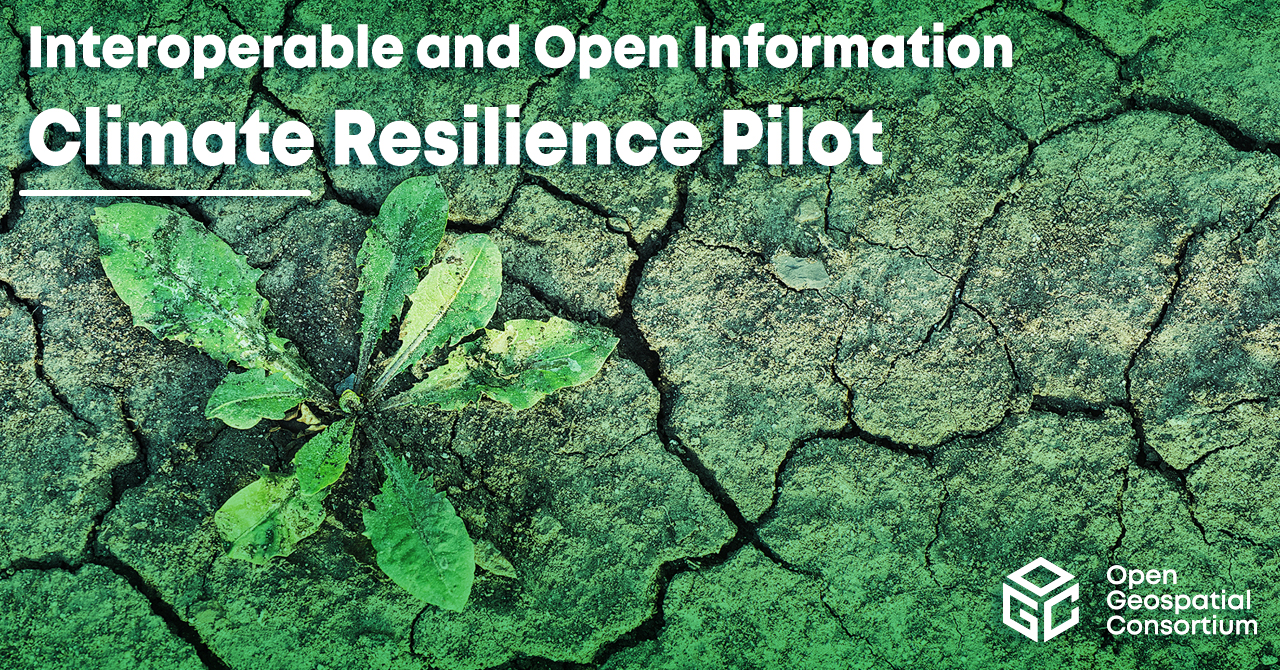 Enhancing Interoperability for Climate Resilience Information Systems
The OGC Climate Resilience Pilot will be the first phase of multiple long term climate activities aiming to evolve geospatial data, technologies, and other capabilities into valuable information for decision makers, scientists, policy makers, data providers, software developers, and service providers so we can make valuable, informed decisions to improve climate action. The goal is to help the location community develop more powerful visualization and communication tools to accurately address ongoing climate threats such as heat, drought, floods, fires as well as supporting the national determined contributions for greenhouse gas emission reduction. Climate resilience is often considered the use case of our lifetime, and the OGC community is uniquely positioned to accelerate solutions through collective problem solving with this initiative.
Climate Resilience Domain Working Group:
OGC Members can join the Climate Resilience Domain Working Group using the OGC portal. OGC DWG's are open to the public. Non-OGC Members can join the Climate Resilience DWG by signing up for the mailing list here. If you are interested to further shape and support our activities, please see the Call for Sponsors online. The Observer Agreement (OGC Members only) can be found here.
Raw Data to Information Flow:
Weekly Checkin: 09-10 am EDT:
(Check the OGC Portal calendar for details)
2023-02-20 OGC Member Meeting Frascati/Italy
Climate Resilience Pilot Demo (Portal Folder)
Climate Resilience DWG Session (Portal Folder)
2023-03-02 — Raw Data to ARD
2023-03-09 — ARD to DRI
2023-03-16 — DRI to Climate Services
2023-03-23 — Draft Animation / Draft engineering report
2023-03-30 —
2023-04-06 —
2023-04-13 —
2023-04-20 —
2023-04-27 — Preliminary Animation
2023-05-04 —
2023-05-11 —
2023-05-18 —
2023-05-25 — Final engineering report
2023-06 05-09 OGC Member Meeting / Closing Workshop
A recording of the Q&A Session on November the 8th 2022 is available here.
Sessions of the OGC Climate cluster:
2022:
March: OGC Member Meeting (online)
14. June: OGC Member Meeting Madrid
6-7 Dec: OGC Innovation Days https://www.ogc.org/node/4813
2021:
March2021: OGC Member Meeting (online)
June2021: OGC Member Meeting (online)
July2021: UNFCCC Climate Week Asia-Pacific (online)
07. Sept: EMS 2021 (Online): https://meetingorganizer.copernicus.org/EMS2021/EMS2021-488.html
28. Sept2021: UNFCCC Climate Week Africa (online) (Link)
09. Nov2021: UNFCCC COP26 (online) (Program link)
09. Dec2021: OGC Member Meeting (online)
Tags:
Adaptation, Climate Change, Climate Impact, Climate Resilience Information Systems, Climate Service, Digital Twins, Disaster Resilience, Drought, Epidemic, Flood, Mitigation, Mudslide, Pandemic, Spatial Data Infrastructure, Wildfire