The sprint will support the ongoing refinement of standards from both OGC and the Khronos Group, including CDB and glTF.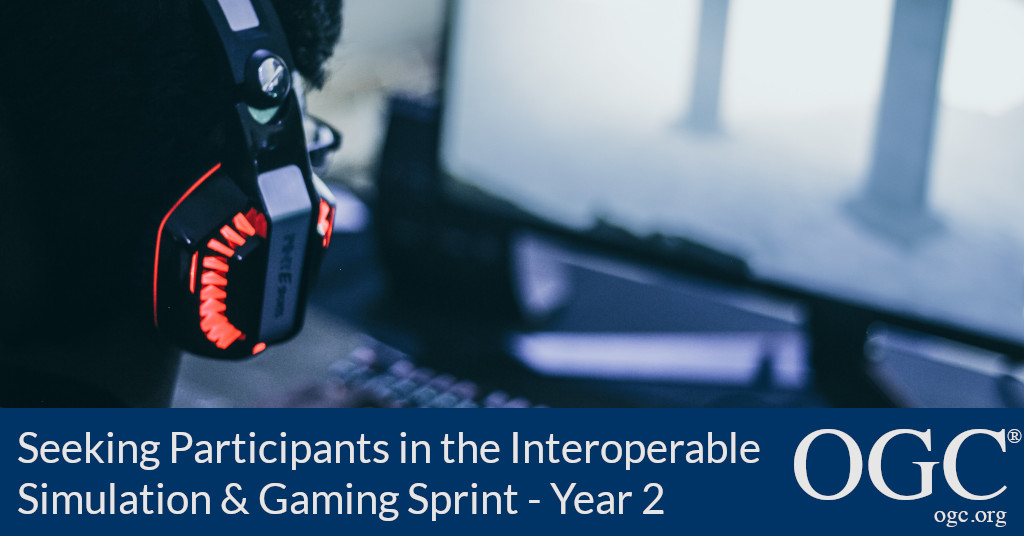 The Open Geospatial Consortium (OGC) announces its Call for Participation (CFP) in the OGC Interoperable Simulation and Gaming (ISG) Year 2 Sprint. The sprint builds upon momentum of the previous ISG Sprint conducted in September, 2020. Proposals for participation are due by April 30.
The primary goal of the Year 1 Sprint was to advance the use of relevant Khronos Group® and OGC standards in the modeling and simulation community through practical exercise and testing of the OGC API – GeoVolumes draft specification. The outcomes of the sprint are documented in the ISG Sprint Engineering Report.
This, the Year 2 Sprint, is soliciting prototype implementations across a much broader set of existing and forthcoming Khronos and OGC Standards and specifications. The primary goal is to discover new ideas and recommendations for advancing the baselines of these partnered Standards Development Organizations.
The sprint is another outcome of the successful liaison between OGC and Khronos, which aims to advance open geospatial standards related to the fields of augmented and virtual reality, distributed simulation, and 3D content services. As part of the liaison, the two organizations are working jointly to promote 3D geospatial APIs and related graphical representations. The sprint is the next step in this cooperative effort and will advance ongoing standards development activities for both organizations, with particular focus on OGC's CDB Standard and the Khronos Group's glTF™ Standard.
The Interoperable Simulation and Gaming Year 2 Sprint will be conducted under OGC's Innovation Program, a collaborative, agile, and hands-on prototyping and engineering environment where sponsors and OGC members come together to address location interoperability challenges while validating international open standards. Watch this short video on how OGC's Innovation Program can benefit your organization.
Ongoing information about this initiative can be found on the Interoperable Simulation and Gaming Year 2 Sprint page on the OGC website.
About Khronos
The Khronos Group is an open, non-profit, member-driven consortium of over 150 industry-leading companies creating royalty-free, interoperability standards for 3D graphics, augmented and virtual reality, parallel computation, vision processing and machine learning. Khronos activities include 3D Commerce™, ANARI™, glTF™, NNEF™, OpenCL™, OpenGL®, OpenGL® ES, OpenVG™, OpenVX™, OpenXR™, SPIR-V™, SYCL™, Vulkan®, and WebGL™. Khronos members drive the development and evolution of Khronos specifications and are able to accelerate the delivery of cutting-edge platforms and applications through early access to specification drafts and conformance tests.
Visit khronos.org for more information.
About OGC
The Open Geospatial Consortium (OGC) is an international consortium of more than 500 businesses, government agencies, research organizations, and universities driven to make geospatial (location) information and services FAIR – Findable, Accessible, Interoperable, and Reusable.
OGC's member-driven consensus process creates royalty free, publicly available geospatial standards. Existing at the cutting edge, OGC actively analyzes and anticipates emerging tech trends, and runs an agile, collaborative Research and Development (R&D) lab that builds and tests innovative prototype solutions to members' use cases.
OGC members together form a global forum of experts and communities that use location to connect people with technology and improve decision-making at all levels. OGC is committed to creating a sustainable future for us, our children, and future generations.
Visit ogc.org for more info on our work.
"