Online code sprint will further develop and test a new OpenAPI-based OGC API for the delivery of tiled resources, such as raster or vector tiles.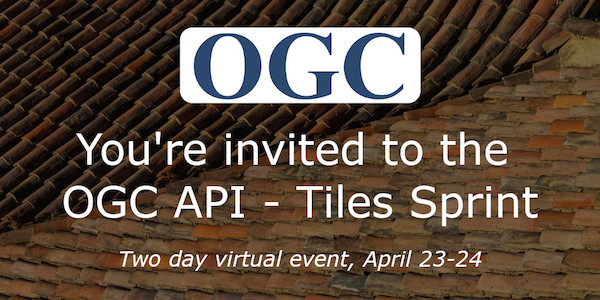 The Open Geospatial Consortium (OGC) and Ordnance Survey, an OGC Strategic Member, invites interested developers to the OGC API – Tiles Sprint, to be held by remote participation on 23rd to 24th April, 2020.
In this Code Sprint, OGC members and non-members alike will come together to experiment with and validate the current draft OGC API – Tiles specification.
OGC API – Tiles seeks to serve the same function as OGC's Web Map Tile Service (WMTS) – a well-established and commonly implemented OGC standard first issued in 2007 – using the latest technologies and spatial data on the web best practices, such as OpenAPI.
The OGC API – Features – Part 1: Core standard, published October 2019, is the first approved OGC standard to use OpenAPI for describing a service that delivers geographic information over the web. This pattern is being adopted for all OGC API standards as highlighted in the OGC API – Common candidate standard. OGC API – Tiles seeks to implement this pattern for the delivery of tiled resources, such as raster or vector tiles.
The scope of the Sprint includes API development and testing, using one or more implementations of OpenAPI 3.0. The Sprint will draw on the work of OGC's Web Map Service (WMS) Standards Working Group and will provide sprint participants who haven't been members of this group with detailed insight about the current plans for OGC API – Tiles.
An OGC Sprint is a collaborative and inclusive event driven by innovative and rapid programming with minimum process and organization constraints to support the development of new applications and open standards. A list of previous OGC Sprints and Hackathons is available at ogc.org/projects/initiatives/ogcsprints.
"As a Strategic Member of OGC, Ordnance Survey are pleased to continue supporting the development of the next generation of OGC API standards. Ensuring easy access to high quality geospatial data has never been more important and this next generation of API standards is a crucial building block for enabling this," said Michael Gordon, Strategic Product Manager at Ordnance Survey.
"Development of the OGC API – Tiles specification has reached a key stage at which a comprehensive draft of the specification needs to be tested against pragmatic requirements," said Joan Masó, CREAF, WMS SWG Co-chair. "To improve the current draft, we should focus on experimenting with an API definition that can be plugged to any resource, wherever it is in the path of the API – and not only linked to 'collections.' This is a critical step towards the concept of API building blocks. The outcomes of the code sprint are expected to influence these final stages of specification development, and the sprint is seen as an important milestone by the OGC WMS Standards Working Group."
For more information on the sprint visit the OGC API – Tiles event page or register on Eventbrite. The sprint is open to anyone: OGC membership is not a requirement.
About OGC
The Open Geospatial Consortium (OGC) is an international consortium of more than 530 businesses, government agencies, research organizations, and universities driven to make geospatial (location) information and services FAIR – Findable, Accessible, Interoperable, and Reusable.
OGC's member-driven consensus process creates royalty free, publicly available geospatial standards. Existing at the cutting edge, OGC actively analyzes and anticipates emerging tech trends, and runs an agile, collaborative Research and Development (R&D) lab that builds and tests innovative prototype solutions to members' use cases.
OGC members together form a global forum of experts and communities that use location to connect people with technology and improve decision-making at all levels. OGC is committed to creating a sustainable future for us, our children, and future generations.
Visit ogc.org for more info on our work.
"