Implementers of OGC CDB v1.0 are invited to validate their products using the new test suite.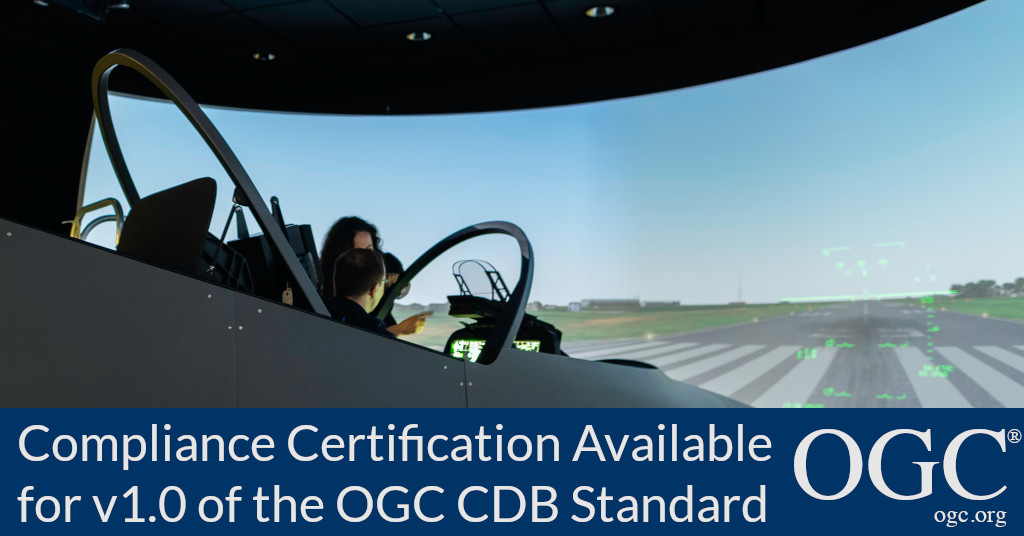 The Open Geospatial Consortium (OGC) is excited to announce that the Executable Test Suite (ETS) for version 1.0 of the OGC CDB Standard has been approved by the OGC Membership. Products that implement the OGC CDB 1.0 Standard and pass the tests in the ETS can now be certified as OGC Compliant.
Implementers are invited to validate their products using the new test suite, which is available on the OGC validator tool. Testing involves submitting an OGC CDB 1.0 data store produced by the product being assessed. These tests typically take only 5-10 minutes to complete. Once a product has passed the test, the implementer can submit an application to OGC for use of the OGC Compliant trademark on their product.
The OGC CDB standard defines an open format for the storage, access, and modification of a synthetic environment database. A synthetic environment is a computer simulation that represents activities at a high level of realism, from simulation of theaters of war to factories and manufacturing processes. These environments may be created within a single computer or a vast distributed network connected by local- and wide-area networks and augmented by realistic special effects and accurate behavioral models.
David Graham, Chair of the CDB Standards Working Group, said "Congratulations to the team at the University of Calgary, led by Dr. Sara Saeedi, and OGC staff, led by Dr. Gobe Hobona, in doing the heavy lifting to achieve this important milestone. The capability to test and certify compliance is a major benefit of open, consensus-based, international standards."
The OGC Compliance Program is a certification process that ensures organizations' solutions are compliant with OGC Standards. It is a universal credential that allows agencies, industry, and academia to better integrate their solutions. OGC compliance provides confidence that a product will seamlessly integrate with other compliant solutions regardless of the vendor that created them.
More information about the OGC compliance process is available at ogc.org/compliance. Implementers of the OGC CDB 1.0 Standard – or other OGC standards – can validate their products using the OGC validator tool.
About OGC
The Open Geospatial Consortium (OGC) is a collective problem-solving community of experts from more than 500 businesses, government agencies, research organizations, and universities driven to make geospatial (location) information and services FAIR – Findable, Accessible, Interoperable, and Reusable.
The global OGC Community engages in a mix of activities related to location-based technologies: developing consensus-based open standards and best-practice; collaborating on agile innovation initiatives; engaging in community meetings, events, and workshops; and more.
OGC's unique standards development process moves at the pace of innovation, with constant input from technology forecasting, practical prototyping, real-world testing, and community engagement.
OGC bridges disparate sectors, domains, and technology trends, and encourages the cross-pollination of ideas between different communities of practice to improve decision-making at all levels. OGC is committed to creating an inclusive and sustainable future.
Visit ogc.org for more info on our work.
"