The hybrid event will focus on data discovery and support the development and awareness of new applications and open standards.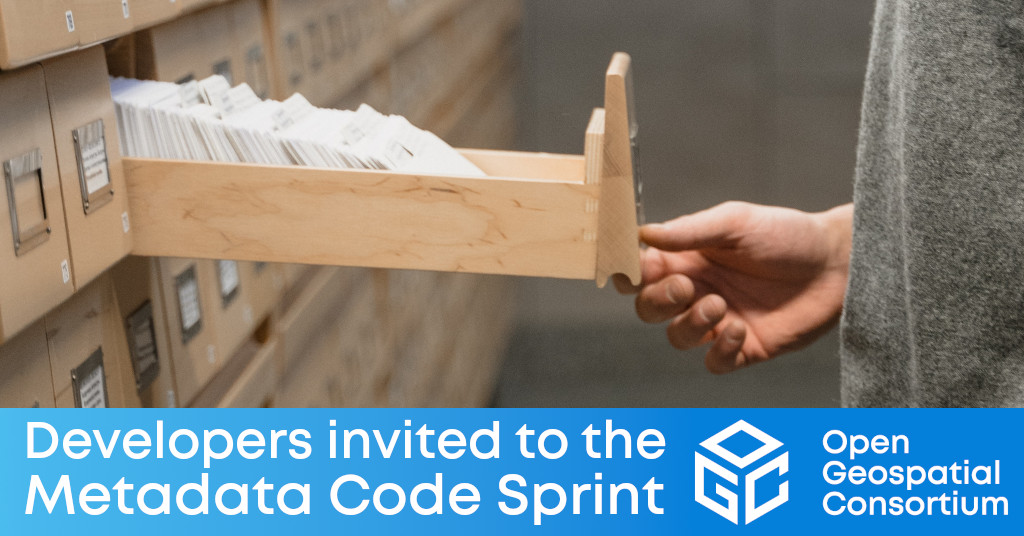 The Open Geospatial Consortium (OGC) and Technical Committee 211 (TC 211) of the International Organization for Standardization (ISO) invite software developers to the 2022 Joint OGC & ISO/TC 211 Code Sprint aka The Metadata Code Sprint. Registration closes September 11.
The hybrid online and in-person Sprint will focus on OGC API – Records, STAC, ISO 19115, and JSON-FG. The Sprint will be held at the Ordnance Survey's Geovation Hub in London (map) from September 14-16, 2022, with a pre-event webinar on September 8. Participation in the code sprint and pre-event webinar is free. The code sprint is sponsored at the Gold level by OGC Strategic Member Ordnance Survey, and at the Silver level by OGC Technical Member Geonovum.
The collaborative and inclusive event will support the development of new applications and open standards while also creating awareness about them. These OGC and joint Code Sprints experiment with emerging ideas in the context of geospatial standards, help improve interoperability of existing standards by experimenting with new extensions or profiles, and build proof-of-concepts that support standards-development activities and the enhancement of software products. Additionally, through the Sprints' mentor streams, they provide a valuable opportunity to onboard developers new to the standards.
The Metadata Code Sprint will focus on the following group of APIs and encodings:
OGC API – Records provides a way to browse or search a curated collection of records of geospatial resources, known as a catalog. A record makes a resource discoverable by providing summary information (e.g. metadata) about the geospatial resource.
ISO 19115 Standards define the schema required for describing geographic information and services by means of metadata. Metadata is information about a resource such as a data set, web service, or API.
JSON-FG extends GeoJSON to support a limited set of additional capabilities that are out-of-scope for GeoJSON, but that are important for a variety of use cases involving feature data.
STAC provides a common structure for describing and cataloging spatiotemporal assets. A spatiotemporal asset is any file that represents information about the earth captured in a certain space and time.
A one-hour pre-event webinar will take place at 2:00pm BST (UTC+1), Sept. 8, and will outline the scope of work for the code sprint and provide an overview of the specifications that will be its focus.
The code sprint begins at 9:00am BST (UTC+1) on Sept. 14, and ends at 5:00pm BST (UTC+1) on Sept. 16. A detailed schedule can be found here.
Free promotional swag will be available to in-person participants of the code sprint. There will also be prizes awarded for impactful Pull Requests (e.g. those approved by a maintainer) created by in-person participants.
Travel Support Funding is available for some participants. Participants interested in receiving travel support funding should indicate their interest on the registration form. Participants looking to receive funding will have to submit their registration forms by August 14, 2022 and will be notified within 2 weeks of their application whether their application for travel support is approved or not.
To learn more about future and previous OGC code sprints, visit the OGC Code Sprints webpage, the OGC Developer Events Wiki, or join the OGC Events Discord Server.
Registration is available on the OGC & ISO/TC211 Metadata Code Sprint website. Participation in the code sprint and pre-event webinar is free, with registrations closing September 11, 2022.
About OGC
The Open Geospatial Consortium (OGC) is a collective problem-solving community of more than 550 experts representing industry, government, research and academia, collaborating to make geospatial (location) information and services FAIR – Findable, Accessible, Interoperable, and Reusable.
The global OGC Community engages in a mix of activities related to location-based technologies: developing consensus-based open standards and best-practices; collaborating on problem solving in agile innovation initiatives; participating in member meetings, events, and workshops; and more.
OGC's unique standards development process moves at the pace of innovation, with constant input from technology forecasting, practical prototyping, real-world testing, and community engagement.
OGC bridges disparate sectors, domains, and technology trends, and encourages the cross-pollination of ideas between different communities of practice to improve decision-making at all levels. OGC is committed to creating an inclusive and sustainable future.
Visit ogc.org for more info on our work.
"