OGC recognizes and celebrates Prashant's lifetime of service and his steadfast support of open geospatial standards and the OGC mission.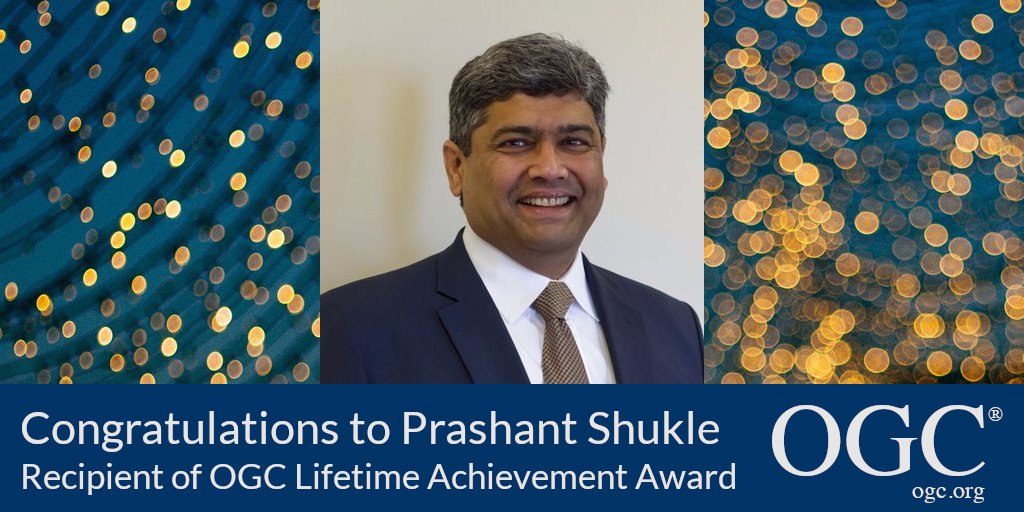 The Open Geospatial Consortium (OGC) is proud to announce that Prashant Shukle is the latest recipient of the OGC Lifetime Achievement Award. The OGC Lifetime Achievement Award is given on occasion to an individual who has provided exceptional service, usually over many years, to the OGC community.
Prashant was selected to receive the award for his leadership, commitment, and support for the advancement of geospatial information, technologies, and standards-based interoperability as a strategic element of government policy and efficiency. Further, Prashant's leadership in the Canadian government and international geospatial programs, and his support for open standards and OGC's mission, have helped improve decision-making related to social, environmental, and economic challenges faced by government, industry, and citizens.
"Over his 30-year career, Prashant has demonstrated a strong commitment to good governance and accountability," commented Jeff Harris, Chair of the OGC Board of Directors. "Through his leadership positions at the local, provincial, and federal levels, most recently as Director General of the Canada Centre for Mapping and Earth Observation, he spearheaded innovative initiatives to expand the value of geospatial information and technologies to the national economy, to improve access to geospatial information to meet a range of national needs, and to increase Canadian support to align with international open standards, including those of OGC."
Prashant further worked to secure permanent funding for the GeoConnections Canada program to assure the advancement of Canadian policy and infrastructure necessary to enable public and private sector exploitation of location information for improved understanding and evidence-based decision-making. This is most evident in the many provincial and national programs that have adopted OGC and complementary standards to increase interoperable access, sharing, and application of geospatial information across all sectors in Canada.
Under Prashant's leadership, GeoConnections provided significant staff engagement and sponsorship of OGC programs to address Canadian and international requirements. Support has included: focus on international Arctic Spatial Data Infrastructure; Maritime Limits and Boundaries; improved methods for portrayal & symbology in a collaborative, digital world; and the advancement of standards in the Canadian Geospatial Data Infrastructure. Prashant has ensured the ongoing commitment of GeoConnections staff to work with OGC members to advance OGC standards and community best-practices of importance to Canada.
Prashant has been an excellent global ambassador and advocate for the importance of open data and open standards. He has been outspoken in his support of the return on investment that comes by integrating geospatial data, technologies, and open standards as part of local, national, and international spatial data infrastructures. Prashant's contributions to the Canadian and International geospatial community reflect strongly in the Canadian focus that the true value of geospatial data, like all data, will be realized only upon its liberation and its use by government for public policy and public good, and by industry and all citizens for a wide range of innovative uses.
With this Lifetime Achievement Award, OGC recognizes and celebrates Prashant's lifetime of service, and his steadfast support of geospatial open standards and the OGC mission as a component of effective governance and improved decision making.
About OGC
The Open Geospatial Consortium (OGC) is an international consortium of more than 500 businesses, government agencies, research organizations, and universities driven to make geospatial (location) information and services FAIR – Findable, Accessible, Interoperable, and Reusable.
OGC's member-driven consensus process creates royalty free, publicly available geospatial standards. Existing at the cutting edge, OGC actively analyzes and anticipates emerging tech trends, and runs an agile, collaborative Research and Development (R&D) lab that builds and tests innovative prototype solutions to members' use cases.
OGC members together form a global forum of experts and communities that use location to connect people with technology and improve decision-making at all levels. OGC is committed to creating a sustainable future for us, our children, and future generations.
Visit ogc.org for more info on our work.
"