GASGI joins OGC as a Principal Member to leverage the OGC's collective geospatial expertise in building a healthy & competitive Geospatial Sector within KSA.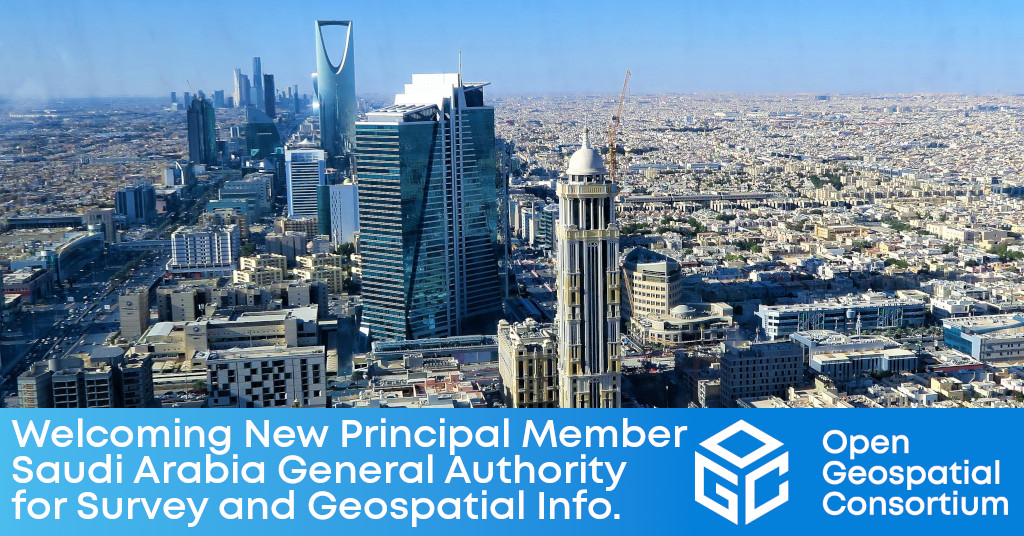 The Open Geospatial Consortium (OGC) is pleased to welcome the Saudi Arabia General Authority for Survey and Geospatial Information (GASGI) as a new OGC Principal Member.
As a Principal Member of OGC, GASGI will participate across OGC activities and serve in OGC's Planning Committee to explore market and technology trends relevant to OGC's global mission to make location information more Findable, Accessible, Interoperable, and Reusable (FAIR).
"I am honored to welcome GASGI into our membership," said OGC CEO Dr. Nadine Alameh. "I commend their commitment to change, innovation, capacity building, and engagement with the international community as they build their Spatial Data Infrastructure based on internationally proven geospatial standards and best practices. I am happy they chose to collaborate with OGC on their journey of leadership and making an impact with geospatial."
"It is a great opportunity for the Kingdom of Saudi Arabia and the Arab region to benefit from the strategic partnership with Open Geospatial Consortium (OGC)," said H.E Dr. Eng Mohammad Alsayel, President, General Authority for Survey and Geospatial Information, Kingdom of Saudi Arabia. "GASGI staff and stakeholders will utilize the relationship with OGC to develop an enduring standards community for the Kingdom and lead the development of a world-class Geospatial Ecosystem and Infrastructure."
OGC Principal Members ensure that OGC's policies and procedures remain effective and agile in a changing technological environment and participate in final approval decisions for all OGC standards as well as nominations to the Board of Directors.
As an OGC Principal Member, GASGI will work alongside other world-leading Principal Member organizations looking to advance the location information industry, including Airbus Defense & Space, Amazon Web Services, Inc., Cubic Digital Intelligence (CDI), Defence Science & Technology Laboratories (Dstl), the Indian Department of Science and Technology, Esri, Feng Chia University, Google, Hexagon, Leidos, Maxar, Microsoft Corporation, Oracle USA, South African Department of Agriculture, Land Reform and Rural Development (DALRRD), Trimble, Inc., US Army Geospatial Center, US Census Bureau, and US National Oceanic and Atmospheric Administration (NOAA). A list of all current OGC Members is available at ogc.org/ogc/members.
About GASGI
General Authority for Survey and Geospatial Information (GASGI) Kingdom of Saudi Arabia, as of Royal Resolution (90) dated 5/2/1442H while developing data products, solutions offerings, services to drive and enable growth in the geospatial market. GASGI is responsible for disseminating the geospatial foundation data by coordinating with key stakeholder ministries and provides geospatial data to all government organizations in the country. GASGI is also responsible for geospatial standards and developing capacity for the geospatial sector.
To carry on its mandate to support different national stakeholders in the Kingdom of Saudi Arabia, the ​(GASGI) focus is to cover the following fields of services and activities: ​
Geodetic Surveys: focusing on the science of accurately measuring and understanding three fundamental properties of the Earth.
Topographic Surveys: studying the different areas of the Kingdom's land surface and producing topographic maps with terrain, water and man-made specific features.
Hydrographic Surveys: aiding mariners to meet their requirements in addition to nautical charting.
National Tide Gauge Network.
About OGC
The Open Geospatial Consortium (OGC) is a collective problem-solving community of more than 550 experts representing industry, government, research and academia, collaborating to make geospatial (location) information and services FAIR – Findable, Accessible, Interoperable, and Reusable.
The global OGC Community engages in a mix of activities related to location-based technologies: developing consensus-based open standards and best-practices; collaborating on problem solving in agile innovation initiatives; participating in member meetings, events, and workshops; and more.
OGC's unique standards development process moves at the pace of innovation, with constant input from technology forecasting, practical prototyping, real-world testing, and community engagement.
OGC bridges disparate sectors, domains, and technology trends, and encourages the cross-pollination of ideas between different communities of practice to improve decision-making at all levels. OGC is committed to creating an inclusive and sustainable future.
Visit ogc.org for more info on our work.
"