Fruitful collaboration between OGC Pilot Sponsors (NRCan and ESA) and Participants has supported the "application-to-the-data" principle by simplifying the development of apps for deployment on any cloud platform.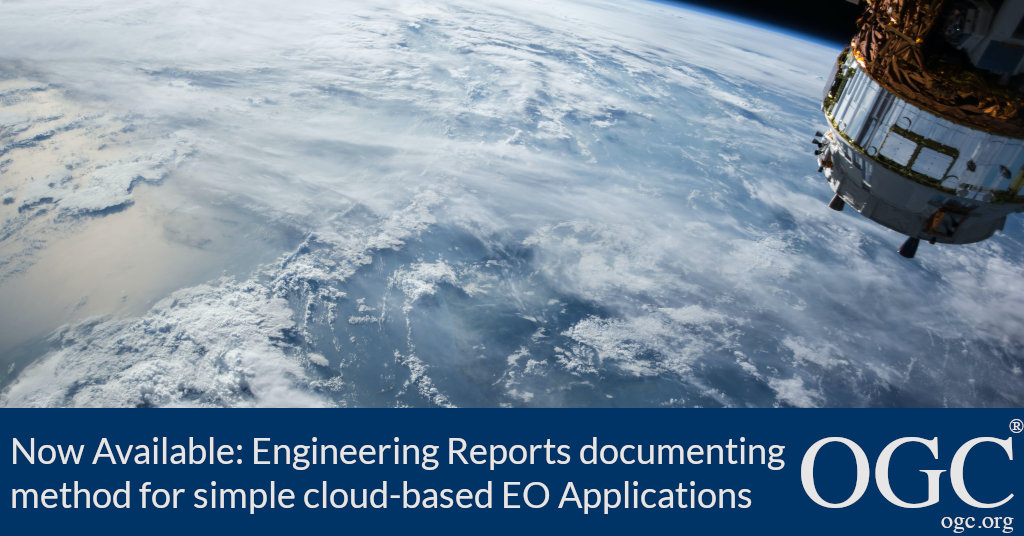 The Open Geospatial Consortium (OGC), together with OGC Strategic Members the European Space Agency (ESA) and Natural Resources Canada (NRCan), have taken a fundamental step towards the full exploitation of IT clouds and Big Data processing.
As part of the Earth Observation Applications Pilot, OGC Members have matured an architecture that allows software developers to easily package and share their applications. Similar to a smartphone app-store, this new principle allows application developers and application consumers to select and use the best tool for any given data challenge. Using this method, the cloud supports the necessary scaling on the infrastructure side, while OGC Standards ensure that all components interact seamlessly. The findings of the Pilot are summarized in the OGC Earth Observation Applications Pilot: Summary Engineering Report, while the participants' experiences as either application developers or platform providers are documented across several other Engineering Reports, available here.
The Pilot, conducted between December 2019 and September 2020, has developed an architecture and methods that enable the simple sharing of data processing applications between scientists, scientific communities, and beyond – a boon to collaboration, repeatability, accountability, and accessibility.
With the two Pilot Sponsors, ESA and NRCan, working hand-in-hand, the pilot successfully tested application deployment and execution on several commercial and governmental cloud platforms. This cross platform compatibility means that the dream of 'an app store for big data processing applications' is quickly becoming a reality.
Due to the close collaboration between OGC, the Pilot Sponsors, and other OGC Member Participants, the Pilot produced not only very valuable results, but also better outcomes than would have been possible by any single party, such as tighter integration of different platforms, and better future-proofing of the technologies through the consideration of more diverse use-cases.
The architecture, developed during OGC Testbed-13, Testbed-14, and Testbed-15, uses Docker for application packaging and Web APIs and/or Services for application handling and execution.
Technically, the Pilot:
Validated the general approach of using Docker for application packaging and Web APIs and/or Services for application handling and execution;
Defined application patterns based on data inputs/outputs;
Confirmed the role of the Common Workflow Language (CWL) for application description, execution, and workflow building; and
Recommends the usage of the SpatioTemporal Asset Catalog (STAC) as a data manifest for application inputs and outputs.
The Earth Observation Applications Pilot was conducted under OGC's Innovation Program, a collaborative, agile, and hands-on prototyping and engineering environment where sponsors and OGC members come together to address location interoperability challenges while validating international open standards. Watch this short video on how OGC's Innovation Program can benefit your organization.
Future Innovation Program Initiatives will further refine and build on the technologies developed during the Pilot. To stay informed about future OGC Innovation Program initiatives, as well as other happenings at OGC, sign up to the OGC newsletter here.
The recording of the Earth Observation Applications-to-the-Data Architecture Webinar, presented live on September 8, 2020, provides a great overview of the key results from the Pilot. Further results are also available in video form on the OGC Earth Observation Applications-to-the-Data Architecture YouTube playlist.
The seven OGC Earth Observation Applications PIlot Engineering Reports, including the OGC Earth Observation Applications Pilot: Summary Engineering Report, are available for free from the relevant section of the OGC Public Engineering Report Repository. Further information on the Pilot itself is available at ogc.org/eoapps.
About OGC
The Open Geospatial Consortium (OGC) is an international consortium of more than 500 businesses, government agencies, research organizations, and universities driven to make geospatial (location) information and services FAIR – Findable, Accessible, Interoperable, and Reusable.
OGC's member-driven consensus process creates royalty free, publicly available geospatial standards. Existing at the cutting edge, OGC actively analyzes and anticipates emerging tech trends, and runs an agile, collaborative Research and Development (R&D) lab that builds and tests innovative prototype solutions to members' use cases.
OGC members together form a global forum of experts and communities that use location to connect people with technology and improve decision-making at all levels. OGC is committed to creating a sustainable future for us, our children, and future generations.
Visit ogc.org for more info on our work.
About ESA
The European Space Agency (ESA) is Europe's gateway to space. Its mission is to shape the development of Europe's space capability and ensure that investment in space continues to deliver benefits to the citizens of Europe and the world. ESA is an international organisation with 22 Member States. By coordinating the financial and intellectual resources of its members, it can undertake programmes and activities far beyond the scope of any single European country.
The activities were performed within the EO science for society programme under supervision of the Data Applications Division.
Visit www.esa.int or www.esa.int/Applications/Observing_the_Earth for more information about ESA and its Earth Observation Programmes.
About NRCan
Natural Resources Canada (NRCan) develops policies and programs that enhance the contribution of the natural resources sector to Canada's economy, improve the quality of life for all Canadians, and conduct innovative science in facilities across Canada to generate ideas and transfer technologies. The department is an established leader in the fields of: Energy Sources and Distribution; Forests and Forestry; Minerals and Mining; Earth Sciences; Energy Efficiency; and Science and Data. NRCan also represents Canada at the international level to meet the country's global commitments related to the sustainable development of natural resources.
In this project, NRCan was represented by the Canada Centre for Mapping and Earth Observation, specifically through the Canada Centre for Remote Sensing's Earth Observation Data Management System and the Canadian Geospatial Data Infrastructure's GeoConnections program. NRCan's Canadian Forest Service's National Forest Information System also collaborated in the activity.
Visit nrcan.gc.ca to learn more.
"