A new module to be used for any standard requiring the use of tiled spaces.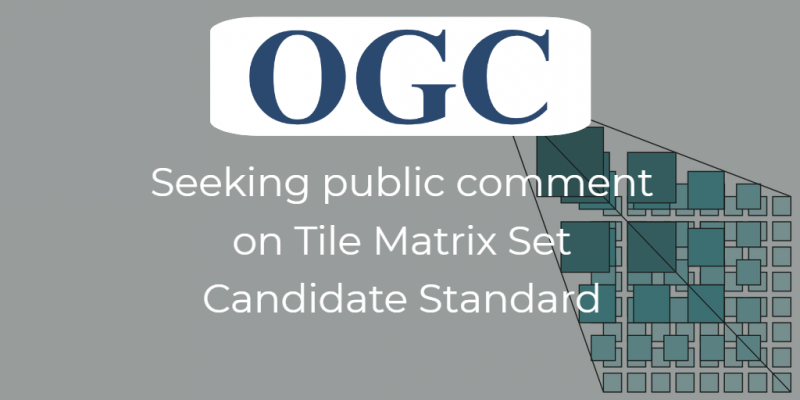 The Open Geospatial Consortium (OGC) seeks public comment on the Tile Matrix Set candidate standard.
A Tile Matrix Set defines a tile indexing pyramidal system to allow easy retrieval of the appropriate tiles by a mapping service. In a tile matrix set, a tile can be uniquely identified by a tile column, a tile row, and a tile matrix identifier. A Tile Matrix Set is useful across many applications for sharing geospatial information.
In 2007, OGC approved and released the Web Map Tile Service (WMTS) standard. WMTS 1.0 provides a definition of a Tile Matrix Set. Over time, other OGC standards dealing with tiles in other ways needed to use the same definition. Unfortunately, these OGC standards could not use the definition independently because the definition was formally linked to the tile service and was limited to an XML encoding.
The Tile Matrix Set candidate standard decouples the concept of a tile matrix set from the WMTS standards so that any standard or application that requires the use of a tile matrix set can reference the concept directly. This candidate standard also adds an informative list of commonly used tile matrix sets with XML and JSON schemas and examples. A future Tile Matrix Set standard is anticipated to impact future revisions of other OGC standards such as GeoPackage and the next version of WMTS.
The candidate Tile Matrix Set standard is available for review and comment on the OGC Portal. Comments are due by 26 July and should be submitted via the method outlined on the Tile Matrix Set candidate standard's request page.
About OGC
The Open Geospatial Consortium (OGC) is an international consortium of more than 525 companies, government agencies, research organizations, and universities participating in a consensus process to develop publicly available geospatial standards. OGC standards support interoperable solutions that 'geo-enable' the Web, wireless and location-based services, and mainstream IT. OGC standards empower technology developers to make geospatial information and services accessible and useful within any application that needs to be geospatially enabled. Visit the OGC website at www.opengeospatial.org.
"