New OGC DWG seeks to identify how geospatial and statistical standards can support the integration of geospatial information into the statistical system.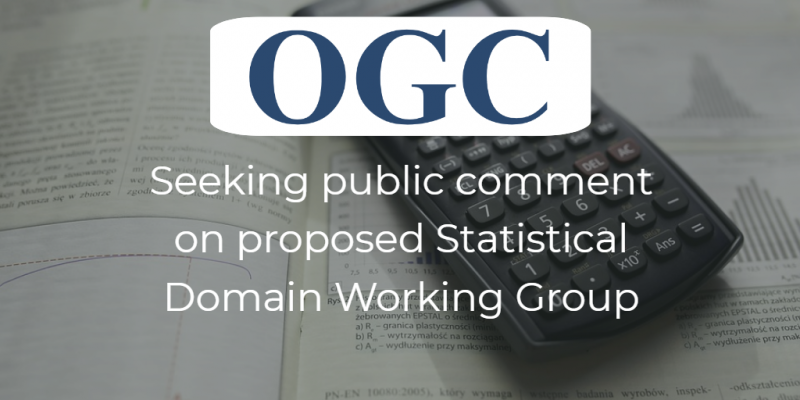 The Open Geospatial Consortium (OGC) seeks comments on the draft charter of a proposed Statistical Domain Working Group (DWG).
The Statistical DWG is proposed to identify requirements and use cases of how geospatial and statistical standards can support the integration of geospatial information into statistical systems for the purposes of broad discovery, analysis, and use.
The statistical domain is evolving to move from the traditional capture of data through surveys such as census, to a more dynamic integration of data from across a wide range of domains that can make statistics more timely, more accurate, and better understood.
Geospatial information is a key data source in transforming the way that statistics are produced as it has the potential to fit into every component of the Generic Statistical Business Process Model.
The complexity of bringing together survey, administrative, and big data with geospatial information and earth observation is driving an increased need for standardisation to support better statistical outputs. A few of the specific challenges under consideration within the proposed DWG include:
Data integration – how can semantic web technology be used to improve the integration of geospatial and statistical datasets?
Data Capture – how can geospatial data be used to include the capture and georeferencing of survey, administrative and big datasets used in the production of statistics?
Data processing – as geospatial objects do not fit within traditional database structures these are currently handled externally to the rest of the statistical process through dedicated geospatial systems.
Data exchange – given the lack of interoperability between statistical and geospatial data architectures, frameworks, metadata and standards, how can data be shared through a service orientated approach?
Data analysis – a lack of comparability between geographic datasets at a national, regional, continental and global level makes international analysis difficult.
Knowledge – there is a lack of understanding within the statistical community of the geospatial tools and standards that can support the statistical system, and a corresponding situation with the geospatial community.
The Statistics DWG draft charter is available for review and comment from the OGC Portal. Comments are due by 26 July 2018 and should be submitted via the method outlined at Statistical Domain Working Group requests page.
See the OGC's Domain Working Group and Standards Working Group pages to learn about other standards activities that are ongoing in the OGC. There is currently strong emphasis on topics related to Internet of Things, Smart Cities, Aviation & Unmanned Systems (eg UAVs), Big Data, Linked Data, Disaster Response, Maritime, and more.
About OGC
The Open Geospatial Consortium (OGC) is an international consortium of more than 525 companies, government agencies, research organizations, and universities participating in a consensus process to develop publicly available geospatial standards. OGC standards support interoperable solutions that 'geo-enable' the Web, wireless and location-based services, and mainstream IT. OGC standards empower technology developers to make geospatial information and services accessible and useful within any application that needs to be geospatially enabled. Visit the OGC website at www.opengeospatial.org.
"