CoverageJSON simplifies the publishing of spatiotemporal data to the web, enabling interactive websites that can display and manipulate environmental data.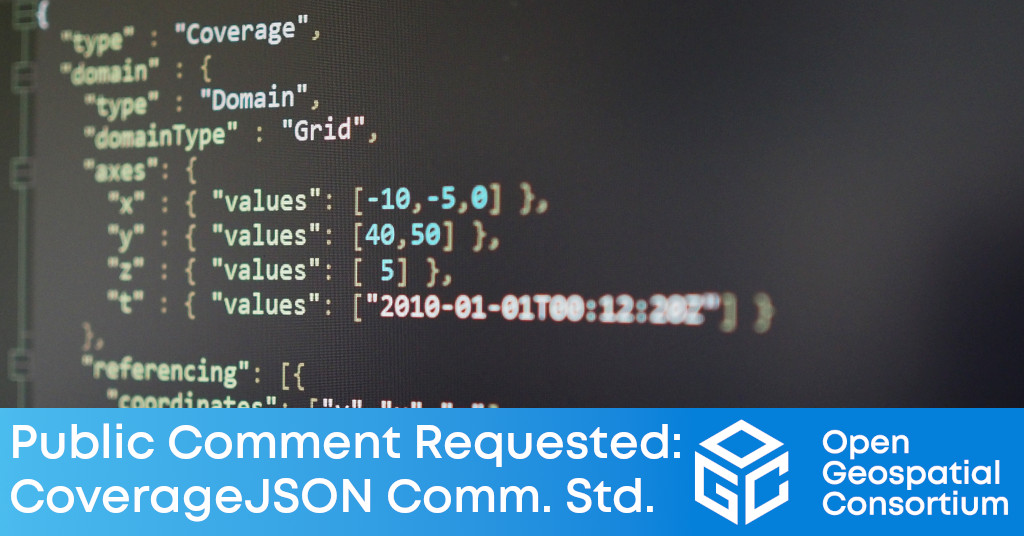 The Open Geospatial Consortium (OGC) is seeking public comment on the candidate CoverageJSON Community Standard. CoverageJSON is a format for publishing multi-dimensional data to the Web. Comments are due by September 10, 2022.
The primary design goals for CoverageJSON are simplicity, machine and human readability, and efficiency in the storage and use of complex data. While other use cases are possible, the primary CoverageJSON use case is enabling the development of interactive visualizations to display and manipulate spatio-temporal data within a web browser.
CoverageJSON is based on the popular JavaScript Object Notation (JSON), and provides an effective, efficient format that's friendly to web and application developers, and therefore consistent with the current OGC API developments. CoverageJSON supports the efficient transfer from big data stores of usable quantities of data to lightweight clients, such as browsers and mobile applications. This enables straightforward local manipulation of the data by users such as science researchers.
The simplest and most common use-case is to embed all the data values of all variables in a Coverage object within the CoverageJSON document to create a self-contained, standalone, document that supports the use of very simple clients.
Another simple use case is to put data values for each variable (parameter) in separate array objects in separate CoverageJSON documents which are linked from a parent CoverageJSON object. This is useful for a multi-variable dataset, such as one with temperature, humidity, wind speed, etc., to be recorded in separate files. This allows the client to load only the variables of interest.
A sophisticated use case is to use tiling objects, where the data values are partitioned spatially and temporally, so that a single variable's data values would be split among several documents. A simple example of this use case is encoding each time step of a dataset into a separate file, but the tiles could also be divided spatially, like a tiled map server implementation.
This OGC Community Standard was an outcome of a European Union project, "Maximizing the Exploitation of Linked Open Data in Enterprise and Science" (MELODIES), run from 2013 to 2016, and released under a Creative Commons 4.0 License by the University of Reading. There are several widely-used open source implementations and libraries available.
The candidate CoverageJSON Community Standard is available for review and comment on the OGC Portal. Comments are due by September 10, 2022, and should be submitted via the method outlined on the CoverageJSON Community Standard's public comment request page.
About OGC
The Open Geospatial Consortium (OGC) is a collective problem-solving community of more than 550 experts representing industry, government, research and academia, collaborating to make geospatial (location) information and services FAIR – Findable, Accessible, Interoperable, and Reusable.
The global OGC Community engages in a mix of activities related to location-based technologies: developing consensus-based open standards and best-practices; collaborating on problem solving in agile innovation initiatives; participating in member meetings, events, and workshops; and more.
OGC's unique standards development process moves at the pace of innovation, with constant input from technology forecasting, practical prototyping, real-world testing, and community engagement.
OGC bridges disparate sectors, domains, and technology trends, and encourages the cross-pollination of ideas between different communities of practice to improve decision-making at all levels. OGC is committed to creating an inclusive and sustainable future.
Visit ogc.org for more info on our work.
"