Candidate Abstract Specification Topic defines a conceptual model for tiling space of any number of dimensions, as well as a logical model for tiling 2D space.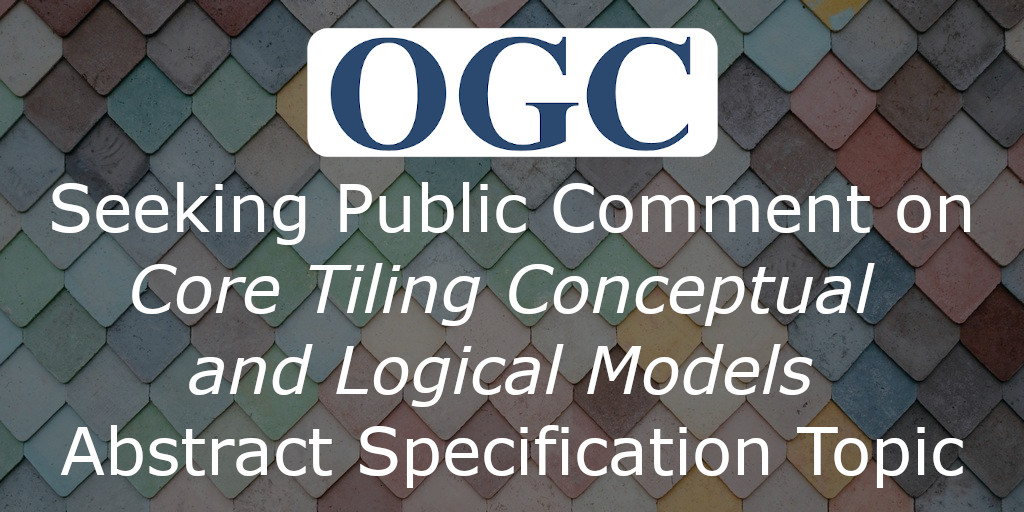 The Open Geospatial Consortium (OGC) is seeking public comment on the Abstract Specification Topic 'Core Tiling Conceptual and Logical Models.' The Abstract Specification defines a tiling conceptual model as well as a logical model for tiling 2-D planar space based on the conceptual model.
Numerous OGC standards specify some type of tiling scheme. These standards include Web Map Tiling Service (WMTS), CDB, and GeoPackage. There have also been a number of OGC Innovation Initiatives focused on tiling and tiling schemes. However, a general tiling conceptual model and related logical model for two-dimensional Euclidean (aka planar) space – the most common tiling approach for geospatial technologies – have not been defined.
The general tiling conceptual model described in the Abstract Specification is applicable to space with any number of dimensions. The conceptual model makes no assumptions regarding content, use cases, implementation scenarios, or how the space is to be tiled.
As one or more logical models are required to provide the requirements and structure necessary for implementation, the Abstract Specification also specifies a core logical model for the two-dimensional Euclidean use case.
Across geospatial technologies, the tiling of two-dimensional Euclidean space is the most common approach for partitioning space. However, there are common elements and semantics across any approach to partitioning a space of any number of dimensions. The logical model described in the Tiling Abstract Specification therefore defines this set of common required elements and then follows with more specific requirements for the two-dimensional case.
Other Parts that specify additional logical models, such as for three-dimensional Euclidean space, may be added in the future.
The candidate Core Tiling Conceptual and Logical Models Abstract Specification Topic is available for review and comment on the OGC Portal. Comments are due by February 20, 2020, and should be submitted via the method outlined on the Core Tiling Conceptual and Logical Models Abstract Specification Topic's public comment request page.
About OGC
The Open Geospatial Consortium (OGC) is an international consortium of more than 530 businesses, government agencies, research organizations, and universities driven to make geospatial (location) information and services FAIR – Findable, Accessible, Interoperable, and Reusable.
OGC's member-driven consensus process creates royalty free, publicly available geospatial standards. Existing at the cutting edge, OGC actively analyzes and anticipates emerging tech trends, and runs an agile, collaborative Research and Development (R&D) lab that builds and tests innovative prototype solutions to members' use cases.
OGC members together form a global forum of experts and communities that use location to connect people with technology and improve decision-making at all levels. OGC is committed to creating a sustainable future for us, our children, and future generations.
Visit ogc.org for more info on our work.
"