The OGC Disaster Pilot 2022 will use spatial data standards with Web and Cloud technologies so that stakeholders can collaborate across any distance, using disparate data, to manage every phase and scale of disasters.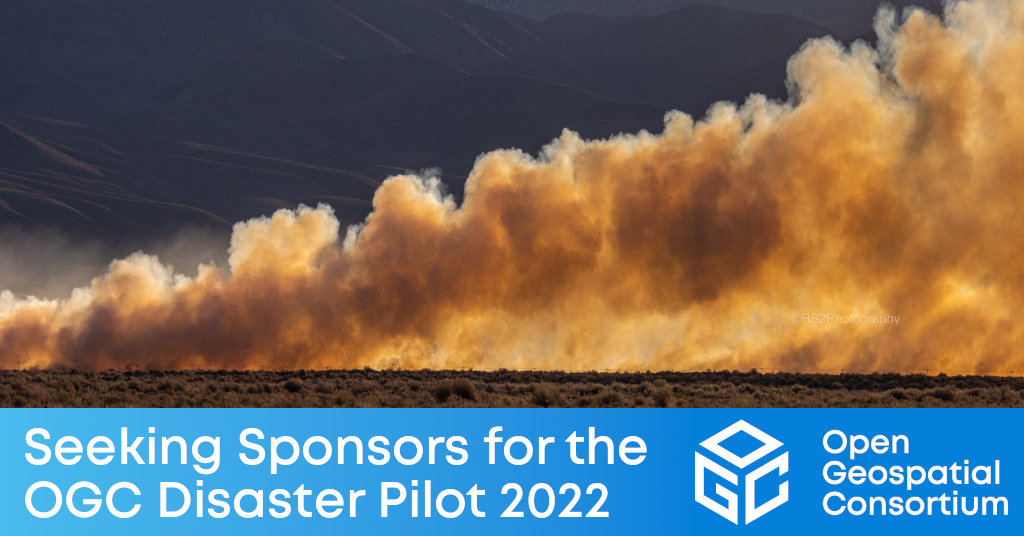 The Open Geospatial Consortium (OGC), building on the success and outcomes of the Disaster Resilience Pilot, Disaster Pilot 2021, and subsequent preparatory tasks, is now seeking Sponsors to support the Disaster Pilot 2022. Submissions close June 30, 2022.
The vision of the Disaster Pilot 2022 is to use spatial data sharing standards together with Web technologies and cloud computing to enable stakeholders to work together wherever they are located, use relevant data wherever it is stored, and manage every phase of a disaster at any scale and wherever it threatens.
Disasters occur all the time, but many types of disaster are occurring more frequently, more severely, and in more regions than ever before. Disasters and their impacts are increasingly complex and consequential. Drought, high winds, and extreme heat drive wildfire occurrence, leaving hillsides vulnerable to landslides in subsequent storm events. Health disasters such as pandemics, exacerbated by respiratory diseases (caused, for example, by those same wildfires), increase population vulnerability and hinder response efforts. All of this is being thrown into higher gear in more places by the effects of climate change.
At the same time, Earth Observation data, whether collected from space, measured by in situ sensors, reported by authorities, or captured by a volunteer's cellphone, are available in almost unimaginable volume, velocity, and variety, supplemented by large- and small-scale predictive models and other analytical/interpretive tools. The challenge we face is to work collaboratively with this data to produce information that directly guides those on the ground to improve disaster prediction, resilience, response, and recovery.
In a global, cloud-scale disaster information ecosystem, shared awareness of threats, vulnerabilities, and impacts can be fostered through joint development of live workflow recipes that integrate and transform analysis-ready observation and prediction data (ARD) into decision ready indicators (DRI). Indicator workflows, ready to run and adaptable to each situation, provide the guidance that the right people at the right time in the right place need to make decisions, take actions, and improve disaster outcomes.
The 2021 Disaster Pilot attracted such sponsors as NASA, USGS, and NRCan, with support from AWS. As a Sponsor of the Disaster Pilot 2022, you will be able to define the data challenges faced by your organization and have them refined and mapped to a set of work items that OGC member organizations will compete to address in the Pilot. The Innovation Program team, together with the Sponsors, will then select the most qualified organizations to participate in Disaster Pilot 2022. Pilot participants, sponsors, supporters, and the OGC team work together to design and prototype standards-conformant components, collaborative information ecosystems, and data sharing practices that make shared awareness both feasible and timely.
The OGC Disaster Pilot 2022 will be conducted under OGC's Innovation Program, a collaborative, agile, and hands-on prototyping and engineering environment where sponsors and OGC members come together to address location interoperability challenges while validating international open standards. To learn about the benefits of sponsoring an OGC Innovation Program Initiative such as this, visit the OGC Innovation Program webpage, or watch this short video on how OGC's Innovation Program can benefit your organization.
To learn more about the Pilot, the Call For Sponsors, and how Sponsorship can benefit your organization, visit the Disasters Pilot 2022 webpage on ogc.org. Applications to Sponsor the Pilot close June 30, 2022.
About OGC
The Open Geospatial Consortium (OGC) is a collective problem-solving community of experts from more than 500 businesses, government agencies, research organizations, and universities driven to make geospatial (location) information and services FAIR – Findable, Accessible, Interoperable, and Reusable.
The global OGC Community engages in a mix of activities related to location-based technologies: developing consensus-based open standards and best-practice; collaborating on agile innovation initiatives; engaging in community meetings, events, and workshops; and more.
OGC's unique standards development process moves at the pace of innovation, with constant input from technology forecasting, practical prototyping, real-world testing, and community engagement.
OGC bridges disparate sectors, domains, and technology trends, and encourages the cross-pollination of ideas between different communities of practice to improve decision-making at all levels. OGC is committed to creating an inclusive and sustainable future.
Visit ogc.org for more info on our work.
"