Two longest-serving OGC board members have announced their retirement; new appointment brings expertise in AI, machine learning, and other relevant technologies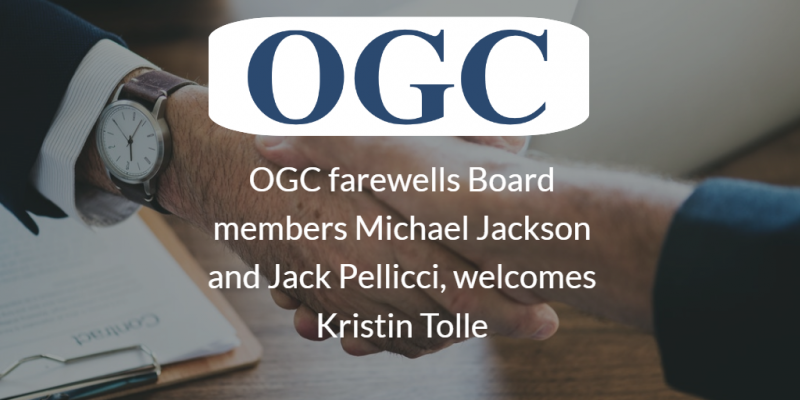 The Open Geospatial Consortium (OGC) announces the retirement of two of its longest-serving board members, Dr. Mike Jackson and Jack Pellicci, as well as the appointment of Kristin Tolle, to its Board of Directors. Both Dr. Jackson and Mr. Pellicci will continue to advise OGC as directors emeritus.
"The success and future direction of the OGC is heavily influenced by its membership and the insight and strategic guidance provided by the OGC Board of Directors," said OGC President and CEO, Mark Reichardt. "We are extremely fortunate to have a board composed of leaders with such diverse market and technology expertise. Longtime OGC Directors Jack Pellicci and Mike Jackson have been instrumental in this process.
"I thank Mike and Jack for their leadership and dedication to the OGC interoperability vision and mission. I also wish to welcome Dr. Tolle, who brings to the OGC insight into technology areas such as big data analytics, artificial Intelligence, and machine learning – fast evolving topics that are active in our programs."
Jeff Harris, Chairman of the OGC Board of Directors, further commented: "The OGC board of directors substantially benefited from the technical expertise, leadership and market insights of Mike Jackson and Jack Pellicci. They each provided unique insights to improve the strategic direction of the consortium. Their combined 40 years of service is a true testament to their passion and dedication to innovate the global sharing of interoperable location data for the benefit of researchers, citizens, and business interests. The consortium membership representatives had the chance to personally thank Mike and Jack at last week's OGC Technical Committee meetings in Orléans, France."
Dr. Mike Jackson has been an OGC director since 2001. He was also a Chairman of OGC Europe, which he will simultaneously retire from. He is a past President of the Association of Geographic Information Laboratories for Europe, (AGILE). Dr. Jackson is a Fellow of the Royal Institution of Chartered Surveyors and a Fellow of the Royal Geographical Society.
Dr. Jackson is Emeritus Professor of Geospatial Science at the University of Nottingham, UK and was founder and Director of its Centre for Geospatial Science (CGS) 2005-2011. Prior to 2005 he was Director of QinetiQ's Space Division. In earlier appointments, Dr. Jackson was Head of Location Platform at Hutchison 3G UK, a Hutchison Wampoa third generation mobile telecommunications company, and CEO of Laser-Scan Holdings plc, an organisation which took an early and active role in the specification and development of standards within OGC.
Brigadier General Jack Pellicci (RET) first joined the OGC Board in 1994, just months after the OGC was founded. He briefly 'retired' from the OGC Board in 2006, returning to it in April of 2007.
During his entire tenure he served in high ranking positions at Intergraph and Oracle, including as President and CEO of Intergraph Government Solutions, a wholly owned subsidiary of Intergraph US and Hexagon AB, and as Oracle's Vice President of the Federal Division, Group Vice President for the Global Public Sector, and Group Vice President of Business Development and Program Management for the North America Public Sector, among other positions. More recently he has served as President of Lancer Information Solutions.
From February of 2010 to December 2012, Pellicci served on the National Geospatial Advisory Committee (NGAC) where he advised the US Federal Government on efficient use of Geospatial data and resources. He is a member of the US Geospatial Intelligence Foundation (USGIF) and is the Vice Chairman of the Board of Directors of the National Defense University Foundation.
Kristin M. Tolle, Ph.D. is a Principal Data Science Program Management Lead in the Data and AI Enablement Team at Microsoft – part of the Artificial Intelligence (AI) Platform team. Since joining Microsoft in 2000, Dr. Tolle has spent a significant portion of her career working in Microsoft Research. During her time in Research she successfully managed several critical research development projects such as the Microsoft Translator Hub and the Environmental Science Services Toolkit.
Dr. Tolle is also co-editor and author, with Tony Hey and Stewart Tansley, of one of the earliest books on data science, The Fourth Paradigm: Data Intensive Scientific Discovery. Her current focus is on educating partners on how to use advanced cloud-based analytics to improve all manner of business objectives and educating next-generation data scientists.
About OGC
The Open Geospatial Consortium (OGC) is an international consortium of more than 525 companies, government agencies, research organizations, and universities participating in a consensus process to develop publicly available geospatial standards. OGC standards support interoperable solutions that 'geo-enable' the Web, wireless and location-based services, and mainstream IT. OGC standards empower technology developers to make geospatial information and services accessible and useful within any application that needs to be geospatially enabled. Visit the OGC website at www.opengeospatial.org.
"