New MUDDI (Model for Underground Data Definition and Integration) SWG seeks to create models, standards, and mappings to fully represent underground infrastructure in context with the environment that contains them.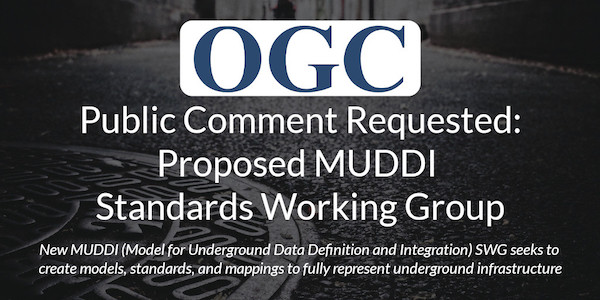 The Open Geospatial Consortium (OGC) seeks public comment on the draft charter for the new OGC MUDDI (Model for Underground Data Definition and Integration) Standards Working Group (SWG). Comments are due by the 5th May, 2020.
The vast majority of street excavations occurring around the world are adversely impacted by a lack of usable information about buried infrastructure. Large-scale construction projects are frequently stalled, incurring delay claims and change orders that significantly increase costs. This situation occurs because the locations of existing utility installations were never properly recorded or depicted. Worse than this, the lack of knowledge about underground built environment dependencies and vulnerabilities often stands in the way of effective disaster response and recovery, costing not just money, but lives.
These costs and risks could all be mitigated if accurate, comprehensive underground built environment information were available and shared between responsible parties for rapid integration and analysis. An essential first step towards achieving this capability involves developing geo-enabled utility data models with inbuilt capabilities for enabling data interoperability and integration. The development and adoption of such models would deliver significant benefits by improving data interchange, integration, and application readiness.
As such, the MUDDI SWG aims to create models and standards that fully represent underground infrastructure assets. Additionally, the MUDDI SWG will create mappings to/from other geospatial data models that characterize the underground environment that contains said assets.
The models to be designed by the MUDDI SWG participants will focus on those attributes most important for specific use cases – such as safe digging, construction design, and disaster resilience. The models have the capacity for extension to accommodate more complex use cases as the business value of data sharing and interoperability is established.
An additional value of developing standardized data models for selected underground utility components and environmental characteristics will be the opportunity to connect with models such as CityGML or BIM/IFC that principally address above-ground features, or GeoSciML/WaterML that cover a broad range of geologic and hydrologic phenomena.
Ultimately, the work of the MUDDI SWG will contribute to the maximum reuse of data between different domains and computing environments. It will achieve this by enabling the use of standardized, interoperable data to model the entire interconnected built and natural municipal environment, from top to bottom, and at every scale – from small local jurisdictions to regional and national extents.
The draft charter for the MUDDI Standards Working Group is available for review and comment on the OGC Portal. Comments are due by the 5th May, 2020, and should be submitted via the method outlined on the MUDDI SWG Draft Charter public comment request page.
About OGC
The Open Geospatial Consortium (OGC) is an international consortium of more than 500 businesses, government agencies, research organizations, and universities driven to make geospatial (location) information and services FAIR – Findable, Accessible, Interoperable, and Reusable.
OGC's member-driven consensus process creates royalty free, publicly available geospatial standards. Existing at the cutting edge, OGC actively analyzes and anticipates emerging tech trends, and runs an agile, collaborative Research and Development (R&D) lab that builds and tests innovative prototype solutions to members' use cases.
OGC members together form a global forum of experts and communities that use location to connect people with technology and improve decision-making at all levels. OGC is committed to creating a sustainable future for us, our children, and future generations.
Visit ogc.org for more info on our work.
"