Pilot will leverage OGC standards, IoT sensors, geospatial framework data, and SCIRA design patterns to design and prototype interoperable Smart City services in support of public safety incident management and resilience.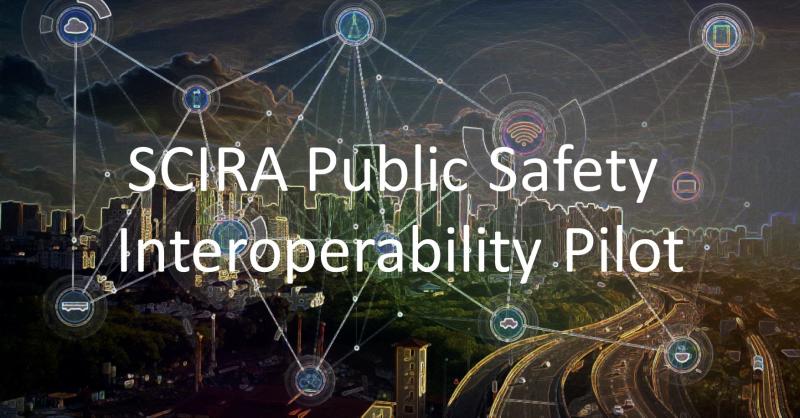 The Open Geospatial Consortium (OGC) invites interested members & non-members to submit a proposal to participate in the SCIRA Public Safety Interoperability Pilot and receive funding for implementation of Pilot components.
The Smart City Interoperability Reference Architecture (SCIRA) is a project of OGC's Innovation Program sponsored by the US Department of Homeland Security (DHS) Science & Technology (S&T). The purpose of the SCIRA project is to advance standards for Smart, Safe Cities and develop open, interoperable design patterns for incorporating Internet of Things (IoT) sensors into city services.
SCIRA is providing free deployment guides, a reusable design toolkit, and other resources that municipalities can use to plan, acquire, and implement standards-based, cost-effective, vendor-agnostic, and future-proof Smart City IT systems and networks using technologies such as Internet of Things (IoT), Sensor Webs, and Geospatial Frameworks.
The SCIRA Public Safety Interoperability Pilot is intended to prototype advances in public safety and risk reduction through the interoperable sharing of city data and the flexible deployment of inexpensive Web-connected sensors. The Pilot will focus on two cities – St. Louis, MO, and Virginia Beach, VA – to refine elements of interoperable smart city architecture through implementation and testing in functional, 'real world' applications and services.
An OGC-developed process with multiple rounds of collaborative implementation and testing will result in a reference architecture that is both feasible and effective for smaller municipalities to adopt. Pilot participants will create prototype applications that help reduce implementation risks and illuminate usage opportunities for key parts of the architecture. Additionally, the SCIRA deployment guides will be updated using information gained from the Pilot in order to provide useful, practical, and actionable direction to key Smart City stakeholders.
The SCIRA Pilot will conclude with on-site exercises and then a demonstration intended to establish a reusable example of SCIRA-based deployment by demonstrating prototype capabilities that address a real-world public safety scenario; this application of the SCIRA design toolkit will show how cities can reap the benefits of standards-based interoperability. Pilot outcomes will be documented in public engineering reports as well as updated practical deployment guides and other useful materials.
This Initiative is being conducted under the OGC's Innovation Program where sponsors and world experts come together to address geospatial IT challenges in an agile and cooperative manner. Since 1999, more than 110 successful initiatives have taken place, including in-kind interoperability experiments, hackathons, pilots, and multi-million-dollar testbeds with hundreds of participants.
The Call For Participation is available to download from the SCIRA Public Safety Interoperability Pilot webpage as either HTML or PDF versions.
While any interested party is encouraged to apply to participate, an active OGC membership is required at the time of participation. By becoming an OGC member you will contribute to a shaping a world in which everyone benefits from the use of geospatial information and supporting technologies.
To learn more about this Initiative, please visit the SCIRA Public Safety Interoperability Pilot webpage or contact techdesk@opengeospatial.org.
About OGC
The Open Geospatial Consortium (OGC) is an international consortium of more than 525 companies, government agencies, research organizations, and universities participating in a consensus process to develop publicly available geospatial standards. OGC standards support interoperable solutions that 'geo-enable' the Web, wireless and location-based services, and mainstream IT. OGC standards empower technology developers to make geospatial information and services accessible and useful within any application that needs to be geospatially enabled. Visit the OGC website at www.opengeospatial.org.
"