3D Data Container and Tiles API Pilot seeks to assess a data container model and API that will support smooth transitions between 3D and 2D data environments; allow applications working with 2D tiles to get 3D tiles; and more.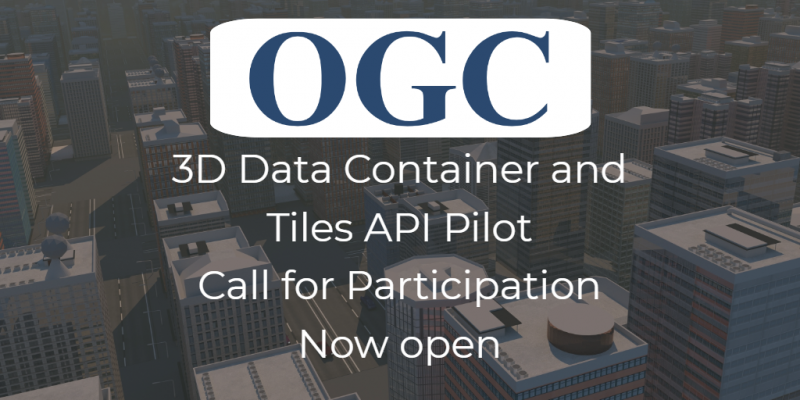 The Open Geospatial Consortium (OGC) has released the Call for Participation for its 3D Data Container and Tiles API Pilot and is offering funding for interested participants. Applications close December 9th, 2019.
The goal of the 3D Data Container and Tiles API Pilot is to explore an integrated suite of draft specifications for 3D tiled geospatial resources and compatibility with existing OGC 3D delivery standards such as the 3D Portrayal Service, I3S, and 3D Tiles Community Standard. This suite will support smooth transitions between 2D and 3D environments; allow applications working with 2D tiled resources to get 3D tiled resources; and enable 3D tile bounding volumes to support multiple data containers.
To achieve these goals, the Pilot will develop a draft API that is compatible with the OGC API group of standards (and candidate standards) and which allows access to, and query of, 3D geospatial data and a corresponding container format for streamed data delivery compatible with glTF.
The Pilot funds a number of data server and client implementations to test the new API and data delivery. Further, the Pilot will include an analysis of characteristics and capabilities of the new API in comparison with existing or emerging 2D standards.
This Pilot provides a unique opportunity to advance solutions that realize a smooth 3D and 2D data integration environment for geospatial data based on open standards. Focus is on the exchange and visualization of 3D-tiled geospatial data using open standards from the context of both existing and emerging 3D and 2D standards. Participants become part of the standards development process and influence future standard design and content for 3D tiled vector data access and management in distributed Web environments. Participants can optimize their products for 3D data handling both on the client and the server side for massive 3D data. Participants can interact with sponsoring organizations and explore their products in multi-vendor environments to test interoperability between the various components.
The 3D Data Container and Tiles API Pilot is being conducted under OGC's Innovation Program, the research and development (R&D) laboratory of OGC. Under OGC's Innovation Program, sponsors and OGC members come together to address geospatial IT challenges in an agile and cooperative manner. Since 1999, more than 120 successful initiatives have taken place, from in-kind interoperability experiments run by working group members, to hackathons, pilots, and multi-million-dollar testbeds with hundreds of participants.
Cost-sharing funds are available from the Sponsor to partially offset the costs associated with development, engineering, and demonstration activities that are part of this pilot. The cost-sharing offers selected participants a unique opportunity to recoup a portion of their initiative expenses.
More information on the Pilot, including the official Call for Participation, is available on the OGC 3D Data Container and Tiles API Pilot Webpage. Responses are due by December 9th, 2019.
Participation is open only to OGC Members. However, proposals from non-members will be considered provided that a completed application for OGC membership (or a letter of intent to become a member) is submitted prior to (or with) the proposal.
About OGC
The Open Geospatial Consortium (OGC) is an international consortium of more than 530 businesses, government agencies, research organizations, and universities driven to make geospatial (location) information and services FAIR – Findable, Accessible, Interoperable, and Reusable.
OGC's member-driven consensus process creates royalty free, publicly available geospatial standards. Existing at the cutting edge, OGC actively analyzes and anticipates emerging tech trends, and runs an agile, collaborative Research and Development (R&D) lab that builds and tests innovative prototype solutions to members' use cases.
OGC members together form a global forum of experts and communities that use location to connect people with technology and improve decision-making at all levels. OGC is committed to creating a sustainable future for us, our children, and future generations.
Visit ogc.org for more info on our work.
"