New Working Group will create stable, standardized, service APIs based on simple data retrieval patterns, which will improve access to environmental data and information.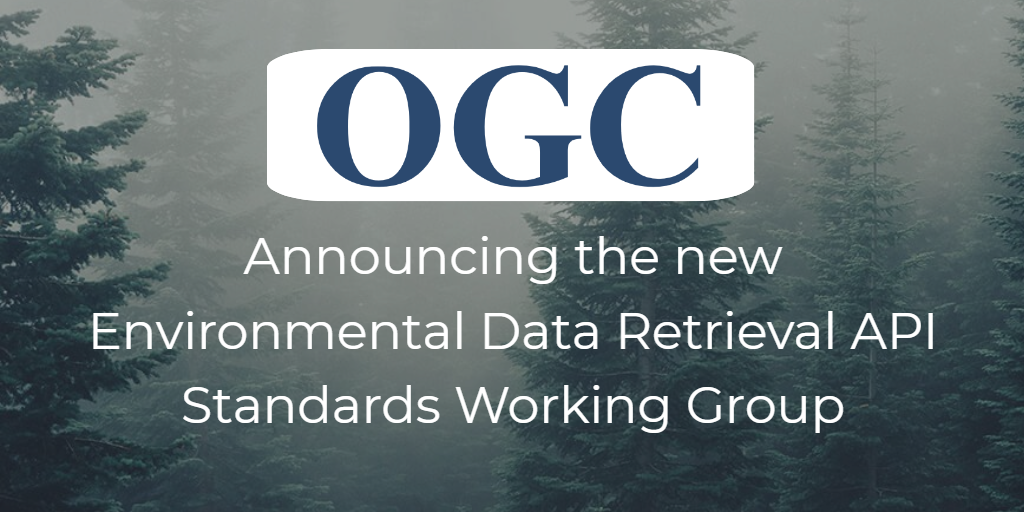 The Open Geospatial Consortium (OGC) today announced the formation of the Environmental Data Retrieval API Standards Working Group (SWG).
The Environmental Data Retrieval API SWG will standardize several APIs, defined using OpenAPI Version 3, to retrieve various common data patterns from a data store.
Much environmental data cannot be readily copied and distributed in sensible timescales for many uses – a true example of 'Big Data'. However, users can use APIs to specify precisely the subset of data they need so that a service provider can extract and serve the requested data in a web-friendly manner. Data access is therefore not only simplified, with any complicated service implementation details hidden from the user, but also scalable – both in terms of the underlying data volumes and the number of supported simultaneous users.
Using stable, standardized, service APIs based on simple data retrieval patterns will therefore improve the access and use of environmental data and information across different domains, facilitating more innovation and value.
A goal of the SWG is that these standardized APIs will be consistent with the strategic direction established by OGC members for OGC API standards, such as OGC API – Features and the emerging OGC API – Common.
The service APIs will support both traditional and cloud-based approaches to computing and also enable a mix of public and private business models on a 'level playing field'. For example, no one country is capable of supplying weather forecast data at the highest useful resolutions for the whole globe. Therefore a distributed, scalable approach is essential to enable affluent countries and Least Developed Countries alike to contribute to global strategic initiatives of sustainability and development.
The SWG comes as part of a broader movement by OGC to modernize its spatial web APIs to conform to current practices on the web and to support the use of modern tools, such as OpenAPI, to support developers wishing to spatially enable their web applications. OGC Chief Operations Officer and Executive Director of OGC's Standards Program, Scott Simmons, outlined the movement in a recent blog post entitled OGC APIs and the evolution of OGC standards.
"We now are taking the initiative to work across disciplines in OGC to get the next generation of these standards aligned early in their development and sufficiently modular to maximize their flexibility," said Scott in his blog post. "Further, the use of OpenAPI makes it much easier for developers to implement the standards as requirements are defined in YAML or JSON, not just text. OpenAPI allows easy implementation in a number of languages and patterns and has proven very simple to use in creating RESTful implementations."
OGC members who can share their expertise in standardizing Environmental Data Retrieval APIs are invited to participate in the Environmental Data Retrieval API Standards Working Group. Visit the OGC Environmental Data Retrieval API SWG home page or contact info@ogc.org for more information on the group, including how to participate.
Visit OGC's Domain Working Group and Standards Working Group pages to learn about other standards activities happening in OGC. There is currently a strong emphasis on topics related to Internet of Things, Smart Cities, Aviation & Unmanned Systems (eg UAVs), Big Data, Linked Data, Disaster Response, Maritime, Indoor Location, Blockchain & Distributed Ledgers, and more.
About OGC
The Open Geospatial Consortium (OGC) is an international consortium of more than 530 businesses, government agencies, research organizations, and universities driven to make geospatial (location) information and services FAIR – Findable, Accessible, Interoperable, and Reusable.
OGC's member-driven consensus process creates royalty free, publicly available geospatial standards. Existing at the cutting edge, OGC actively analyzes and anticipates emerging tech trends, and runs an agile, collaborative Research and Development (R&D) lab that builds and tests innovative prototype solutions to members' use cases.
OGC members together form a global forum of experts and communities that use location to connect people with technology and improve decision-making at all levels. OGC is committed to creating a sustainable future for us, our children, and future generations.
Visit ogc.org for more info on our work.
"