Developers at the '2019 OGC API – Features and Catalogues Sprint' will work on Query and Filter reusable components to standardize geospatial data access across 'OGC API – Features', 'OGC API – Catalogue', and other geospatial API's.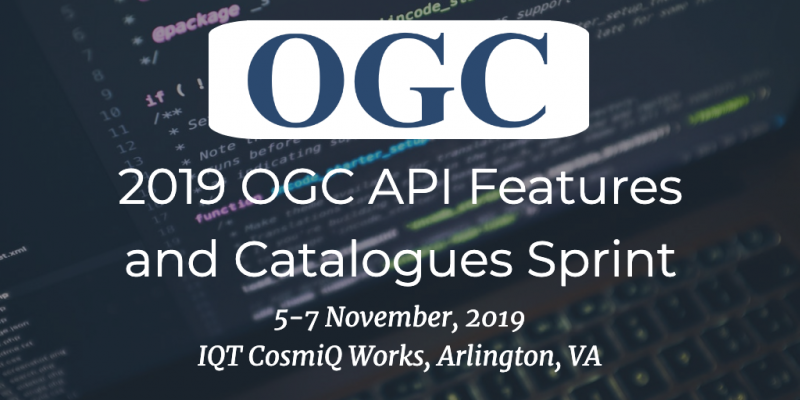 The Open Geospatial Consortium (OGC) and the SpatioTemporal Asset Catalog (STAC) community together invite developers to participate in the follow-up to the successful OGC API Hackathon. The '2019 OGC API – Features and Catalogues Sprint' will occur at IQT CosmiQ Works, Arlington, VA, USA on 5-7 November, 2019.
OGC has been developing a new generation of web API standards leveraging OpenAPI to document requirements for implementation. In parallel, but in close coordination, the STAC community has been advancing a specification focused on imagery catalogs, which is based on OGC API – Features.
The Sprint is organized jointly with the STAC community to advance work on OGC's emerging standards for Features and Catalogues, which is of mutual interest to both groups.
The purpose of this Sprint is to work on the Query and Filter 'building blocks' for data that will extend functionality of OGC API – Features and OGC API – Catalogue. The Query and Filter components have been among the first building blocks deemed necessary for the OGC API suite of standards, and will bring the OGC API – Features standard up to similar capability with the 'classic' Web Feature Service standards. The ability to filter with logical and geospatial operators, and to sort are also required by STAC so that specification can remain aligned with the OGC APIs.
The objectives of this Sprint are to clarify requirements and methods for the Query and Filter operations, develop prototype functionality through running code, and assess the compatibility of the capabilities with the OGC API – Features standard and the work-in-progress OGC API – Common standard.
An OGC Sprint is a collaborative and inclusive event driven by innovative and rapid programming with minimum process and organization constraints to support the development of new applications and candidate standards.
There will be an opportunity for joint discussion with all participants on the goals and objectives of the event, as well as the final briefing of findings and opinions of the participants. However, the majority of the time will be spent in collaboration between participants in active coding.
The Sprint will be run by the OGC API – Features Standards Working Group (SWG) Chairs, key leadership from the STAC initiative, and with support from OGC staff.
Attendance priority will be given to those with an implementation or desire to implement the specifications.
For more information, including info on how to participate, visit the 2019 OGC API – Features and Catalogues Sprint web page on the OGC website.
Event details:
Website: opengeospatial.org/events/191105apisprint / #OGCapiSprint
When: 5-7 November, 2019
Where: IQT CosmiQ Works, Arlington, VA, USA
About STAC
The SpatioTemporal Asset Catalog (STAC) specification is a community-driven effort supported by the Radiant Earth Foundation. It aims to provide a common language to describe satellite imagery and other geospatial assets (SAR, point clouds, data cubes, full motion video), so it can more easily be indexed and discovered. The goal is for all providers of spatiotemporal assets to expose their data as SpatioTemporal Asset Catalogs (STAC), so that new code doesn't need to be written whenever a new data set or API is released. Learn more at http://stacspec.org.
Radiant Earth Foundation is a non-profit organization actively working to develop Earth observation machine learning libraries and models through an open source hub that support global missions like agriculture, conservation, and climate change. Radiant Earth also fosters a community of practice to develop standards around machine learning for Earth observation and provide information on the progress and innovation in the Earth observation marketplace. Learn more at http://radiant.earth.
About OGC
The Open Geospatial Consortium (OGC) is an international consortium of more than 530 businesses, government agencies, research organizations, and universities driven to make geospatial (location) information and services FAIR – Findable, Accessible, Interoperable, and Reusable.
OGC's member-driven consensus process creates royalty free, publicly available geospatial standards. Existing at the cutting edge, OGC actively analyzes and anticipates emerging tech trends, and runs an agile, collaborative Research and Development (R&D) lab that builds and tests innovative prototype solutions to members' use cases.
OGC members together form a global forum of experts and communities that use location to connect people with technology and improve decision-making at all levels. OGC is committed to creating a sustainable future for us, our children, and future generations.
Visit ogc.org for more info on our work.
"