The 2nd Open Source Software and Open Standards Code Sprint will advance multiple ASF and OSGeo projects, supported by OGC Standards, including OGC API Standards. Sponsorship is still available.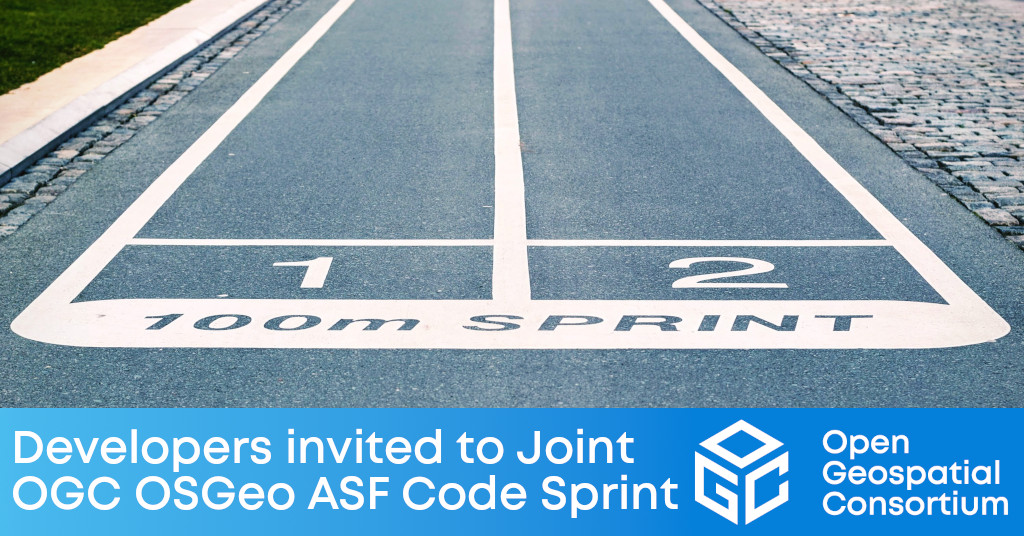 The Open Geospatial Consortium (OGC), the Apache Software Foundation (ASF), and the Open Source Geospatial Foundation (OSGeo) invite software developers to a joint Virtual Code Sprint from March 8-10, 2022, with a pre-event webinar on February 23. Registration for the Code Sprint closes March 1. Several Sponsorship packages are still available.
The Code Sprint, sponsored by OGC Strategic Member Ordnance Survey, will cover multiple ASF and OSGeo projects, as well as related OGC Standards – including OGC API Standards. OGC, OSGeo, and Apache projects, working groups, and members are encouraged to participate. However, the Sprint is open to the general public, even if you are not active members or contributors to the efforts of the hosting organizations.
A Code Sprint is a collaborative and inclusive event driven by innovative and rapid programming with minimal process and organization constraints to support the development of new applications and candidate standards.
The goal of the Code Sprint is to advance support of open geospatial standards within the developer community, while also advancing the development of the standards themselves. Therefore, the Code Sprint will enable software developers to focus on projects that implement open geospatial standards for a period of three days.
There will be an opportunity for joint discussion with other participants, as well as daily briefings from each project and working group. However, the majority of the time will be spent in collaboration between participants in active coding and related activities such as testing, reporting issues, and working on documentation. Technical Writers are also encouraged to participate in the Code Sprint, to help the various projects and working groups with their documentation activities.
In addition, the Code Sprint will also provide a mentor stream, aimed at developers who are not yet familiar with the software projects and standards. The mentor stream will support them in their first steps using tutorials and 1:1 mentoring.
To prepare for the Code Sprint, a webinar will be held on February 23, 2022, at 9:00am US Eastern Time. The webinar will set out the scope of the Code Sprint and provide an overview of the participating groups.
Visit the Code Sprint website for more information. The agenda and other information about the code sprint are also available on a GitHub repository wiki. The Code Sprint will run from 7:00am until 5:30pm EST (US Eastern Time) each day.
This Code Sprint is open to the general public, even if you are not active members or contributors to the efforts of the organizers. To register please visit the 2022 Joint OGC – OSGeo – ASF Code Sprint registration page. Registration closes at 9:00am US Eastern Time on March 1, 2022.
To learn more about how the family of OGC API Standards work together to provide modular "building blocks for location" that address both simple and the most complex use-cases, visit ogcapi.org.
Event Sponsorship
Organizations are invited to sponsor the Code Sprint. A range of packages are available offering different opportunities for organizations to support the geospatial development community while promoting their products or services.
Organizations may sponsor the event at either of the following sponsorship levels:
Platinum: $10,000 USD
Gold: $5,000 USD
Silver: $2,000 USD
Bronze: $1,000 USD
Sponsors will benefit from:
Sponsors' logos placed on the sprint website as well as on all official presentations used during the sprint.
Acknowledgement in a blog post on the OGC website summarizing the outcome of the sprint.
Acknowledgement in a series of emails and social media posts promoting the sprint.
Organizations interested in sponsoring the Code Sprint should contact the OGC Standards Program and OSGeo point of contact.
About The Apache Software Foundation
Since 1999, The Apache Software Foundation has been shepherding, developing, and incubating Open Source innovations "The Apache Way". The ASF's all-volunteer community comprising 816 individual Members and 8,500 Committers on six continents steward 227M+ lines of code, oversee 350+ Apache projects and their communities, and provide $22B+ worth of software to the public at 100% no cost.
About OSGeo
OSGeo is a not-for-profit organization whose mission is to foster global adoption of open geospatial technology by being an inclusive software foundation devoted to an open philosophy and participatory community driven development.
About OGC
The Open Geospatial Consortium (OGC) is a collective problem-solving community of experts from more than 500 businesses, government agencies, research organizations, and universities driven to make geospatial (location) information and services FAIR – Findable, Accessible, Interoperable, and Reusable.
The global OGC Community engages in a mix of activities related to location-based technologies: developing consensus-based open standards and best-practice; collaborating on agile innovation initiatives; engaging in community meetings, events, and workshops; and more.
OGC's unique standards development process moves at the pace of innovation, with constant input from technology forecasting, practical prototyping, real-world testing, and community engagement.
OGC bridges disparate sectors, domains, and technology trends, and encourages the cross-pollination of ideas between different communities of practice to improve decision-making at all levels. OGC is committed to creating an inclusive and sustainable future.
Visit ogc.org for more info on our work.
"