Congratulations to Chris Little, awarded the 2021 Gardels Award for leading impactful efforts in the meteorology and geospatial science communities, including his exemplary chairing of OGC Working Groups.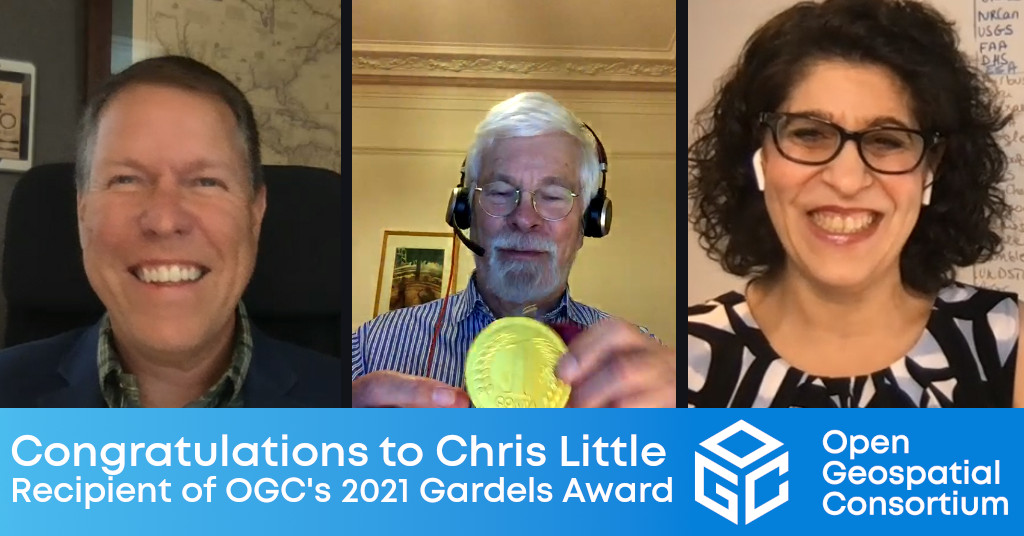 Left to Right: OGC Chief Standards Officer, Scott Simmons, Gardels Recipient Chris Little, and OGC CEO Nadine Alameh.
At the 121st Open Geospatial Consortium (OGC) Member Meeting, held virtually, Chris Little was presented the OGC's prestigious Kenneth D. Gardels Award. The Gardels Award is presented each year to an individual who has made an outstanding contribution to advancing OGC's vision of building the future of location with community and technology for the good of society.
Chris Little, IT Fellow – Operational Infrastructures at the UK Met Office, was selected as the 2021 recipient because of his leading of efforts that directly impact the meteorology and geospatial science communities, including his exemplary chairing of OGC Standards Working Groups (SWGs) and Domain Working Groups (DWGs), and ensuring that all stakeholders were included in the consensus process.
A member of the nominating committee noted, "It would be hard to surpass Chris's longtime contributions both in the meteorology domain and more broadly with issues of temporal interoperability and general conceptual soundness. He is active, tireless, and his recent work championing the OGC API – Environmental Data Retrieval (EDR) is commendable!"
"OGC appreciates Chris' dedication to the advancement of high-quality Standards through his active participation in the OGC Architecture Board (OAB)," commented Jeffrey Harris, OGC Chair. "Chris' willingness to bring emerging topics of interest to the OAB ensures that OGC is tackling issues of relevance to our members and community in a timely manner."
Chris has demonstrated the true spirit of OGC by dedicating his time and effort to co-chair the Meteorology and Oceanography DWG, the Temporal DWG, and the Environmental Data Retrieval API SWG. The engagement that Chris has helped broker between OGC and the meteorology community has been instrumental in not only developing sound interoperability amongst users of meteorological data, but also in proving the suitability of OGC Standards for domain-specific use. Chris' skill in bridging communities exemplifies the values associated with the Gardels Award.
In all this work, Chris exemplifies the highest values of OGC, and has demonstrated the principles, humility, and dedication in promoting spatial technologies to address the needs of humanity that characterized Kenn Gardels' career and life.
About the OGC Gardel's Award
The Kenneth D. Gardels award is a gold medallion presented each year by the Board of Directors of the Open Geospatial Consortium, Inc. (OGC) to an individual who has made exemplary contributions to the OGC's consensus standards process. Award nominations are made by members – the prior Gardels Award winners – and approved by the Board of Directors. The Gardels Award was conceived to memorialize the spirit of a man who dreamt passionately of making the world a better place through open communication and the use of information technology to improve the quality of human life.
Kenneth Gardels, a founding member and a director of the OGC, coined the phrase "Open GIS". Kenn died of cancer in 1999 at the age of 44. He was active in popularizing the open source Geographic Information System (GIS) 'GRASS', and was a key figure in the Internet community of people who used and developed that software. Kenn was well known in the field of GIS and was involved over the years in many programs related to GIS and the environment. He was a respected GIS consultant to the State of California and to local and federal agencies, and frequently attended GIS conferences around the world.
Kenn is remembered for his principles, courage, and humility, and for his accomplishments in promoting spatial technologies as tools for preserving the environment and serving human needs.
About OGC
The Open Geospatial Consortium (OGC) is a collective problem-solving community of experts from more than 500 businesses, government agencies, research organizations, and universities driven to make geospatial (location) information and services FAIR – Findable, Accessible, Interoperable, and Reusable.
The global OGC Community engages in a mix of activities related to location-based technologies: developing consensus-based open standards and best-practice; collaborating on agile innovation initiatives; engaging in community meetings, events, and workshops; and more.
OGC's unique standards development process moves at the pace of innovation, with constant input from technology forecasting, practical prototyping, real-world testing, and community engagement.
OGC bridges disparate sectors, domains, and technology trends, and encourages the cross-pollination of ideas between different communities of practice to improve decision-making at all levels. OGC is committed to creating an inclusive and sustainable future.
Visit ogc.org for more info on our work.
"