Gobe Hobona, Ph.D
Director of Product Management, Standards
England, UK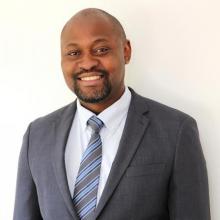 About Me:
Dr. Gobe Hobona is the OGC's Director of Product Management, Standards. In this role he manages coordination between Standards Working Groups (SWGs) and set priorities for standards development (in cooperation with SWG chairs). He also provides oversight of OGC Application Programming Interface (API) evolution and harmonization activities. He identifies opportunities for investment in SWG participation, Innovation Program initiatives, and Compliance test development. He monitors and participates in SWG activities, as well organises Sprints to advance standards or verify their design. He is also accountable for the Compliance Program and is responsible for Knowledge Management.
Prior to joining OGC staff, Dr Hobona was the Consultancy Team Leader and Head of Applied Research at Envitia. During his time at Envitia, he was the technical lead of a multi-year geospatial research project commissioned by a major UK government ministry. He has also previously held postdoctoral research posts at Newcastle University and the University of Nottingham. His previous work has covered topics such as spatial data infrastructure, metadata harmonisation, geographic information retrieval, the semantic web, autonomous systems, and earth observation.
He holds a PhD in Geomatics from Newcastle University. He also holds a Bachelor of Science with Honours in Geographic Information Science from Newcastle University. He is a professional member of both the Royal Institution of Chartered Surveyors (RICS) and the Association of Computing Machinery (ACM).
Other activities: Chair of the OGC Architecture Domain Working Group; Chair of the OGC Naming Authority; Member of the RICS Aerial Imagery Guidance Working Group; and OGC representative on the IST/36 committee on geographic information of the British Standards Institution (BSI).