Disaster Pilot 2023
For more information please contact innovation@ogc.org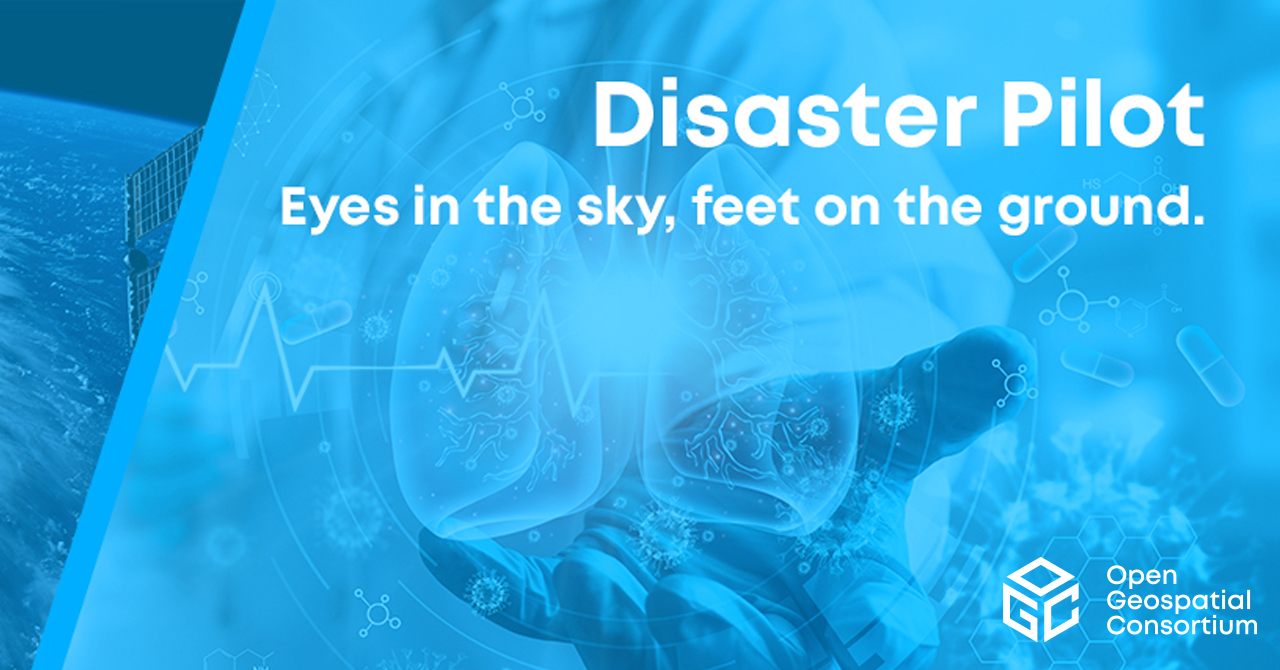 Disaster Pilot 2023 Call for Participation is here (PDF). Note: proposal submissions go here. Deadline for submissions extended to Monday 20 February @ 11:59 PM EST.
Missed the Q&A session on February 1? Catch up with the session recording. Further questions may be posted to the Additional Message textbox in the OGC Innovation Program Contact Form.
Building on the success and outcomes of the Disaster Resilience Pilot, Disaster Pilot 2021, and subsequent preparatory activities, OGC is now preparing to execute Disaster Pilot 2023. A key output from previous efforts has been recognition and acknowledgement of the need to address:
Stakeholder collaboration on data-to-decision workflows,
Readiness, resilience, and timeliness of data collection and processing to support critical disaster management decisions,
Flexible and scalable deployment of workflows and applications necessary to support disaster practitioners in their day-to-day and minute-to-minute responsibilities.
Publication and visualization tools to promote a broader understanding of the wide range of scales in both geography and time over which coordinated actions are needed for disaster resilience.
Vision
Disasters occur all the time, but many types of disaster are occurring more frequently, more severely, and in more regions than ever before. Disasters and disaster impacts are increasingly complex and consequential. Drought, high winds, and extreme heat drive wildfire occurrence, leaving hillsides vulnerable to landslides in subsequent storm events. Health disasters such as pandemics, exacerbated by respiratory diseases (caused for example by those same wildfires) increase population vulnerability and hinder response efforts. All of this is being thrown into a higher gear in more places by the energy effects of climate change and global warming.
At the same time, earth observation data, whether collected from space, measured by in situ sensors, reported by authorities, or captured by a volunteer's cellphone, are available in almost unimaginable volume, velocity, and variety, supplemented by large and small scale predictive models and other analytical / interpretive tools. The challenge we face is to work collaboratively with this data to produce information that directly guides those in the field and on the ground to improve disaster prediction, resilience, response, and recovery.
Our vision is to use spatial data sharing standards together with Web technologies and cloud computing so that the responsible stakeholders can work together wherever they are located, use relevant data wherever they are stored, and manage every phase of a disaster at any scale wherever it threatens. In a global, cloud-scale disaster information ecosystem, awareness of threats, vulnerabilities, and impacts can be fostered and shared through joint development of workflow recipes that integrate and transform analysis-ready observation and prediction data (ARD) into decision ready indicators (DRI). Indicator workflows, ready to run and adaptable to each situation, provide the guidance that the right people at the right time in the right place need to make decisions, take actions, and improve disaster outcomes.
Pilot Scope
The Pilot's technical scope involves a key set of stakeholder collaborations, distributed information technologies, EO advancements, and related standards:
Data to Decision Workflow Collaboration and Realization: Hybrid applications-to-the-data EO cloud exploitation platforms that seamlessly bring analysis-ready imagery, in situ, social, economic, environmental, health, and other data streams into scalable cloud environments where advanced processing, modeling, and algorithms can be directly and flexibly applied to them.
ARD and DRI Services: assessing and validating analysis readiness, then integrating remote, local, and framework data sources on demand, with the goal of providing targeted information products to local analysts and field responders through modern convenience API's, optimized hybrid-cloud services, and scaleable mobile-ready applications.
Immersive visualization of Key Indicators in Time, Space, and What If Scenarios: Immersive and interactive visualizations of 3D-4D disaster and related indicators in contextual environments that overcome conceptual and perceptual barriers to understanding disaster risks, vulnerabilities, and impacts, particularly over longer time scales.
(It's) The People
While many of the objectives of an OGC Pilot are technical, effective organizational and personal collaborations, as well as social, economic, and political context, are just as important. In disaster management and response situations, physical analysis and synthesis centers have often been shown to foster critical exchanges of knowledge and effective plans for action, providing the rapid feedback loops required for timely decisions. The Pilot will include a series of workshops and other outreach activities intended to involve initiative stakeholders — sponsors, participants, practitioners, and other collaborators — in designing, exercising, and evaluating the technical capabilities that the Pilot will prototype. These activities will also examine approaches to reproducing the effectiveness of physical synthesis centers in a distributed environment by leveraging virtual collaboration tools that have become both necessary and remarkably effective in recent times.
Concepts
Analysis Ready Data (ARD): ARD products are processed to common spatiotemporal and phenomenological standards allowing direct analysis and integration with other ARD products
Decision Ready Indicators (DRI): DRI are the result of workflow recipes that integrate, interpret, and transform ARD to directly guide actions and decisions
Applications to the Data (A2D): Computing architecture that minimizes data transfer by processing large-scale datasets "close" to where they are stored in cloud environments
Analysis Ready Computing (ARC): Ready-to-use cloud computing environments for producing timely ARD and DRI products
Climate Change Impact Services (CCIS): Model services for predicting changes to disaster locations, frequencies, and severities based on shifts in local and global climate parameters
Live Workflow Graphs: Live cloud computing workflows that respond to updated EO inputs by generating new near-real-time ARD and DRI products.
Linked Hazards: Workflow graphs that estimate the dependencies in risk and impact between different types of of hazards.
Schedule
Building on the success and outcomes of the Disaster Resilience Pilot, Disaster Pilot 2021, and subsequent preparatory activities, OGC is now preparing to execute Disaster Pilot 2023, focusing on drought and wildland fire hazards. Additional threads may be added to the schedule in the future, depending on funding availability.
Contact Sara Saeedi or Josh Lieberman for further information.
| | | |
| --- | --- | --- |
| Milestone | Date | Activity |
| M01 | 19 January, 2023 | Call for Participation Release |
| M02 | 1 February, 2023 | Question & Answer Session (Recording is available here) |
| M03 | 20 February, 2023 | Responses Due (11:59PM EST) |
| M04 | 3 March, 2023 | Participant Selection and Agreements |
| M05 | 15-16 March, 2023 | Pilot Kick-Off Meeting |
| M06 | 26-27 April, 2023 | Workshop 1: Stakeholder Workflow Collaboration |
| M07 | 28-29 June, 2023 | Workshop 2: Decision Ready Operations (Manitoba) |
| M08 | 18 August, 2023 | Draft Pilot Report and Demonstrators |
| M09 | 8 September, 2023 | Draft Pilot Report and Demonstrators |
| M10 | 27 September 2023 | Final Pilot Demonstration |
| M11 | 14-15 November 2023 | Pilot Report, Demonstrators & Video Public Release |
Tags:
Climate Change, Digital Twins, Disaster Resilience, Drought, Epidemic, Flood, Mudslide, Pandemic, Spatial Data Infrastructure, Wildfire