Disaster Pilot 2023
For more information please contact innovation@ogc.org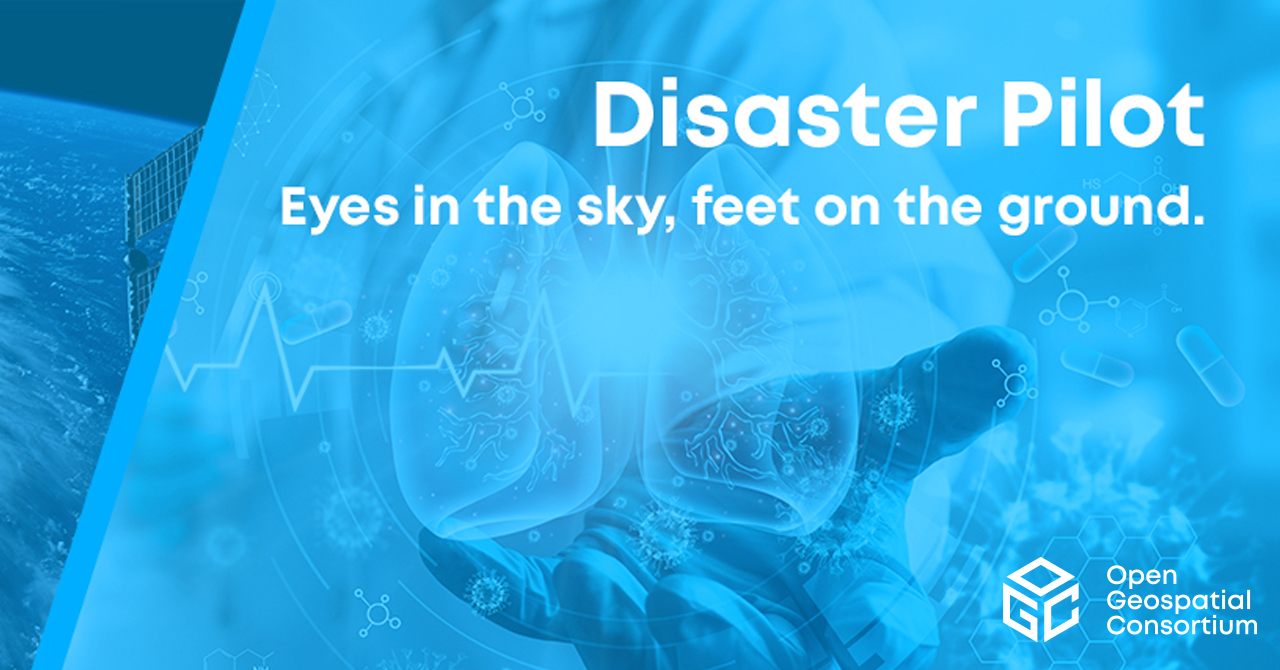 Earthquakes, hurricanes, forest fires or pandemics: Disasters with devastating effects on people and nature occur again and again. Climate change and global warming are exacerbating the problem and forcing us to act quickly.
For example, countries like the U.S. are working hard to modernize firefighting. In February 2023, the President's Council of Advisors on Science and Technology recommended supporting the work of firefighters through the use of advanced technologies. The research community should be able to more easily access archived satellite data from the Department of Defense and other government sources to accelerate the improvement of AI tools to model the spread of wildfires.
Using new technologies to save lives – that's where Disaster Pilot 2023 comes in. After all, we already have access to a wealth of Earth observation data – from space, measured by temperature, pressure or humidity sensors on the ground, reported by government agencies or collected by a volunteer's cell phone. But how can we bring all this data together and make it useful?
Our vision is to use standards for sharing geospatial data along with web technologies and cloud computing. This will allow responsible stakeholders to collaborate no matter where they are, use relevant data no matter where it is stored, and manage any phase of a disaster at any scale, no matter where it threatens. OGC's Disaster 2023 supports the UN's global sustainable development goals of Agenda 2030, as well as the goals of the United Nations Office for Disaster Risk Reduction.
In a global, cloud-based disaster information ecosystem, awareness of threats, vulnerabilities, and impacts can be promoted and shared through the collaborative development of workflow concepts. Analyzable observational and predictive data must be integrated and transformed into concrete actions.
Providing the right people in the right place at the right time with the clues they need to take the right action: this is the only way to limit the impact of disasters. This is made possible by out-of-the-box indicator workflows that can be adapted to the situation at hand.
To be sure, many of the goals of the Disaster Pilot Project are technical. Effective organizational and personal collaboration, as well as social, economic, and political context, are equally important.
In disaster management and response situations, physical analysis and synthesis networks have often proven effective in promoting critical knowledge sharing and establishing effective action plans. This makes it possible to make timely decisions and generate rapid feedback loops.
The pilot project includes a series of workshops and other activities. They aim to involve all stakeholders – sponsors, participants, practitioners, and other collaborators – in developing, exercising, and evaluating the technical capabilities to be tested in Disaster 2023.
At the same time, the project will explore the extent to which approaches to physical synthesis center effectiveness can be replicated in a distributed environment. Virtual collaboration tools, which have recently become both necessary and highly effective, will be used for this purpose.
What should "Disaster Pilot 2023" accomplish:
Stakeholder collaboration on workflows between data and decisions.
Readiness, resilience and timeliness of data collection and processing to support key disaster management decisions
Flexible and scalable deployment of workflows and applications required to support disaster responders in their daily and up-to-the-minute tasks
Publication and visualization tools to promote a broader understanding of the wide range of geographic and temporal scales at which coordinated disaster resilience actions are required.
Tags:
Climate Change, Digital Twins, Disaster Resilience, Drought, Epidemic, Flood, Mudslide, Pandemic, Spatial Data Infrastructure, Wildfire