OGC Newsletter - September 2006
OGC News:
September 2006CONTENTS
President's Message
News and Opinion From The Blogosphere
Fall Interoperability Day Seminar
GSDI 9
Website of the Month
DEPARTMENTS:
New Members
,
OGC In The News
,
Events
,
Contact
,
Subscribe/Unsubscribe
Back issues of OGC News are
available
.
PRESIDENT'S MESSAGE
OGC and the "For Free vs. For Fee" Debate
Recently, particularly in Europe but also in the U.S. and other countries, we have seen increasing participation in the long standing debate about whether governments should charge or not charge for geospatial data provision. Some government agencies that collect and maintain geospatial data provide it at no cost or sell it for only the cost of distribution, on the grounds that the taxpayers have already paid for its collection, it is public information by law, and it is part of the information infrastructure that supports many kinds of economic activity and social good. Other government agencies follow the "cost recovery" model, setting a price based on the justification that the funds will be used to pay for ongoing data maintenance and superior accuracy, currency and precision. They argue that most taxpayers didn't choose to pay for the data and don't want it and shouldn't have to pay for it through taxes. Also, they contend, private sector data vendors often resell government data, perhaps after adding value, and taxpayers shouldn't be asked to subsidize those vendors.
As a staff member of the Consortium, I'm mindful that OGC's role in this debate is not to attempt to solve this policy issue. Rather OGC's role is to support a process that helps advance a flexible standards framework that meets the needs of organizations whose policies and representatives' standards requirements fall on all sides of this issue. The OGC is unavoidably part of the discussion because the standards work being advanced by our members is changing the way geospatial business gets done, and the standards need to accommodate a full range of government and private sector business models for the sharing, exchange, and application of geospatial information.
The Geospatial Digital Rights Management (GeoDRM) Working Group of the OGC Technical Committee brings together a diverse group of experts who recognize the need to build a policy neutral framework that supports the full spectrum of data sharing arrangements and business models. The standards must address a wide range of inescapable real world requirements that are not addressed by simple permissive/restrictive, open/closed approaches. The standards must make it possible to provide data under different terms for different circumstances. One aspect of this is making it possible to license data whether it is charged for or not. Thus the GeoDRM Working Group adheres to clear separation between licensing and pricing models.
A government agency at the local, national or regional level, for example, may not choose to seek data sales revenue, but it nevertheless may need GeoDRM capabilities because some of its data may have been procured under license only for particular uses, or because there may be a legal requirement for authentication of users (e.g. first responders) for access to the agency's data.. The private sector is creating and offering (sometimes from government sources) rich geospatial information for in-car navigation, weather forecasting and a range other uses. Private sector data providers need tools for online distribution, including tools for security, licensing, pricing, authentication, and perhaps tracking the lineage of data derived from multiple data layers. OGC members are working together to advance a standards framework necessary to handle this range of issues in a Web services world where multiple transactions link along a service chain to satisfy a user's needs.
All the links in a service chain need to support each other. Much of our members' work involves the testing and validation of the OGC standards framework in the context of the broader security, authentication, and DRM standards produced by other Standards Development Organizations. We do this so that geospatial information is, as stated in OGC's Geospatial Digital Rights Management Reference Model, "treated as nearly as possible like other digital resources such as music, text, or services" in the broader IT environment and marketplace.
I commend the work of OGC's GeoDRM Working Group to advance a coherent, flexible GeoDRM Reference Model, and I ask you to work with us to assure that standards based mechanisms are in place to address the needs of government, private sector, and academic organizations. A major milestone is in the works: On September 1 the Technical Committee entered a two week period during which they vote on whether to adopt the Geospatial Digital Rights Management Reference Model (GeoDRM RM) (06-004r2) as an OpenGIS Abstract Specification Topic Volume.
While important policy issues continue to be addressed regarding access to geospatial resources, I am thankful that, once again, our consensus process is working to accommodate the breadth of interoperability requirements necessary to meet the needs of an increasingly complex world.
Mark Reichardt
President
OGC
NEWS AND OPINION FROM THE BLOGOSPHERE
Discussions of OGC specifications and interfaces are popping up all over the blogosphere (the world of blogs). A few posts worthy of note follow.
Adena Schutzberg (OGC News Editor) writing at
All Points Blog
responded to queries about why ISO standards require a fee.
"[Says ISO] 'ISO standards cost money to develop, publish and distribute. Someone has to pay. The current system whereby users are requested to pay for the standards they use, not only sustains the development process but also, very importantly, ensures that the balance of independent vs. government, private vs. public interests can be maintained.'
"One more thing: when an OGC standard becomes an ISO standard (Simple Features and WMS are and others are to be soon!), you can get the OGC one for free."
Sean Gilles writing at
Import Cartography
raises his concerns about GeoDRM.
"My conclusion is that it won't happen for at least four reasons. GeoDRM, as proposed, is:
Overly complex
Backwards-looking
Poorly researched
Unnecessary"
Ed Parsons GeoRSS enabled his blog
EdParsons.com
and reports on the challenge and potential.
"So I guess we are still at the walking rather than running stage for GeoRSS, buts its great to see the major traditional GIS vendors as well as GYM beginning to adopt this approach.
"This has value way beyond blogging and putting pins on web maps however, I think there is great potential for GML encoded GeoRSS to offer a realistic alternative to the Web Feature Server as a mechanism for supplying changed feature data in a change only update service."
FALL INTEROPERABILITY DAY SEMINAR
OGC will host an
Interoperability Day Seminar
on October 4, 2006 to be held in conjunction with its Technical and Planning Committee Meetings in Tyson's Corner, Vienna, Virginia. The seminar, which is open to all, will include a keynote address, multi-vendor demonstration, and panel discussions.
Doug Eberhard, Chief Technical Officer of Parsons Brinckerhoff, will speak about "Extending the Geospatial Landscape: Addressing the Complexities of the Urban Landscape" in the keynote presentation. Speakers including Jim Knudsen, GIO of the Commonwealth of Pennsylvania, Johnny Tolliver, member of the Computing Applications group at Oak Ridge National Laboratory, and Thomas Gay, Assistant Vice President and Manager of commercial insurer FM Global's Engineering Plan Services will share their perspectives on how interoperability plays a role in government, research and private industry. Participating OGC members will show off their solutions in a Vendor Interoperability Showcase providing attendees the chance to get more familiar with implementations of OGC standards.
GSDI 9
The
Global Spatial Data Infrastructure Association 9th Conference
will be held in Santiago, Chile, November 6-10, 2006. The theme of GSDI-9 is Spatial Information: Tool for Reducing Poverty. All plenary sessions as well as the six parallel tracks of technical sessions will offer simultaneous translation in Spanish and English. Registration fees rise September 30.
WEBSITE OF THE MONTH
German Environmental Information Portal
The Aarhus Convention of 1998, by EU-Directive 2003/4/EC on public access to environmental information requires easy access to environmental information for all citizens of the EU member states. INSPIRE, the upcoming EU-directive for establishing an infrastructure for spatial information, will call for a better availability and interoperability of geospatial data, with a strong thematic focus on the environment. In response to these regulations, improved technical infrastructures will be needed. PortalU, the new
German Environmental Information Portal
, is a new information infrastructure run by the environmental administration in Germany.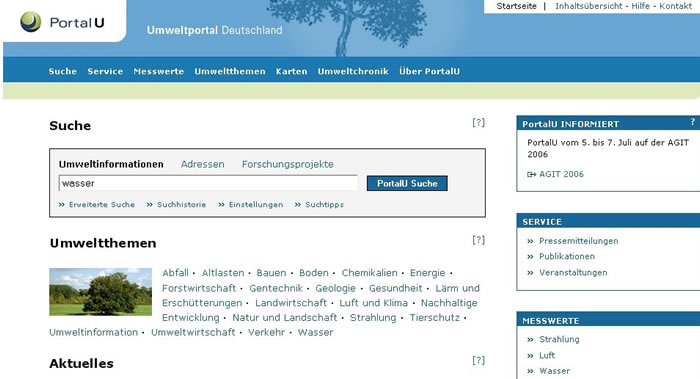 A query on "water" in PortalU.
PortalU was designed as the central online access-point to government-owned environmental information and data in Germany. PortalU offers access to more than 1.000.000 web-pages and database records from federal and state authorities.


Part of the resulting map from query.
On a technical level, PortalU supports a number of ISO and OGC standards to enable interoperability and easy integration in the new spatial data infrastructures. To reference geodata and geo-services, the PortalU catalog-component uses a metadata schema that is compatible with the ISO 19115, ISO 19119, and ISO 19139 standards. By implementing an upcoming OGC/ISO specification, the OpenGIS® Catalogue Services Specification 2.0.1 - ISO Metadata Application Profile CSW 2.0, PortalU makes sure that it can communicate with other metadata catalogs and information brokers. Last but not least, a visualization tool based on OGC's WMS specification enables portal-users to view and portal-operators to publish digital maps on the web.
Know of a website that uses OpenGIS specifications to solve a real world problem or demonstrates an interesting use? Or of a website that enhances the use and understanding of OGC's work? Drop the
adena

[at]

opengeospatial.org

(editor)
an e-mail with the details including the URL, organization behind the website, specifications used, technology used and the goal of the website.
NEW MEMBERS
OGC welcomes new members who joined us recently.
Consulting Center for Geographic Information Systems (CCGIS GbR)
(Germany)
Principal
GEOMATYS
(France)
Small Company
Logical Tracking & Tracing International AG
(Switzerland)
Small Company
Network Centric Operations Industry Consortium (NCOIC)
(U.S.)
Research Institute / Not For Profit Institute
OASIS
(U.S.)
Technical
OGC Interoperability Institute
(U.S.)
Research Institute / Not For Profit Institute
University of Manchester
(UK)
University
OGC IN THE NEWS
- OGC in the Press
When X Doesn't Mark the Spot
S. Michael Gallagher
Government Computer News
August 28, 2006
Interview with Sam Bacharach
A VerySpatial Podcast
August 27, 2006
The Web Gets Real
Andrew Wahl
Canadian Business
August 15, 2006
Successful pilot deployment to result in reduced costs and labor for UK Met Office
August 8, 2006
LizardTech Offers Even More Image Manipulation and Editing Tools with the Latest Version of GeoExpress
August 7, 2006
PIXIA to Develop Rapid Image Access System to Support Hurricane Response
August 7, 2006
Attendance Triples at GeoWeb 2006 Conference
August 3, 2006
- OGC Press Releases
OGC Elects Two New Directors
September 5, 2006
OGC Membership Approves Four Sensor Related OGC Specifications
September 1, 2006
Vendors Bring Expertise to Standards-based Watershed Portal
August 31, 2006
OGC Announces Fall Interoperability Day
August 30, 2006
Preetha Pulusani Retires from the OGC Board
August 14, 2006
EVENTS
September 12-15, 2006
Lausanne, Switzerland
FOSS4G2006 - Free And Open Source Software for Geoinformatics
September 26, 2006
Goa, India
IEEE GEOSS Workshop
The User and the GEOSS Architecture VI

October 2-6, 2006
Tyson's Corner, Virginia
OGC Technical and Planning Committee Meetings

November 6-10
Santiago, Chile
GSDI 9

November 14-15, 2006
Riyadh, Saudi Arabia
ISO/TC 211 23th Plenary

November 27-29, 2006
Torrejon air base - Madrid (Spain)
ESA-EUSC 2006: Image Information Mining for Security and Intelligence

December 11-14, 2006
San Diego, CA
OGC Technical and Planning Committee Meetings

January 22-25, 2006
Hyderabad, India
Map World Forum

For further info on events please contact gbuehler [at] opengeospatial.org (Greg Buehler).


CONTACT
Please send comments and suggestions to:
adena [at] opengeospatial.org (Adena Schutzberg)
Editor, OGC News
Open Geospatial Consortium, Inc.
35 Main Street Suite 5
Wayland MA 01778-5037
USA Phone: +1 508 655 5858
Fax: +1 508 655 2237
SUBSCRIBE/UNSUBSCRIBE
To subscribe send mail to:
newsletter-request

[at]

opengeospatial.org
with "subscribe" (no quotes) in the subject.
To unsubscribe send mail to:
newsletter-request

[at]

opengeospatial.org
with "unsubscribe" (no quotes) in the subject.
Visit our
subscription page
Copyright 2006 by the Open Geospatial Consortium, Inc.