OGC Newsletter - November 2005
OGC News:
November 2005CONTENTS
Message from the Executive Director, Interoperability Architecture
News From The Blogosphere
Europe SIG Session at Bonn Meeting
Fourth GML Relay Set for January
Books of Note
Geoservices Implements OGC Standards for Dutch Public Works
Website of the Month
DEPARTMENTS:
New Members
,
OGC In The News
,
Events
,
Contact
,
Subscribe/Unsubscribe
Back issues of OGC News are
available
.
MESSAGE FROM THE EXECUTIVE DIRECTOR, INTEROPERABILITY ARCHITECTURE
OGC Web Services Progress and Plans
On October 20-21, the OGC Web Services?3 (OWS-3) testbed participants successfully demonstrated a broad set of advances in the OGC baseline that will now be considered by the OGC Specification Program. Participants in OWS-3 developed and tested a number of potential new standards and enhancements to a number of existing OpenGIS® specifications that improve our core standards base. The OWS-3 Testbed is part of the OGC's Interoperability Program, which is an essential part of the OGC process to develop and promote the use of OpenGIS® Specifications. OWS-3 was a testbed that extended the OGC technology in areas of sensor webs, common architecture, digital rights management and decision support.
The Sensor Web Enablement (SWE) thread of OWS-3 matured a unique and revolutionary framework of open standards for Web-connected sensors. It is now practical for sensors of virtually any type to connect to the Web, via open interfaces. The sensors can publish their existence, their locations and their capabilities. They can be controlled through open interfaces, and their data can be output for an array of uses. Open standards bring these multitudes of sensors into a "virtual earth" available through open Web services. Beyond viewing any location, we will be able to sense the environment anywhere on our globe. With this new interoperability framework for sensors, decision makers in life-critical situations can have many more sources of information than before to manage natural and human caused disasters.
In the Geospatial Decision Support Services (GeoDSS) thread of OWS-3, open specifications were developed that enable decision makers to integrate geospatial data from a variety of sources into the operating environment that best supports optimal decision making. GeoDSS allows the commander in an emergency to be mobile, to know where information is coming from, to filter information based on location, and to integrate data from a variety of location based services. OGC's work on Information Interoperability was continued with tools to create GML Application Schemas from UML models or to be assembled from other GML schemas. OGC's work on symbology continues to mature with refinement of Style Layer Descriptor in use with Web Feature Services (WFSs). The Geo-Video Service - a new service ? allows a client to simultaneously view video from remote location and to track the geolocation on a map display. OGC Web Services make it possible to set up Web-based information environments that give decision makers rapid access to exactly the information they need for their context.
A set of OWS-3 multimedia products are under development to share results of OWS-3 with a wide audience. A ten minute movie featuring OWS-3's wildfire management scenario will also tell the story of how specifications are developed in OGC's Interoperability Program. An interactive multimedia product will allow review of all client activities that were part of the wildfire management scenario in OWS-3.
With the demo completed, OWS-3 participants are finishing the Interoperability Program Reports (IPRs) for consideration by the OGC Specification Program. Some IPRs, such as the SWE specifications, will be the basis for new OGC Implementation Specifications. Other IPRs, such as those describing symbology management, are refinements of the existing specifications. Others will be recommended as discussion papers. These include GML Performance analysis, application schema development and the Geo-Video Service.
The Interoperability Program will continue to look ahead at new technologies that make geoprocessing an enabling element of enterprise and commercial environments. We have growing interest within the consortium for additional work on sensor Web standards (e.g. radio frequency identification, RFID). We have strong interest to improve the interoperability between the Architecture/Engineering/Construction (AEC) and geospatial environments to support not only planning and design of the as-built environment, but integration of this information with information about the surrounding as-built and natural environment. In the commercial on-line world, there is growing member interest in addressing interoperability challenges and opportunities that have been created by the advent of Google Map/Local, Yahoo Maps, and Microsoft Virtual Earth.
OGC's relationships with other standards organizations are central to the efforts of the consortium. These relationships are also a critical factor in ensuring uptake of OGC specifications. In OWS-3, the SWE thread developed the Sensor Observation Service in cooperation with IEEE, using the IEEE 1451 specification for plug-and-play sensors as an input to the emerging Sensor Observation Service and SensorML specifications. Currently, OGC is collaborating with IEEE and ISPRS in a series of workshops in support of the Global Earth Observing System of Systems (GEOSS).
In the months of November and December, the Interoperability Program will make a call for interested sponsors for the major initiatives of 2006: OWS-4 and OGC Networks for GEOSS. This will be done with recommendations from the OGC Specification Program Working Groups. Potential sponsors can closely consider these recommendations and consider their own needs for new and enhanced specifications. Now is the time to work with others in the Consortium to develop the priority requirements for OGC interoperability initiatives for 2006.
George Percivall
Executive Director, Interoperability Architecture
OGC
NEWS FROM THE BLOGOSPHERE
Discussions of OGC specifications and interfaces are popping up all over the blogosphere (the world of blogs). A few posts worthy of note:
Paul Ramsey
wrote
about the lack of tools for finding services:
"Web services are a 'big deal' these days, garnering lots and lots of column inches in mainstream IT magazines. The geospatial world is no exception: after years of stagnation, the number of Open Geospatial Consortium (OGC) web services publicly available on the internet is starting to really explode, going from around 200 to 1000 over the last nine months. Great news! Except... now we have to find the services so we can use them in clients. The web services mantra is 'publish, find, bind.' 'Publish' is going great guns, 'bind' is working well with good servers and clients, but 'find'... now that is another story."
Michael Gould
responded
to a discussion list thread that may have confused some on the nature of open source and open standards.
"? please consider that lumping 'desktop GIS,' 'GIS,' even 'OGC' in a single category, is to confuse the nature of what OGC really is. (11 years after its founding I am still hearing strange references to OGC systems, OGC data, OGC is slow/fast...)
"It's like lumping CD, DVD, and plug-n-play standards, and asking which technology is best for the multimedia industry. The third is intrinsically different, akin to OGC; in both cases the interfaces are the key, not so much the technology inside the boxes connected.
"So the dichotomy Google Maps/Earth vs OGC is spurious. Google should exploit OGC interface specs (and also certain W3C recommendations, etc.) to facilitate mash-ups that are not isolated from other geospatial apps. These mash-ups
should be available as WMS/WFS/WCS (allowing any user to "add service, add layer") within an SDI client such as the EU geospatial portal (Inspire demo), geospatial one-stop, or the Spanish national SDI (
www.idee.es
) to name 3 examples. Or to pull up the data layers on a cell phone app.
"In most cases adding OGC support is not an OR but rather an AND option. Do what you do best AND add OGC support to facilitate up-take."
Jesse at Very Spatial
explored
GeoRSS.
"GeoRSS seeks to go beyond the x,y point location tag that currently exists in RSS 2 and leverage GML to support more complex geometry (lines and polygons). The overview sounds good with key ideas, such as linking related point entries into a line (their example was a kayak trip). They even seem to be attempting to implement a form of topology, but I may be reading too much into the document."
EUROPE SIG SESSION AT BONN MEETING
OGC CEO David Schell has scheduled a second Europe SIG session on Thursday morning during the upcoming OGC meeting in Bonn. The agenda includes a frank discussion about OGC's relations with European members and the activities and effectiveness of our European operations. All attendees are invited to attend; those who represent European subsidiaries of non-European corporations have an important comment to make on the situation.
In related news, the OGC Board of Directors has formed a committee, chaired by Mike Jackson of Nottingham University, to study "Regional Organization and Membership" issues. The committee will evaluate the effectiveness of OGC's programs in various regions of the world and make recommendations concerning ways to improve regional outreach, membership structure, organizations and institutional relationships.
FOURTH GML RELAY SET FOR JANUARY
The fourth GML relay, organized by Geo-Information Netherlands (GIN), will be held on January 26 2006 in Emmen, the Netherlands. Geography Markup Language (GML) 3.1.1 (as supported by both OGC and ISO TC211) will be used for the first time. A topographic data set, an actual TOP10NL production version, will be used during the daylong event. The extra time gives time to validate every written GML document (by the organization) before passing it to the next participant. Details are available
online
.
BOOKS OF NOTE
Open Systems and Standards For Software Product Development
by P.A. Dargan (Artech House Computing Library, 2005) offers "new insights for building and evolving open systems using the best mix of standards for your software development projects." Broad coverage of standards, including OGC standards, is provided, along with key background including a section titled, "Why Standards are Important for Software Development."
Geographic Information Science: Mastering the Legal Issues
, by George Cho (Wiley, 2005) addresses "key issues in contract law, intellectual property law, rights and responsibilities and liability as they relate to the GI community." These titles may be of interest to readers of OGC News.
Know of other books that provide "how to's" for OGC standards? Drop and e-mail to the
adena

[at]

opengeospatial.org

(editor)
.
GEOSERVICES IMPLEMENTS OGC STANDARDS FOR DUTCH PUBLIC WORKS
This article was adapted by OGC User editor Lance McKee from a 28 February, 2005
case study
that was translated and prepared by David Duijnmayer based on text written by the Dutch government's OSOSS program.
In 2003 the Dutch Directorate for Public Works and Water Management, Rijkswaterstaat (RWS), which is responsible for the maintenance of dikes, roads, bridges and the navigability of canals in the Netherlands, started the GeoServices project, and it has become very successful. GeoServices is a general term for Web based access to geo-information within Rijkswaterstaat using the international open standards of ISO and OGC.
Web based GIS applications make it possible to manage the data centrally and serve maps by using map services based on internet technology. This enables more efficient and effective data management. Furthermore, this approach enables geoinformation from different, distributed sources to be easily and quickly combined, and it makes geoinformation available to a large audience in a transparent and easily accessible way.
In 2003, the RWS Adviesdienst Geo-informatie and ICT (AGI) (the advisory board for Geo information and ICT of Rijkswaterstaat) started setting up the Web based GIS infrastructure. The different RWS organizations unanimously indicated that a Web services based GIS infrastructure was needed for standardization and efficiency purposes. The implementation of this infrastructure was based on the OGC Web Services architecture. By choosing OGC Web Services, RWS AGI made sure they got technical interoperability without being dependent on a single supplier.
Problem statement
In considering the design for a Web based geo-information system for Rijkswaterstaat, the following problems had to be addressed:
Diversity of available Web based GIS software
Duplication of geo-information for the different applications (because there was no interoperability)
Application functionally was 70 to 80% the same in the different applications.
Support and management were often not adequate.
Lack of knowledge and time for setting up and supporting applications
Limited budgets
The goal was to make geoinformation available directly from the source. The use of open standards was a given, whereas the use of open source software to realize the OGC Web architecture was one possible choice.
Execution
Rijkswaterstaat, and the AGI especially, is both the principal and executor of the GeoServices project. Development is supervised by a consultation group from Rijkswaterstaat. The company Geodan was hired to build the GeoServices application architecture. After the inventory of needs and cost analysis were made, Geodan delivered a proof of concept, on the basis of which full implementation was done. Eventually the architecture was completed. What remains for RWS AGI are management activities and the development of new activities related to GeoServices.
Open standards used
The GeoServices project uses open standards on two levels:
GIS standards ("technical standards"). The most important functional capability provided by the OGC standards is "publish-find-bind" based on Web Services. With this capability, the services of a GIS system can be published in a catalogue, can be searched for, and ultimately can be accessed and used (for a fee or for no fee). The OGC standards that are used are the OpenGIS Web Map Service Specification (WMS), OpenGIS Web Feature Service Specification (WFS), OpenGIS Web Coverage Service Specification (WCS), OpenGIS Styled Layer Descriptor Specification (SLD), OpenGIS Web Map Context Documents Specification (WMC) and OpenGIS Geography Markup Language Specification (GML).
Metadata standards ("semantic standards"). Metadata enables Web searches for data and services. Metadata standards used in the project are ISO 19115 for geoinformation and ISO 19119 for services. The standard GML (2.1.2) is also used as one output format for geodatasets.
Open source software used
An important part of the services oriented application architecture is the UMN MapServer, developed by the University of Minnesota (UMN). The OGC standards WMS, WFS and WCS have been implemented in this product. The UMN MapServer also supports SLD and WMC. The open source product Deegree (Latlon) is used to implement the WCS. For Client functionality the open source software product Chameleon is used. Other non-geospatial open source software components on the central platform are Apache, PHP, Tomcat and Linux.
Lessons learned
The most important lessons learned from this project are:
Open standards fully met all expectations.
The initial expectations for open source were not as high, but the quality of the open source applications and the responsiveness of the open source communities were surprisingly good. Less time was usually needed for bug fixes from the open source community than from regular software suppliers. Moreover, the community makes the problem more transparent, and encourages transparency, which means a better estimate of the time and effort needed for possible solutions can be obtained.
The fast set up of the first proof of concept was another important factor for the success of the project. It worked as a booster for the project.
Standardization requires time. When no definitive standard is at hand, it can even take too much time. This is a problem, since it slows down the project. However, in the end patience is rewarded.
In some cases a "workaround" is necessary to make standard specifications applicable in specific situations. This requires consortium membership of the management organizations to make sure that workarounds become part of the standard.
Supplier dependency does decrease. But the position in negotiations with closed software suppliers is much stronger.
Management support turns out to be an important factor for success. In this project management support definitely contributed to the success.
In conclusion, it can be said that the GeoServices project was a highly successful one. It shows how open source software can be used with the same open standards that provide interoperability with a diversity of proprietary software products.
| | |
| --- | --- |
| | --- |
WEBSITE OF THE MONTH
MapNL: Mapping Newfoundland and Labrador
I read about
MapNL
(Newfoundland and Labrador, Canada) from a blog
post
. The site requires a free registration but is otherwise open to the public. It's described as an "OGC compliant map viewer integrating web mapping service layers."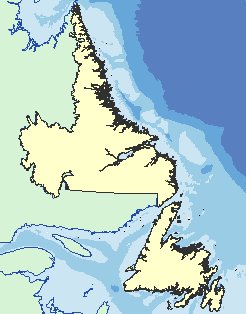 Newfoundland and Labrador as depicted at MapNL
The viewer includes an extensive list of place names from which to choose and a wide variety of basic (zoom, identify) and advanced (save current view, add server) tools. Default data layers number about 34.
Know of a website that uses OpenGIS specifications to solve a real world problem or demonstrates an interesting use?
Drop the
adena

[at]

opengeospatial.org

(editor)
an e-mail with the details including the URL, organization behind the website, specifications used, technology used and the goal of the website.
NEW MEMBERS
OGC welcomes new members who joined us recently.
University of Wisconsin - Milwaukee
(US)
University
Danish National Survey & Cadastre
(Denmark)
Associate
UK Met Office
(UK)
Associate
OGC IN THE NEWS
- OGC in the Press

Katrina Imagery Warehouse: The Inside Story
Howard Butler
Directions Magazine
October 27, 2005

Google, Yahoo and Microsoft: How to Share Content
Carl Reed
Geoworld
October 2005
EVENTS
November 7-11
Bonn, Germany
OGC Technical and Planning Committee Meetings

December 5-9
San Francisco, California
American Geophysical Union Fall Meeting

January 23-26, 2006
London, England
DGI Europe 2006 - London

March 6-10, 2006
Huntsville, Alabama
OGC Technical and Planning Committee Meetings

April 23-26, 2006
Tampa Florida
GITA's Annual Conference 29


For further info on events please contact gbuehler [at] opengeospatial.org (Greg Buehler).

CONTACT
Please send comments and suggestions to:
adena [at] opengeospatial.org (Adena Schutzberg)
Editor, OGC News
Open Geospatial Consortium
35 Main Street Suite 5
Wayland MA 01778-5037
USA Phone: +1 508 655 5858
Fax: +1 508 655 2237
SUBSCRIBE/UNSUBSCRIBE
To subscribe send mail to:
newsletter-request

[at]

opengeospatial.org
with "subscribe" (no quotes) in the subject.
To unsubscribe send mail to:
newsletter-request

[at]

opengeospatial.org
with "unsubscribe" (no quotes) in the subject.
Visit our
subscription page
Copyright 2005 by the Open Geospatial Consortium, Inc.