OGC Newsletter - September 2005
OGC News:
September 2005CONTENTS
CTO's Message
News From The Blogosphere
DGI Scandinavia
EPAD: Interoperability for Emergency Response Powered by Interoperable Geospatial Technology
Website of the Month
DEPARTMENTS:
IP Update
,
New Members
,
OGC In The News
,
Events
,
Contact
,
Subscribe/Unsubscribe
Back issues of OGC News are
available
.
CTO'S MESSAGE
Geospatial Paradigm Shift or Not?
We now hear "paradigm shift" used in the same breath with recent mapping deployments by Google, Microsoft and Yahoo. Do these events signal a paradigm shift happening in the geospatial industry? After all, the "new" capabilities provided by Google, Microsoft, and Yahoo, offer no more functionality than many Web-based applications that have been around since the late 1990's. What these companies do provide is easy access to content, easy to use "open" APIs, and "cool" interfaces - all wrapped into an advertising business model.
So, what is a paradigm shift? A paradigm is a model or exemplar. The paradigm case is the typical or archetypal case. A paradigm shift is the movement from one paradigm to another.
T.S. Kuhn, in his Structure of Scientific Revolutions (1962), used the term "paradigm" to refer to the conceptual frameworks or worldviews of various scientific communities. Kuhn believed that during periods of "normal science," scientists work within the same paradigm. Scientific communication and work proceed relatively smoothly until anomalies occur or a new theory or model is proposed. Scientists are faced with understanding traditional scientific concepts in new ways and rejecting old assumptions and replacing them with new ones.
Kuhn argued that the progress of science is not gradual, but a kind of punctuated equilibrium, with moments of epochal change. A truly profound scientific breakthrough, Kuhn notes, "is seldom or never just an increment to what is already known. Its assimilation requires the reconstruction of prior theory and the re-evaluation of prior fact, an intrinsically revolutionary process that is seldom completed by a single man and never overnight."
Kuhn referred to these revolutionary processes in science as "paradigm shifts," a term that has now entered the language to describe any profound change in our frame of reference.
Paradigm shifts occur from time to time in business as well as in science. And as with scientific revolutions, paradigm shifts are often hard fought and the ideas underlying them not widely accepted until long after they were first introduced. What's more, moving to a new paradigm often has implications that go far beyond the insight of their creators, especially in today's business climate.
Digital GIS and related geospatial technologies have been around since the mid 1960's. Since then, we have seen changes that have had major impacts on the use of geospatial technology: main frame to minis, minis to PCs, PCs to mobile devices, batch to interactive, command line to GUI, proprietary databases to commercial databases, and most recently the impacts of standards, the Internet and Open Source. Each of these underlying technology shifts and/or deployment platforms have decreased the cost of using geospatial technology, increased the number of users, and brought what we do more and more into the mainstream. Yet, much of the underlying theory and models have remained the same. The underlying science and models related to geodesy, photogrammetry, topology, polygon overlay, routing, and so forth have not changed much since the 1960's. What have changed are the algorithms and technologies used to implement these capabilities.
However, there is a convergence of forces that is rapidly reshaping our industry - some would say that we are "inside the tornado": standards, service oriented architectures, web services, open source, more easily available content, and internet based consumer applications. If one ignores the current media focus on Google, Microsoft, and Yahoo, and if one asks the question "What is the foundation technology that glues together or enables all of these other forces impacting our industry?, the answer is, "Standards!" Standards promote innovation and competition. Their application is voluntary and therefore does not block or restrict technological progress. On the contrary, they create leeway for innovation. Experience clearly shows that new technical standards often give a foothold to new technologies. Standardization also helps make knowledge about technologies transparent and generally available.
As a result, standardization ultimately determines an organization's competitive position in an industry. Everyone has the means of participating in an industry and those who use standards at an early stage are often better able to assert their interests and technologies. Standards, therefore, have the ability to reshape both the technology and business competitive landscapes.
For Kuhn, scientific revolutions occur during those periods where at least two paradigms co-exist, one traditional and at least one new. The two paradigms are incommensurable, as are the concepts used to understand and explain basic facts and beliefs for each paradigm. The two paradigm groups operate in different worlds. The movement from the old to a new paradigm he called a paradigm shift.
So, again, the question is whether we are in the midst of a technology paradigm shift? NO! The key is that the traditional GIS community and the new "virtual internet mapping community" are not incommensurable nor do the two groups live in different worlds. What we are seeing is the next evolutionary step in our discipline.
However, we may be in the midst of a business model paradigm shift. The key is whether the traditional business model for geospatial technology development and deployment (long engineering cycle, significant sales and marketing effort) is incommensurable with the open source, "open" (but non-standard) API hacker community, advertising based business model in which new (and free) applications appear on a daily basis. I cannot predict how this will play out. I can say that how the "traditional" business of GIS is done will have to change.
I can also emphatically state that if both communities embrace standards based platforms, architectures, and API's then the global society will benefit and both communities will be winners. And the paradigm shift will be about the societal impacts and benefits of geospatial technology and not about who wins. To this end, I call on the OGC community -- OGC members and non-members -- to collaborate to leverage, for the benefit of everyone, the energy that is now pervading not just our community but also the much larger consumer community.
Carl Reed
Chief Technology Officer and Executive Director Specification Program
OGC
NEWS FROM THE BLOGOSPHERE
Discussions of OGC specifications and interfaces are popping up all over the blogosphere (the world of blogs). A few posts worthy of note:
Martin Kyle
notes
that there's now an
entry
in the Wikipedia for Geography Markup Language.
Matt Croyden
looks at
geotagging and Keyhole Markup Language and concludes, "If you are really in to geographic data, and I mean so at an academic or scientific level, KML probably isn't the format for you. You might be more interested in the
Open Geospatial Consortium's GML (Geography Markup Language)
. It looks like it does a great job at what it does, but I'm thinking that the killer format is aimed more at the casual user."
Chris Tweedie
offers up
"10 Utils to make Opensource GIS that little bit easier." Almost all are open source and support OGC specifications.
DGI SCANDINAVIA
Scandinavia's geospatial intelligence community will meet at
DGI Scandinavia
on November 10, 2005 in Stockholm to discuss the challenges it faces:
- How to exploit the potential of GIS technology? The need to get the armed forces to properly exploit geo-technology with a need to overcome the lack of training in its use. A need for more GIS professionals with everyone able to use the technology.
- How to encourage people to use GIS Technology in training? How can GIS be used as an everyday tool? Should there be a focus on e-learning?
- How to develop sufficient knowledge and expertise of an increasingly complex technology?
- How to create a balance between what the experts are after and the operational requirements and needs as well as available resources?
- How to convert data rapidly into usable format in order to get a rapid response? Availability of data is a big issue. How is it possible to provide users with enough information to do their tasks?
- How can standardization be enforced? Standards by themselves will not lead to standardization. Without standards there is no interoperability; no ease of use and no easy access.
- How to cooperate with NATO initiative – NATO PFP Countries when there are so many different systems?
EPAD: INTEROPERABILITY FOR EMERGENCY RESPONSE POWERED BY INTEROPERABLE GEOSPATIAL TECHNOLOGY
Adena Schutzberg
Borderless Information Sharing for Emergency Response
COMCARE follows its own advice. Not only does it promote the importance of interoperability and the standards that enable it, but it uses those same standards in its own offerings.
COMCARE is a national advocacy group representing more than 100 member organizations involved in emergency response. COMCARE's goal is to advance emergency communications to create an environment of borderless, geographically targeted information sharing. COMCARE recognizes that despite the best of intentions, emergency information does not always get to the right respondents at the right time. For example, during an anthrax threat in the U.S. capitol area, one agency only heard of the issues after responding to a similar effort. Many first responders in Toronto first heard about the SARS situation via newscasts. With more than 100,000 independent emergency response agencies in the U.S., the challenge of communicating effectively and in a timely manner is paramount.
COMCARE's E-Safety Network provides a framework for a Web services architecture to knit together all of the key players' different data and communications systems. Building interoperability into that framework allows the participating public and private emergency response players "to select and use systems that best meet their needs," according to COMCARE. Standards from areas including authentication and authorization, security and diagnostics, and directory services underlie COMCARE's recommended solutions.
One specific service offering that's part of the architecture is called the Emergency Provider Access Directory or EPAD. Intended to be used as a common, shared utility, it enables cooperative and geographically targeted emergency information sharing. The idea is simple: create a directory to allow emergency response organizations (not individuals, Figure 1) to "sign up" to receive alerts for situations to which they can bring expertise, while not disturbing them with unwanted or irrelevant information. Passing on just the sort of situations that a single organization can support saves time and avoids wasted efforts.
Different service providers are equipped to handle different types of situations, so the type of emergency of interest is one of the sets of check boxes members choose when they register. Some providers are only on call during certain times of day or certain times of the year. That's another set of check boxes. Geographic location is a third criterion for filtering alerts.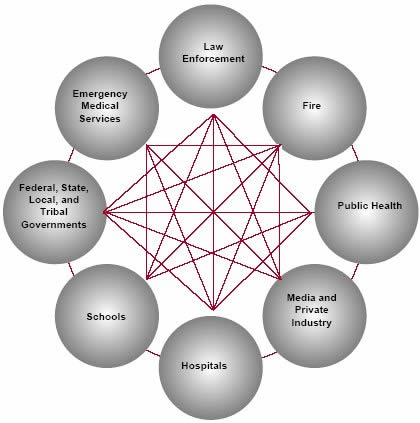 Figure 1: Some of the types of organizations EPAD connects to emergencies.
Taking on Location
EPAD is built on a services oriented architecture using components and Web service interfaces. One component is the GIS module. It's there that registrants identify for which areas, times and types of events they want to receive alerts. An organization might, for example, want to respond to fire events on the north side of the county, but flooding events in the south. Those registering graphically identify the boundaries of their areas of interest. When an event occurs, it's the GIS module that compares the location of an event to those defined areas and other attributes to determine which registrants receive the alert. To do that, all of the information, including the geographic information, must be understood by the different participating systems, including those of the organization posting the alert and those receiving it.
The EPAD team chose to use the Open Geospatial Consortium's Well Known Text standard (part of the OpenGIS Simple Features Specification) for the representation of geographic primitives (points, lines, and polygons). The system also uses Simple Features SQL to query against the directory. The decision to use those standards meant that the developers of EPAD could select from a number of products on the market that support these standards. For some of the technology, the team went outside the commercial market to one of the existing open source software offerings which support the standards.
Figure 2: The pieces of EPAD's communications system.
Figure 3: Detail of a spatial query.


PostGIS (from Refractions Research, an OGC member), which runs atop open source PostgreSQL, stores the geographic data in Well Known Text (WKT) ASCII and spatial primitives as Well Known Binaries and responds to the SQL queries. WKT is received from an incoming message and turned into a spatial query.
Open source MapServer does the map rendering and provides map images to the EPAD administration interface via the Web Map Service Specification (WMS). While not in the current design, the team is also exploring open source GeoServer, which supports Web Feature Service Specification (WFS). Other open source technologies in the mix include Linux, Apache, Tomcat, JBoss, and Open LDAP. MoxiMedia (an OGC Member) provides proprietary code for the GIS client application. The MoxiMedia Internet Mapping Framework (IMF) is a proprietary application that provides a rapid application development environment for the Web.
The workflow runs like this. A first responder organization sends a (SOAP) message containing a location in Well Known Text to EPAD. EPAD parses the message and generates a Simple Feature SQL query to send to the database. EPAD adds a buffer to the query to handle horizontal error in the TIGER boundary data as well as locational error (so far as it can be determined) in the incoming message. The query is then run against all data layers (all the different geographic and attribute combinations input by registrants, stored in Well Known Binary format, Figure 2) simultaneously, and returns matching agencies. The list is passed to the messaging system which sends out alerts to the appropriate agencies. (Figure 3)
Judith Woodhall, Managing Director of COMCARE, explains the importance of standards in the EPAD project. "OpenGIS Specifications enable us to easily share geographic data among different technologies. This is especially important for EPAD because routing queries based on geography will come from a wide array of software systems. In addition, OpenGIS Specifications have given us both platform and database independence, thus allowing for vendor neutrality, one of our core requirements. While the next version is just being developed, we already experience these benefits in the many demonstrations we conduct using our EPAD prototype. As we grow and deploy EPAD into production, we're hoping that the OpenGIS specifications will also enable us to scale at a much lower cost. This again is important because we plan to run EPAD as a non-profit, shared utility for all emergency responders to use."
How Open Standards Make a Difference
COMCARE understands that location matters when it comes to emergency response. It also understands that breaking down barriers to information sharing demands the use of standards. Those who register their organization in the EPAD directory probably do not realize all of the underlying standards that enable the system to work. And, they don't need to know about them.
But those developing and maintaining the system do. They know that standards that describe how spatial information is documented (Simple Features) and how map data is shared (Web Map Service) allow COMCARE's vision to be achieved. Further, these standards, and others, allow each organization to select the software solution appropriate for its work and be confident the system can "plug into" this crucial network of first responders.
Acknowledgements
Graphics courtesy COMCARE. From a presentation by Ben Lewis, Senior GIS Analyst, Advanced Technology Solutions, Inc. and Judith Woodhall, Managing Director, COMCARE, at the Location Technology and Business Intelligence Conference, May 3, 2005, Philadelphia, PA.
| | |
| --- | --- |
| | --- |
WEBSITE OF THE MONTH
Global Coordinate
is the brainchild of David Knight and his wife Yuko. They've integrated all sorts of geospatial information from web-cams to news items to linked photos into a single application built on Google Maps. It's enhanced with data from Jet Propulsion Lab's server that offers up Landsat data via the Web Map Service Implementation Specification.

Landsat imagery served by JPL via WMS is part of Global Coordinate, an application built on Google Maps.

So, along with Google's Hybrid, Satellite, and Map buttons, there's also A Landsat button. Knight has
posted
"how he did it" on the Google Map API group.
Know of a website that uses OpenGIS specifications to solve a real world problem or demonstrates an interesting use? Drop the
adena

[at]

opengeospatial.org

(editor)
an e-mail with the details including the URL, organization behind the website, specifications used, technology used and the goal of the website.
IP UPDATE
OWS Context Interoperability Experiment
The OGC Web Services Context Documents
(OWS Context) Interoperability Experiment (IE) developed, tested and integrated an XML Schema that encodes references to multiple types and instances of OGC Web Services. Essentially, context documents provide the ability to "save a session" to be reopened by the original user or to be passed to another user. The development and testing tasks were to: create an XML Schema and accompanying XML instance documents; to attempt to use these instance documents in multiple client applications; and to report the results of this usage in terms of success or failure and reasons for any failure. The IE iterated over the testing and integration phase until the results yielded no significant issues.
The OWS Context IE Final Report is being prepared and will be posted to the Pending Documents page. The following organizations participated in the IE and are developing the final report:
- Cadcorp Ltd
- DM Solutions Group
- GeoConnections/Natural Resources Canada
- IONIC Software sa
The IE participants agreed that OWS Context documents are a useful construct, and have been proved to work well. Interest among contributors remains high; it is anticipated that the work accomplished in this IE will be the precursor to a future OpenGIS OWS Context Implementation Specification.
GEOSS Workshop at AfricaGIS
Following the successful workshop in July for the Global Earth Observing System of Systems, OGC is making plans to support the next
GEOSS
workshop to be held in conjunction with AfricaGIS. The Group on Earth Observations (GEO) work plan anticipates these workshops to "evaluate the proposed GEOSS architecture concept using test cases from two or three societal benefit areas." OGC demonstrations at the GEOSS workshops show that geospatial the community's implementation of OGC specifications provides a broad based capability to implement GEOSS. If you are interested in participating in the GEOSS Workshop at AfricaGIS, Pretoria, October 30th, contact
percivall

[at]

opengeospatial.org

(George Percivall)
.
Currently Active Interoperability Initiatives
-
The OGC Web Services Phase 3
(OWS-3) demo is planned for October. Chuck Heazel is the Initiative Manager.
- GALEON IE: Ben Domenico is the IE Manager.
- Geospatial Semantic Web Interoperability Experiment: Josh Lieberman is the IE Manager.
- Sensor Alert Service IE: Johnny Tolliver is the IE Manager.
For more information on this program, please contact
gpercivall

[at]

opengeospatial.org

(George Percivall)
, Executive Director, Interoperability Architecture.
NEW MEMBERS
OGC welcomes new members who joined us recently.

i3mainz - Institute for Spatial Information & Surveying
(Germany)
University
GISCAD-Institut
(Germany)
Small Company
OGC IN THE NEWS
- OGC in the Press
Carbon Project Continues Success at Second Open-Geospatial Workshop
August 19, 2005
GML And Geo-Spatial Web Services Conference 2005
Sam Bacharach
Directions Magazine
Aug 16, 2003
The Impact of International Standardization
Axel Nawrocki
Directions Magazine
Aug 9, 2005
MapInfo Delivers OGC Compliance
Aug 8, 2005
Carbon Project Announces New Portal for Open-Geospatial .NET Community
August 2, 2005
- OGC Press Releases
OGC Standards Enable Armchair Captains to Track Rolex Fastnet Races
August 12, 3005
OGC and COMCARE Announce Memorandum of Understanding
August 4, 2005
EVENTS
September 15-16
Montreal, Canada
ISO/TC 211 21th Plenary
November 7-11
Bonn, Germany
OGC Technical and Planning Committee Meetings

December 5-9
San Francisco, California
American Geophysical Union Fall Meeting

For further info on events please contact gbuehler [at] opengeospatial.org (Greg Buehler).

CONTACT
Please send comments and suggestions to:
adena [at] opengeospatial.org (Adena Schutzberg)
Editor, OGC News
Open Geospatial Consortium
35 Main Street Suite 5
Wayland MA 01778-5037
USA Phone: +1 508 655 5858
Fax: +1 508 655 2237
SUBSCRIBE/UNSUBSCRIBE
To subscribe send mail to:
newsletter-request

[at]

opengeospatial.org
with "subscribe" (no quotes) in the subject.
To unsubscribe send mail to:
newsletter-request

[at]

opengeospatial.org
with "unsubscribe" (no quotes) in the subject.
Visit our
subscription page
Copyright 2005 by the Open Geospatial Consortium, Inc.