The publicly available reports document the latest advances in Sensor Integration, Moving Features, Data-centric Security, Geospatial Cloud-Native Formats, and Interoperability Through APIs.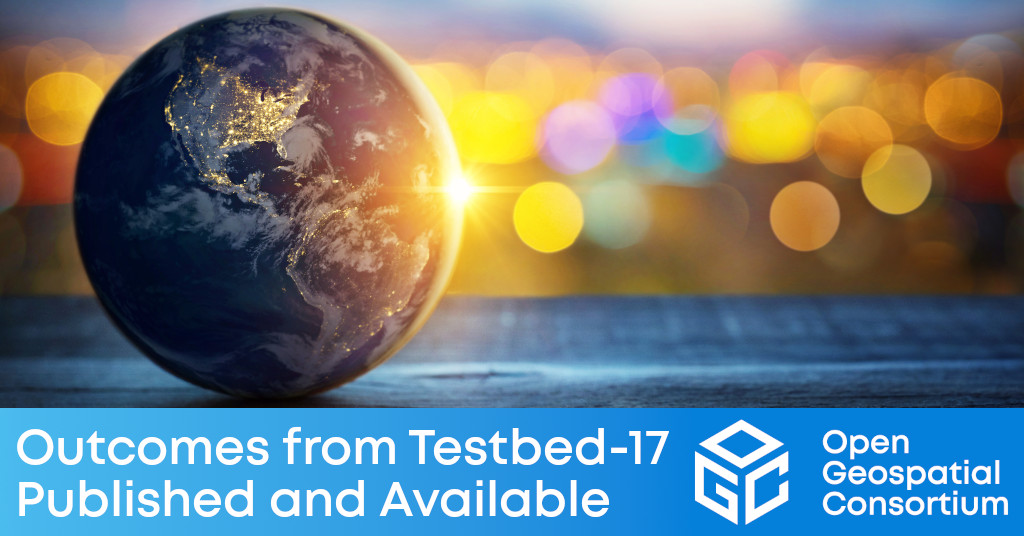 The Open Geospatial Consortium (OGC) has published the outcomes of 2021's biggest research and development initiative, Testbed-17. The key outcomes, including detailed Engineering Reports, overview presentations, and videos, are freely available on the Testbed-17 webpage.
Testbed-17 conducted Research & Development (R&D) across the following cutting-edge geospatial technologies:
Model-Driven Standards
COG & Zarr: Specification & Evaluation
Geo Data Cubes
Sensor Integration
Moving Features from Full Motion Imagery
OGC API – Aviation
Data-Centric Security
OpenAPI: Lowering the Entry Hurdle for Developers
Compliance, Testing & Evaluation, CITE
Each of these produced an Engineering Report outlining the findings of the year-long research and development conducted by the Participants. In total, Participants developed sixteen Engineering Reports, which are now published and freely available to the public.
OGC Testbed-17 was sponsored by OGC Strategic Members European Space Agency (ESA), Natural Resources Canada (NRCan), US Federal Aviation Administration (FAA) System Wide Information Management (SWIM) Program, and US National Aeronautics and Space Administration (NASA), Principal Member Defence Science and Technology Laboratory (Dstl), and others. OGC is grateful for these OGC Members' industry leadership as displayed by their sponsorship of this OGC Innovation Initiative.
As the largest R&D Initiatives conducted by OGC, Testbeds exist at the cutting edge of technology, actively exploring and evaluating future geospatial technologies to solve today's problems. The solutions developed in Testbeds eventually move into the OGC Standards Program, where they are reviewed, revised, and potentially approved as new international open standards that can reach millions of individuals.
OGC Testbeds are conducted under OGC's Innovation Program, a collaborative, agile, and hands-on prototyping and engineering environment where sponsors and OGC members come together to address location interoperability challenges while validating international open standards. To learn about the benefits of sponsoring an OGC Innovation Program Initiative such as this, visit the OGC Innovation Program webpage, or watch this short video on how OGC's Innovation Program can benefit your organization.
All sixteen Engineering Reports outlining the findings of the year-long research and development conducted under Testbed-17 are now published and freely available to the public, in both html and pdf formats, from the OGC Public Engineering Report Repository. Further information about the Testbed, including summaries of the reports and video demonstrations, are available on the Testbed-17 webpage.
About OGC
The Open Geospatial Consortium (OGC) is a collective problem-solving community of experts from more than 500 businesses, government agencies, research organizations, and universities driven to make geospatial (location) information and services FAIR – Findable, Accessible, Interoperable, and Reusable.
The global OGC Community engages in a mix of activities related to location-based technologies: developing consensus-based open standards and best-practice; collaborating on agile innovation initiatives; engaging in community meetings, events, and workshops; and more.
OGC's unique standards development process moves at the pace of innovation, with constant input from technology forecasting, practical prototyping, real-world testing, and community engagement.
OGC bridges disparate sectors, domains, and technology trends, and encourages the cross-pollination of ideas between different communities of practice to improve decision-making at all levels. OGC is committed to creating an inclusive and sustainable future.
Visit ogc.org for more info on our work.
"