OGC, alongside eight other high-profile geospatial organizations, have signed on to support the Locus Charter by EthicalGEO and Benchmark Initiative.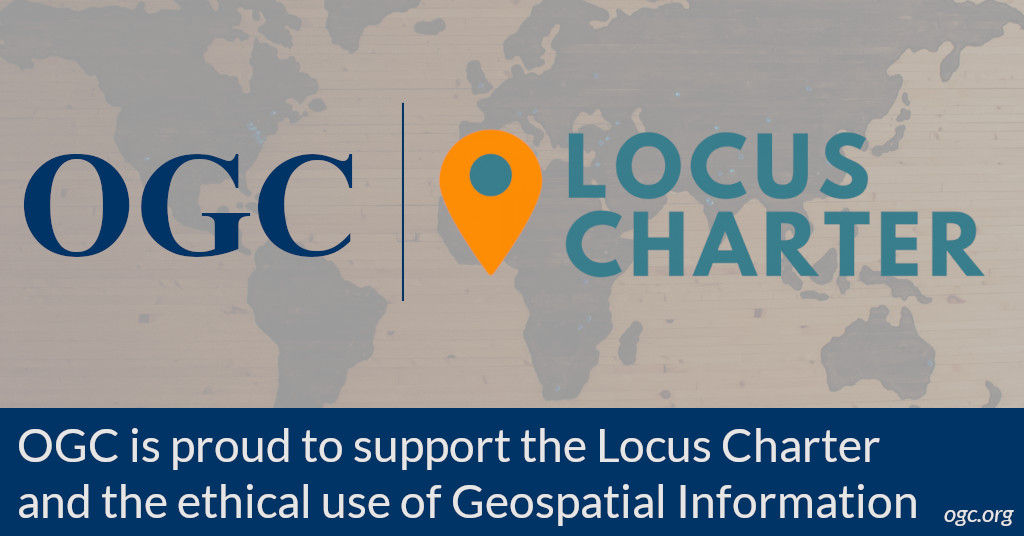 The Open Geospatial Consortium (OGC) is proud to announce its support of The Locus Charter. The Locus Charter proposes that wider, shared understanding of risks and solutions relating to uses of location data can improve standards of practice, and help protect individuals and the public interest.
Locus Charter supporting organizations have pledged to promote responsible practice in the use of location data across all sectors, including public, private, educational, and not-for-profit contexts. These organizations will seek to inform and improve location data practice across their portfolios, including individual projects and organizational mandates. The Locus Charter will continue to evolve as its supporting organizations provide input, apply case studies, and incorporate best practices to strengthen its Founding Principles.
"I am proud that the Open Geospatial Consortium is one of the initial supporting organizations of the Locus Charter with strong support at all levels of the organization – our members, our Planning Committee, and our Board of Directors," said OGC CEO Dr. Nadine Alameh. "It's a timely initiative as the world is increasingly reliant on location data and technologies. Hence, it's timely for us at OGC to involve ourselves to ensure that, as our community delivers tomorrow's technologies and standards, we are cognizant of the ethical implications of our innovations"
"We are excited by the speed with which the Locus Charter has achieved worldwide interest and commitment by such an esteemed group of organizations," said Dr. Christopher Tucker, Chairman of the American Geographical Society and Locus Charter Collaborating Author. "We hope every organization considers the transformational role of location and geospatial technologies in their business or mission, and raises their voice around the importance of their responsible and ethical use by joining in support of the Locus Charter."
The Locus Charter is additionally supported by nine other high-profile geospatial organizations, including: the American Geographical Society (AGS), Association for Geographical Information (AGI), Environmental Information Systems Africa (EIS – Africa), the National Institute of Statistics and Geography (INEGI – Mexico), PLACE, Radiant Earth Foundation, Royal Geographical Society (RGS), and the Royal Institution of Chartered Surveyors (RICS).
The Locus Charter was publicly launched in March 2021 after a multi-year strategic partnership between the American Geographical Society's EthicalGEO and the Benchmark Initiative, hosted at Ordnance Survey's Geovation. The charter was developed in collaboration with location data and data ethics experts from across the globe and has received support from Omidyar Network, Henry Luce Foundation, and Ordnance Survey.
The American Geographical Society's (AGS) EthicalGEO serves as the executive secretariat of the Locus Charter and supports coordination, organization, and development of the initiative. The vision of AGS is to be the foremost champion of geography for the benefit of society. Through its EthicalGEO Initiative, AGS has served as a home for ethical scholarship and practice in geography and geospatial science, and continues to advance the responsible use of geospatial and location-based technologies among its diverse memberbase and the public.
All organizations working to advance the responsible and ethical use of location data are welcome to sign on to support the Locus Charter. To become a signatory supporting organization, please contact the Locus Charter Executive Secretariat at the American Geographical Society at locuscharter@americangeo.org to request a Letter of Engagement. Learn more and read the Locus Charter at ethicalgeo.org/locus-charter.
About OGC
The Open Geospatial Consortium (OGC) is a collective problem-solving community of experts from more than 500 businesses, government agencies, research organizations, and universities driven to make geospatial (location) information and services FAIR – Findable, Accessible, Interoperable, and Reusable.
The global OGC Community engages in a mix of activities related to location-based technologies: developing consensus-based open standards and best-practice; collaborating on agile innovation initiatives; engaging in community meetings, events, and workshops; and more.
OGC's unique standards development process moves at the pace of innovation, with constant input from technology forecasting, practical prototyping, real-world testing, and community engagement.
OGC bridges disparate sectors, domains, and technology trends, and encourages the cross-pollination of ideas between different communities of practice to improve decision-making at all levels. OGC is committed to creating an inclusive and sustainable future.
Visit ogc.org for more info on our work.
"