This Request for Information (RFI) is being organized by OGC and is supported by the National Geospatial-Intelligence Agency on behalf of the International Hydrographic Organization (IHO) and the IHO Marine SDI Working Group (MSDIWG), a primary organization involved in this study.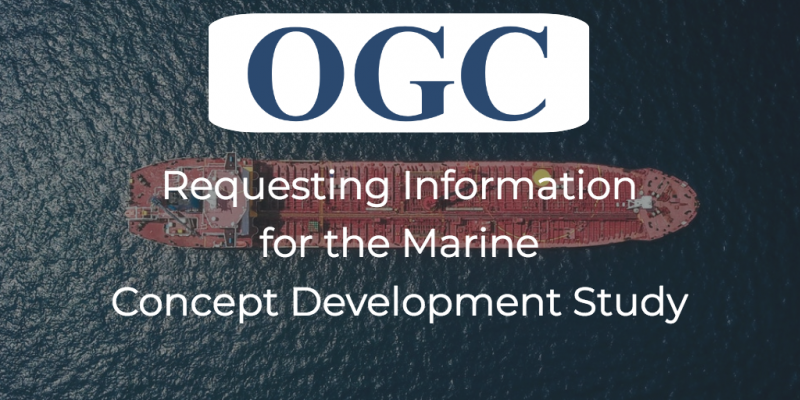 The Open Geospatial Consortium (OGC) is requesting information to help shape the Marine Spatial Data Infrastructure Concept Development Study (MSDI- CDS), which will assess the current state of data management and exchange technologies used in the marine domain.
The marine domain describes all phenomena and activities that occur within, around, or are related to, the space of earth's inland waters, seas and oceans. Demand for the marine geospatial data collected and managed by organizations supporting, operating within, or researching this domain is increasing, due to a growing user-base with a variety of new applications.
The knowledge gained from the Marine SDI CDS will be captured in a technical report and provide both an interoperability reference architecture for MSDI as well as a foundation for a potential future pilot that will in turn advance the state of Spatial Data Infrastructures (SDIs) that support discoverability, accessibility, and interoperability of marine geospatial data across the globe.
The purpose of this Concept Development Study is to bring together the marine and broader geospatial standards communities to guide future OGC Innovation Program partnership activities by:
Engaging executive-level participants to understand the most important challenges
Engaging different marine geospatial data stakeholders (i.e. data providers, developers, and users)
Helping participants better understand activities occurring at OGC, the International Hydrographic Organization (IHO) and other key organizations
Engaging operational and technical stakeholders to gather and share information on the current and future state for using marine geospatial data and services, including:
Understanding what data, applications, tools, and services are currently available;
Understanding what data, applications, tools, and services stakeholders need;
Understanding discoverability, accessibility, and usability challenges;
Understanding interoperability challenges and integration opportunities;
Identifying gaps in data, applications, tools, and services; and
Bringing together diverse participants to understand what challenges may translate into requirements for a potential, multi-organization-supported pilot that would kickoff after completion of the MSDI-CDS in February 2019.
To learn more about the study, visit the Marine SDI Concept Development Study page on the OGC website.
Responses to the RFI are requested by January 17, 2019. The RFI includes instructions on how organizations can respond to and submit questions about the RFI.
The RFI is available for download from portal.ogc.org/files/81715.
About OGC
The Open Geospatial Consortium (OGC) is an international consortium of more than 525 companies, government agencies, research organizations, and universities participating in a consensus process to develop publicly available geospatial standards. OGC standards support interoperable solutions that 'geo-enable' the Web, wireless and location-based services, and mainstream IT. OGC standards empower technology developers to make geospatial information and services accessible and useful within any application that needs to be geospatially enabled. Visit the OGC website at www.opengeospatial.org.
"