ETL-Plugfest will test and improve the Model for Underground Data Definition and Integration (MUDDI) using real-world data and integration scenarios as part of OGC's Underground Pilot Project.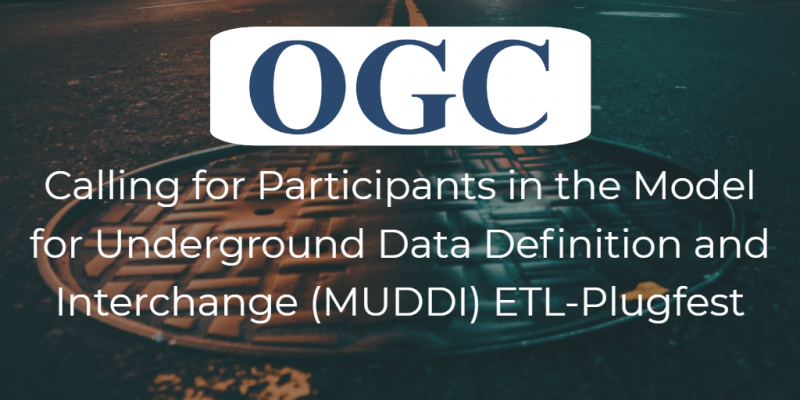 The Open Geospatial Consortium (OGC) invites you to submit position papers and attend the Model for Underground Data Definition and Interchange (MUDDI) ETL-Plugfest Workshop, to be held July 24-25 at the New York City Offices of the Fund for the City of New York (FCNY).
MUDDI is being developed as an interchange and integration model to support a range of critical underground infrastructure and environment information. Data interoperability in this domain provides both significant benefits and challenges.
The primary goal of the ETL-Plugfest Workshop is to evaluate the MUDDI Data Model by conducting data modeling and transformation exercises involving datasets of varying formats and schemas from several municipal locations. This will provide feedback on how to refine and improve it, as well as guide the choice and development of standard implementations. Outcomes will include an updated MUDDI model, model implementation guidance, feedback on feasibility and utility from software developers, and refined data application scenarios for incorporation into subsequent OGC Pilot activities.
Another workshop goal is to review a draft version of a Cost Benefit Assessment of Subterranean Information Management. This assessment is intended to help justify investments in underground data gathering and sharing by documenting multiple sources of returns on such investments and defining a methodology for estimating their value. It is offered as a shared community asset: a work in progress that will benefit from participant feedback.
Dr. Mary McCormick, President of the Fund for the City of New York, said, "The Fund and its sister organization the National Center for Civic Innovation are delighted to be working with OGC on the Underground Infrastructure Data Interoperability Project. We are pleased to be hosting this workshop to test and refine the MUDDI data models developed through an earlier OGC initiative supported by the Fund. Progress will only be made by this type of rigorous, detailed collaboration, and will be of benefit to cities around the world."
Workshop participation will offer software providers significant market exposure. It will also afford an opportunity to cooperatively test the MUDDI model in the context of a hands-on engineering experience that may lead to significantly improved software capabilities. The initiative is designed to improve future geospatial interoperability capabilities across multiple communities with the potential to provide access to a larger overall market for each of those communities.
Participation in, and attendance of, the workshop is free, but seating is limited and registration is required. Priority will be given to registrants submitting position papers and undertaking trial ETL (extract-transform-load) tasks to report on at the workshop. Observers will be accommodated as space permits.
Additionally, OGC is looking for appropriate additional underground infrastructure and environment datasets that may be used by participants for testing purposes in the context of the workshop activities.
For more information, see the MUDDI ETL-Plugfest Call for Participation (CFP).
About OGC
The Open Geospatial Consortium (OGC) is an international consortium of more than 525 companies, government agencies, research organizations, and universities participating in a consensus process to develop publicly available geospatial standards. OGC standards support interoperable solutions that 'geo-enable' the Web, wireless and location-based services, and mainstream IT. OGC standards empower technology developers to make geospatial information and services accessible and useful within any application that needs to be geospatially enabled. Visit the OGC website at www.opengeospatial.org.
"