RFI for the OGC Health SDI Concept Development Study will support the development of a Health Emergencies Data Model and the design of a Health Spatial Data Infrastructure.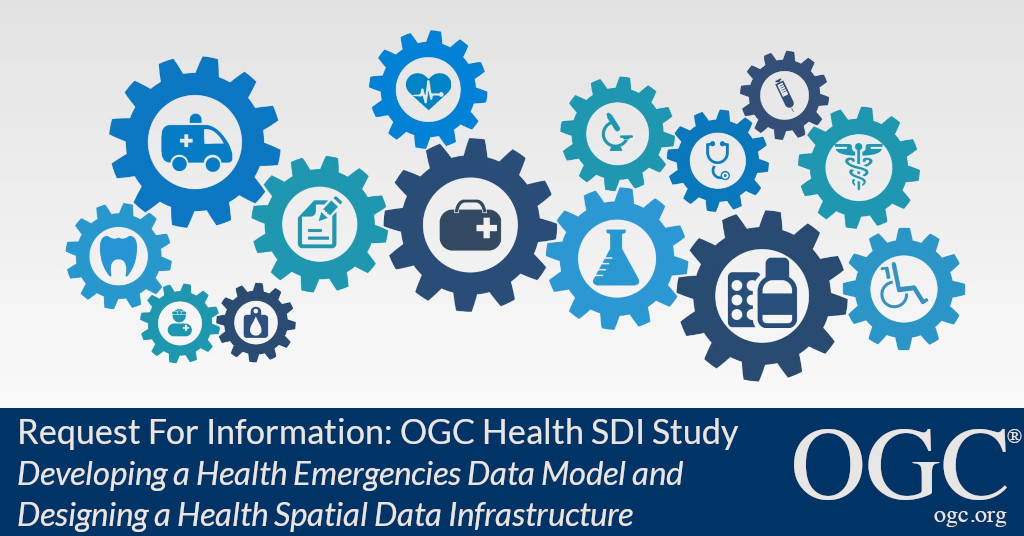 The Open Geospatial Consortium (OGC) seeks, in support of the OGC Health SDI Concept Development Study (CDS), to gather information concerning capturing, mapping, analyzing, modeling, and sharing spatial data to deal with major health emergencies. The Health SDI CDS will support the development of a Health Emergencies Data Model and the design of a Health Spatial Data Infrastructure (SDI). Responses are due by the 5th of February, 2021.
The ongoing difficulties with acquiring and operationalizing data associated with the COVID-19 pandemic have provided a strong impetus for OGC to mobilize its community of global expertise to find practical solutions. Data collected at different levels of government is often neither standardized, integrated, nor interoperable. Monitoring of critical supply chains has proven an enormous challenge during this pandemic and, as such, there have been severe shortages of vital equipment for protracted periods of time. Patient data is often not digitized and geocoded at first contact with the health system – for example, at test sites – making precision mapping and analysis of disease spread almost impossible. Health infrastructure data has not been comprehensively assembled, hindering the development of situational awareness and a common operating picture.
A Health SDI designed to address these issues, then extended to support other kinds of diseases and health problems, will raise the efficiency and effectiveness of health services, saving lives, protecting the public, and saving money.
This RFI starts from the premise that spatially enabled data is essential to increase the preparedness for, mitigate the impacts of, and support the responses to major health emergencies, due to its inherent ability to facilitate data integration, interoperability, analytics, and modeling.
The OGC Health SDI Request For Information (RFI) addresses four major health data categories:
Data relating to critical supply chains;
Data concerning populations tested, infected, and treated;
Data describing the healthcare delivery infrastructure, including hospitals, hospital resources, and hospital staff; and
Data comprising useful spatial framework layers for health specific data.
RFI responders will be asked to look at three health emergency use cases through the lens of these data categories:
Pandemics similar to COVID-19,
Natural disasters cascading to or from the spread of an infectious disease; and
Epidemics of non-infectious, air-quality related respiratory illness.
Responders to this RFI are requested to examine these data categories and use cases, then make recommendations about the kinds of data that need to be shared in order to support all important aspects of a health emergency response. Responders can address the full spectrum of data requirements, or only those data categories and use-cases relevant to their work and interests.
OGC welcomes new and innovative ideas that challenge the assumptions of the RFI and go beyond RFI categories, as well as responses that expand our present understanding and leverage new types of spatially enabled data and tools.
The OGC Health SDI CDS will be conducted under OGC's Innovation Program, a collaborative, agile, and hands-on prototyping and engineering environment where sponsors and OGC members come together to address location interoperability challenges while validating international open standards. Watch this short video on how OGC's Innovation Program can benefit your organization.
The Health SDI CFS RFI is available to download from the OGC Portal. Responses are due by the 5th of February, 2021. For more information, visit the OGC Health SDI CDS webpage.
About OGC
The Open Geospatial Consortium (OGC) is an international consortium of more than 500 businesses, government agencies, research organizations, and universities driven to make geospatial (location) information and services FAIR – Findable, Accessible, Interoperable, and Reusable.
OGC's member-driven consensus process creates royalty free, publicly available geospatial standards. Existing at the cutting edge, OGC actively analyzes and anticipates emerging tech trends, and runs an agile, collaborative Research and Development (R&D) lab that builds and tests innovative prototype solutions to members' use cases.
OGC members together form a global forum of experts and communities that use location to connect people with technology and improve decision-making at all levels. OGC is committed to creating a sustainable future for us, our children, and future generations.
Visit ogc.org for more info on our work.
"