The Engineering Reports document state-of-the-art research across topics including OGC APIs, bringing 'applications to the data', federated clouds, and more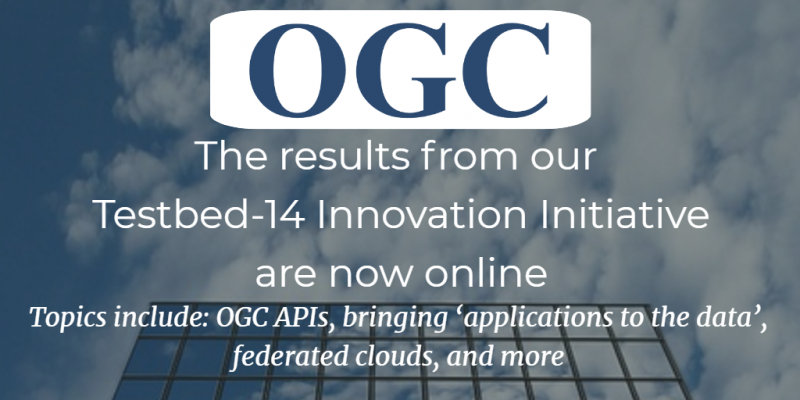 The Open Geospatial Consortium (OGC) is excited to announce that the Engineering Reports documenting the outcomes and achievements of 2018's largest Research and Development (R&D) initiative, Testbed-14, are now published and freely available.
The Engineering Reports document state of the art research for a wide range of geospatial IT topics; always with a focus on interoperability and cross-domain communication. They describe prototypes developed by Testbed-14's participating technology providers, and provide a clear vision on potential new or enhanced OGC standards.
The Engineering Reports developed from Testbed-14 focus on:
On-demand deployment and execution of applications in clouds
Web-friendly OGC APIs for geospatial data and processing
Satellite data access
Data modeling and Semantics
Machine Learning, LiDAR, CityGML, Portrayal
…and more.
OGC's annual Testbeds explore current geospatial IT challenges and develop solutions to support various communities, domains, and industry. Testbed-14 produced 21 Engineering Reports, covering a wide range of geospatial IT topics. As with all Testbeds, the results have now been handed over to the OGC Standards Program for further consideration in development of consensus-based open standards and best practices.
Selected Testbed-14 results formed the core content of the Testbed-14 demonstration event (see our coverage of the event on the OGC Blog) held in January at ESA/ESRIN in Frascati, Italy. These, and all Testbed-14 results, are documented in the newly published Engineering Reports.
The Engineering Reports are available for free from OGC's Public Engineering Report Repository. Further information on the outcomes of Testbed-14 is available on the Testbed-14 Initiative web page.
Anyone interested in shaping the direction of future OGC Initiatives, such as the upcoming Testbed-16, is urged to contact techdesk@opengeospatial.org or submit idea to OGC's Innovation Program Ideas GitHub Repository.
About OGC
The Open Geospatial Consortium (OGC) is an international consortium of more than 525 companies, government agencies, research organizations, and universities participating in a consensus process to develop publicly available geospatial standards. OGC standards support interoperable solutions that 'geo-enable' the Web, wireless and location-based services, and mainstream IT. OGC standards empower technology developers to make geospatial information and services accessible and useful within any application that needs to be geospatially enabled. Visit the OGC website at www.opengeospatial.org.
"