The Open Geospatial Consortium (OGC®) is excited to announce that it has published Moving Features Access as an official standard.
Moving Features Access defines location data access operations so that big data from moving features, such as people and vehicles, can be processed and analyzed swiftly and across different sectors. The standard was jointly developed by Hitachi, Ltd. (Hitachi), the University of Tokyo (the University), and Japan's National Institute of Advanced Industrial Science and Technology (AIST).
Although ISO has conventionally standardized specifications to access location data of moving objects by specifying times (ISO 19141: 2008), Moving Features Access standardizes specifications to access data by specifying places in addition to times. For example, Moving Features Access will make it possible to access data on moving objects that passed through a certain area at a certain time after a disaster, therefore gathering information on density and flow of people and vehicles in a more timely manner. As a result, use of the standard is expected to improve speed and accuracy of planning for evacuation guidance and goods transportation. Further, this standard could be used to develop strategies to mitigate traffic congestion in urban areas, improving the convenience of civic life.
Features of OGC Moving Features Access are as follows.
Regulation of data access specifications to encourage rapid and advanced utilization of location data across many sectors.

Compliance with Moving Features Encoding, the international standard for moving location data recording formats.
As with any OGC standard, the open Moving Features Access standard is free to implement. Interested parties can view and download the standard from www.opengeospatial.org/standards/movingfeatures.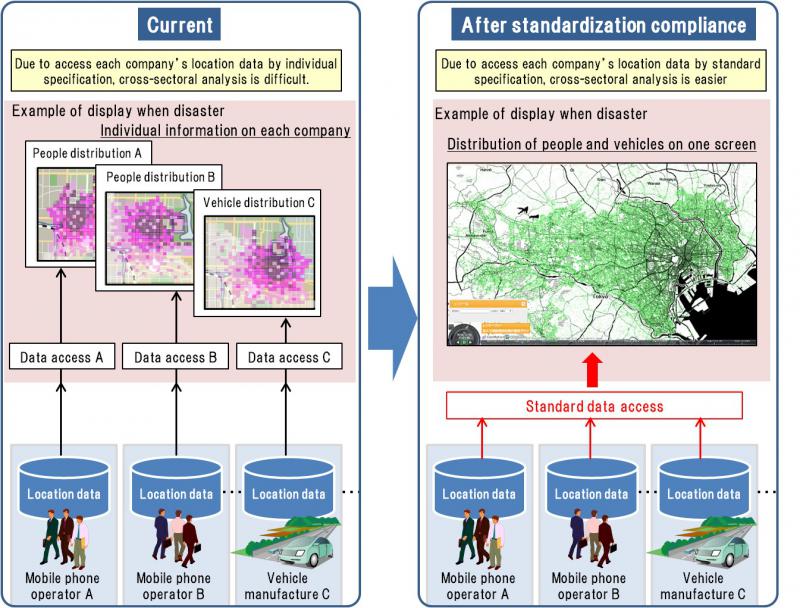 About Hitachi, Ltd.
Hitachi, Ltd. (TSE: 6501), headquartered in Tokyo, Japan, delivers innovations that answer society's challenges. The company's consolidated revenues for fiscal 2015 (ended March 31, 2016) totaled 10,034.3 billion yen ($88.8 billion). The Hitachi Group is a global leader in the Social Innovation Business, and it has approximately 335,000 employees worldwide. Through collaborative creation, Hitachi is providing solutions to customers in a broad range of sectors, including Power / Energy, Industry / Distribution / Water, Urban Development, and Finance / Government & Public / Healthcare. Visit the company's website at www.hitachi.com.
About the University of Tokyo
The University of Tokyo was established in 1877 as the first national university in Japan. As a leading research university, the University offers courses in essentially all academic disciplines at both undergraduate and graduate levels and conducts research across the full spectrum of academic activity. The University has approximately 6,000 academic staff and 27,000 students. The University aims to provide its students with a rich and varied academic environment that ensures opportunities for both intellectual development and the acquisition of professional knowledge and skills. Visit the university website at www.u-tokyo.ac.jp/en/index.html.
About the National Institute of Advanced Industrial Science and Technology
The National Institute of Advanced Industrial Science and Technology (AIST), one of the largest public research institutes in Japan, focuses on the creation and practical realization of technologies useful to Japanese industry and society, and on "bridging" the gap between innovative technological seeds and commercialization. For this, AIST is organized into 7 domains that bring together core technologies to exert its comprehensive strength.
About the OGC
The OGC is an international consortium of more than 525 companies, government agencies, research organizations, and universities participating in a consensus process to develop publicly available geospatial standards. OGC standards support interoperable solutions that "geo-enable" the Web, wireless and location based services, and mainstream IT. OGC standards empower technology developers to make geospatial information and services accessible and useful with any application that needs to be geospatially enabled. Visit the OGC website at www.opengeospatial.org.
"