Recharter of Features API SWG adds new work items for the group to continue the evolution of this important building block for location.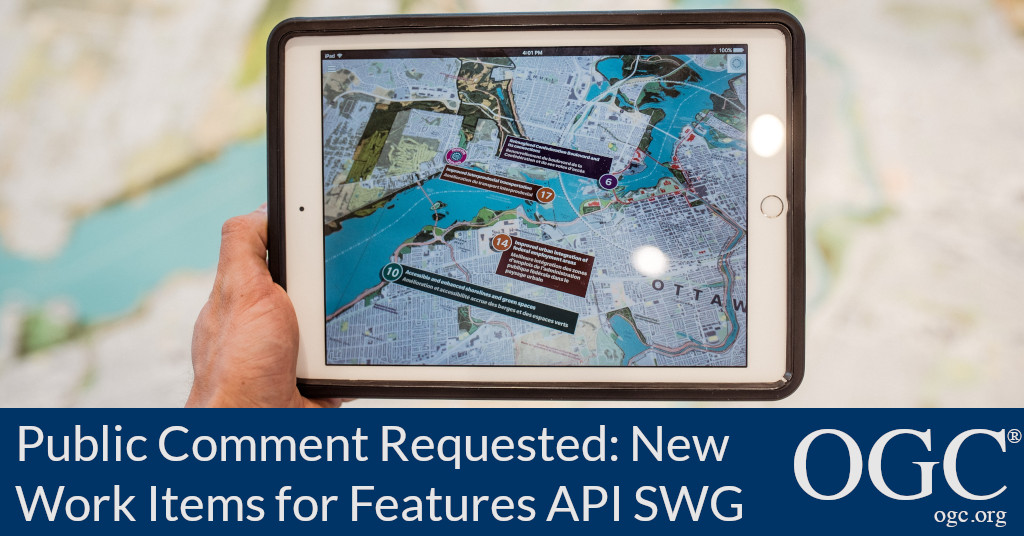 The Open Geospatial Consortium (OGC) seeks public comment on the proposed updated charter for the Features API Standards Working Group (SWG). Comments are due by February 5, 2021.
The purpose of the Features API SWG is to: develop new and maintain existing parts of the OGC API – Features multipart standard; develop corrigenda for the related WFS 2.0 and FES 2.0 standards; and review draft Engineering Reports from the OGC Innovation Program related to OGC API – Features.
The recharter adds the following new work items to the SWG:
Property selection – the ability to specify which feature properties should be presented in a response document.
Geometry simplification – the ability to specify a resolution so that geometries are appropriately simplified (e.g., if you are zoomed out quite far, a polygon may be sufficiently represented as a point).
Schema – will specify resources for various schemas related to a feature. For example: presentation schema – the properties that can appear in a response document; query schema – the properties that can be used to formulate query expressions, or; mutation schema – the schema of the feature that can be used to insert/update/delete features.
Queries – specify new resources to handle long query expressions, multi-collection queries, and stored queries (with and without parameters).
OGC API – Features is a multi-part standard that offers the capability to create, modify, and query spatial data 'features' on the Web (features are simply the digital representations of objects of interest in the real world) and specifies requirements and recommendations for APIs that want to follow a standard way of sharing feature data.
The new family of OGC APIs are a new set of building blocks for location. The OGC APIs usher in a new age for discovering and accessing location information on the web by enabling a much simpler way to share and access location information that is consistent with the architecture of the Web. The OGC API family of standards defines modular API building blocks to spatially enable Web APIs in a consistent way. Through the OGC APIs, the OGC community is standardizing how location information can be integrated: by any developer, with any other type of information, and into any type of application.
The new OGC APIs make use of the OpenAPI Specification (OAS) – a broadly adopted industry standard for describing modern APIs. APIs that implement OAS provide an interface that enables humans and computers to easily discover and understand the capabilities of a service without having to refer to external documentation or guesswork, greatly improving the accessibility of location data.
The draft Features API Standards Working Group re-charter is available for review and comment on the OGC Portal. Comments are due by February 5, 2021, and should be submitted via the method outlined on the Features API Standards Working Group re-charter public comment request page.
About OGC
The Open Geospatial Consortium (OGC) is an international consortium of more than 500 businesses, government agencies, research organizations, and universities driven to make geospatial (location) information and services FAIR – Findable, Accessible, Interoperable, and Reusable.
OGC's member-driven consensus process creates royalty free, publicly available geospatial standards. Existing at the cutting edge, OGC actively analyzes and anticipates emerging tech trends, and runs an agile, collaborative Research and Development (R&D) lab that builds and tests innovative prototype solutions to members' use cases.
OGC members together form a global forum of experts and communities that use location to connect people with technology and improve decision-making at all levels. OGC is committed to creating a sustainable future for us, our children, and future generations.
Visit ogc.org for more info on our work.
"