Pilot will advance an implementation model, architecture, and prototypes for sharing Maritime Limits and Boundaries information.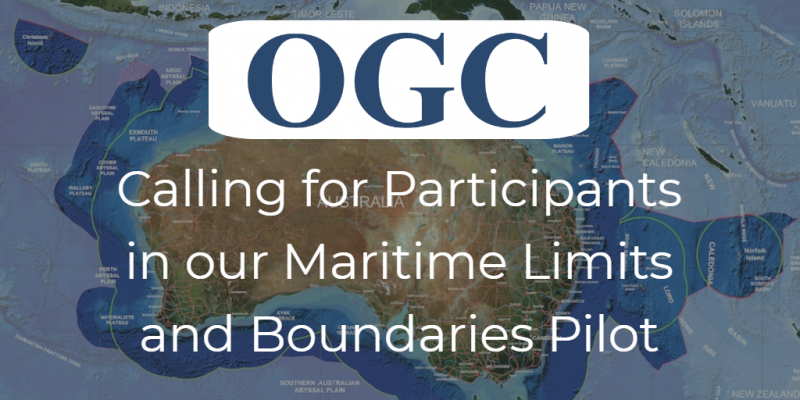 The Open Geospatial Consortium (OGC) invites interested members & non-members to participate in OGC's Maritime Limits and Boundaries Pilot. This OGC Pilot will further advance an implementation model, architecture, and prototypes for sharing Maritime Limits and Boundaries (MLBs) while adhering to the requirements of the United Nations Convention of the Law of the Sea (UNCLOS).
Our planet's oceans are subdivided by international and national laws into many areas and zones. Specific rights, restrictions and responsibilities apply within each of these areas and zones aimed at facilitating the development of the world's ocean resources while providing for the protection of the marine environment and safety of navigation.
States that adhere to UNCLOS are required to communicate officially the representation of their maritime limits and boundaries. To support the dissemination of this information, the International Hydrographic Organisation (IHO) developed the S-121 Maritime Limits and Boundaries standard. The S-121 standard supports the digital data structure and exchange formats for maritime limits and boundaries.
This OGC interoperability pilot initiative, sponsored by Geoscience Australia, the Canadian Hydrographic Service, Natural Resources Canada and the United Kingdom Hydrographic Office, will help to progress the implementation of the S-121 standard. The pilot will advance the implementation of the S-121 data model and architecture, and will implement operational prototypes to support the creation, management, integration, dissemination and onward use of official data for maritime baselines, limits, zones and boundaries. Specifically, the prototypes implemented as part of this pilot will demonstrate the ability to support:
Country level publication, as a national obligation, of their maritime baselines, limits and boundaries
Standards-based geospatial interoperability between supplier, user and partners, within and across governments, public and commercial users
Facilitating strategic awareness and operational decision making in the maritime environment supporting good governance and effective and efficient operations
This Initiative is being conducted under the OGC Innovation Program. The Innovation Program is the Research and Development (R&D) laboratory of OGC. Under OGC's Innovation Program, sponsors and OGC members come together to address geospatial IT challenges in an agile and cooperative manner. Since 1999, more than 110 successful initiatives have taken place, including in-kind interoperability experiments run by working group members, hackathons, pilots, and multi-million-dollar testbeds with hundreds of participants.
While any interested party is encouraged to apply to participate, an active OGC membership is required at the time of participation. By becoming an OGC member you will contribute to a shaping a world in which everyone benefits from the use of geospatial information and supporting technologies.
To access The Maritime Limits and Boundaries Pilot Call For Participation or learn more about this Initiative, please visit the the Maritime Limits and Boundaries Pilot Initiative webpage or contact techdesk@opengeospatial.org.
About OGC
The Open Geospatial Consortium (OGC) is an international consortium of more than 525 companies, government agencies, research organizations, and universities participating in a consensus process to develop publicly available geospatial standards. OGC standards support interoperable solutions that 'geo-enable' the Web, wireless and location-based services, and mainstream IT. OGC standards empower technology developers to make geospatial information and services accessible and useful within any application that needs to be geospatially enabled. Visit the OGC website at www.opengeospatial.org.
"