Pilot will further an implementation model, architecture, and prototypes for sharing Maritime Limits and Boundaries information.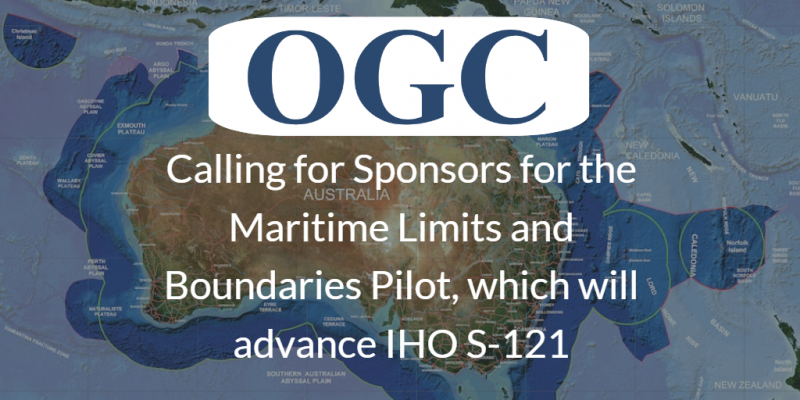 The Open Geospatial Consortium (OGC) has issued a call for sponsors for a Maritime Limits and Boundaries Pilot. This OGC Pilot will further advance an implementation model, architecture, and prototypes for sharing Maritime Limits and Boundaries (MLBs) while adhering to the requirements of the United Nations Convention of the Law of the Sea.
Our planet's oceans are subdivided by international and national laws into many areas and zones. Certainty over the locations of these zones – and the rights, restrictions, and responsibilities that apply to them – facilitates the development of the world's ocean resources while providing for the protection of the marine environment and safety of navigation.
MLBs are the constructs used to delineate maritime zones, and form the legal foundation of the marine domain. These maritime zones are established in law by their geographic limits and where such limit is delimiting two neighbouring States, this limit is described as a maritime boundary, hence the term Maritime Limits and Boundaries.
S-121 is the International Hydrographic Organisation (IHO) standard that enables MLBs to be described in terms of what they are, what they embody, and what they are used for. S-121 establishes a data model for MLBs that includes digital data structure and exchange formats. S-121 allows states to communicate official digital representations of their maritime limits and boundaries to the public and international community. However, the model has no formal implementation encoding, and formats need to be prototyped in order to conform to the Law of the Sea.
This proposed pilot, co-ordinated by OGC, will further advance the two goals of the S-121 standard: 1) to have an open, international, coordinate-based, representation of maritime boundaries and their associated rights, restrictions, and responsibilities that is authoritative and easy to interpret; and 2) to facilitate the deposit of maritime boundary claims with the Division for Ocean Affairs and the Law of the Sea (DOALOS) in a geographic coordinate-based format that fulfils legal requirements under the United Nations Convention of the Law of the Sea (UNCLOS).
Some of the deliverables might include:
Develop a universal exchange format based on GML as well as a conformance test suite
Develop a GIS Implementation to create and edit S-121 data
Implement a legal dissemination format suitable for deposit in DOALOS
Develop an additional administrative layer format to allow overlay of various sources of data (e.g. navigational charts or a S-100 Universal Hydrographic Data Model)
Develop a data display format to show how portrayal of data can be achieved from different countries with a common set of symbols
Support The Extension of S-121 to Generic Objects (e.g. Joint Development Areas, Traditional Fishing Right, and Extended Continental Shelf)
OGC Pilots are initiatives of the OGC Innovation Program, which provides a fast-paced setting for geospatial technology users and providers to work collaboratively in an agile development environment to advance geospatial challenges. Since 1999, more than 100 initiatives have taken place, from in-kind interoperability experiments run by a working group, to multi-million dollar testbeds with hundreds of participants.
Benefits to Sponsors of the OGC Maritime Limits and Boundaries Pilot include:
Influence the technology with specific requirements and advance market solutions (models and implementation) related to maritime limits and boundaries.
Get early insights from experts about the proposed model implementation and architecture.
Improve visibility as a global leader in the maritime domain by advancing interoperable solutions.
Leverage investment of a pool of sponsors by funding a more robust pilot (e.g. more servers and clients) while complementing your requirements with other sponsors' requirements.
For more information about this Pilot, contact Luis Bermudez, Executive Director Innovation Program lbermudez@opengeospatial.org, or visit the Maritime Limits and Boundaries Pilot webpage.
About OGC
The Open Geospatial Consortium (OGC) is an international consortium of more than 525 companies, government agencies, research organizations, and universities participating in a consensus process to develop publicly available geospatial standards. OGC standards support interoperable solutions that 'geo-enable' the Web, wireless and location-based services, and mainstream IT. OGC standards empower technology developers to make geospatial information and services accessible and useful within any application that needs to be geospatially enabled. Visit the OGC website at www.opengeospatial.org.
"