Joint OGC and W3C Pilot project will propose standards to unite Augmented Reality, Web, and Geospatial technologies.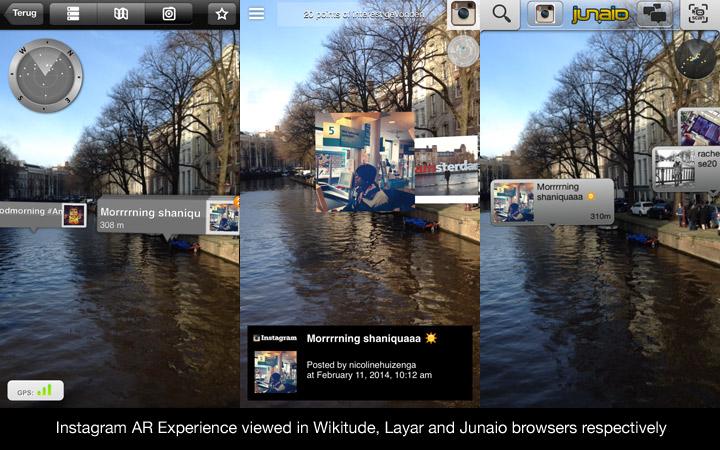 Augmented Reality (AR) content encoded in ARML 2.0 displayed in Wikitude, Layar and Junaio browsers respectively. (Image from Wikitude)
The Open Geospatial Consortium (OGC), and the World Wide Web Consortium (W3C), together are calling for sponsors for an upcoming Augmented Reality (AR) Pilot Project that seeks to advance W3C and OGC standards related to Augmented Reality.
As part of the Pilot, models, interfaces, and an architecture will be advanced to enable the seamless integration of 'real world,' geospatial, and web data.
AR helps people enhance their view of the world by displaying data on top of their physical surroundings. Most commonly this comes as digital information, such as nearby facilities or attractions, being overlaid in real-time onto a video feed being captured by a smartphone.
There are countless use cases where seamlessly bringing relevant information to a visual context can improve the way we learn, make processes more efficient, save lives, or avoid accidents. AR has assisted mechanics to make repairs, neurosurgeons during surgery, soldiers to gain insight on enemy locations, and maintenance crews in working with pipes hidden underground.
AR becomes truly magic when one can start 'browsing' reality – but this requires constant and adaptive access to live data about the surrounding environment. While the data can be provided using OGC standards and displayed using W3C ones, ensuring the two can be combined in real-time live AR experiences – whether on latest-gen head-mounted devices or smartphones held at arm's length – remains to be shown.
An open architecture needs to be advanced to not only allow AR systems to access and merge data from a specific location, but also for them to be able to send data (e.g. capturing pictures and videos) to a server and to subscribe and be notified of events related to that location.
The OGC and W3C AR Pilot Project aims to help solve these problems.
The Pilot will run as an Initiative of the OGC Innovation Program, co-branded with W3C. The OGC Innovation Program provides a fast-paced setting for geospatial technology users and providers to work collaboratively in an agile development environment to develop, evolve, test, demonstrate, and validate standards under marketplace conditions. A video about the benefits of the OGC Innovation Program is available here.
Previous OGC Innovation Program initiatives have proven to:
Reduce technology risk through accelerating the development, testing, and acceptance of interoperability standards.

Expand the market and improve choice by encouraging industry adoption of new standards and best practices, in turn ensuring market availability of interoperable solutions.

Mobilize new technologies by providing participants with real-world experience and a platform to innovate, while also driving the early adoption of standards.

Provide a cost-effective method for sponsors and participants to share expertise and development resources while gaining early marketplace insight and associated advantages.
Benefits to Sponsors of the W3C OGC AR Pilot include:
Assess and affect market direction based on your and other sponsor organisations' needs.

Improved visibility as a global leader in information technology critical to Augmented Reality.

Amplified funding of solutions by working with multiple sponsors with common/similar problems.

Accelerated process for workable interface specifications, with results delivered in 4-6 months. Follow-on procurements using proven standards-based architecture then lead to more robust AR solutions.
For more information on the pilot or any sponsorship opportunities, contact Luis Bermudez, Executive Director Innovation Program lbermudez@opengeospatial.org or visit www.opengeospatial.org/projects/initiatives/arpilot2017. To submit your interest as a sponsor, please respond to the form located at http://bit.ly/ar-sponsor by February 5th 2018.
About OGC
The Open Geospatial Consortium (OGC) is an international consortium of more than 525 companies, government agencies, research organizations, and universities participating in a consensus process to develop publicly available geospatial standards. OGC standards support interoperable solutions that 'geo-enable' the Web, wireless and location-based services, and mainstream IT. OGC standards empower technology developers to make geospatial information and services accessible and useful within any application that needs to be geospatially enabled. Visit the OGC website at www.opengeospatial.org.
"