This part of the Testbed-15 solicitation allows interested and eligible parties to join those Testbed-15 activities that are sponsored by ESA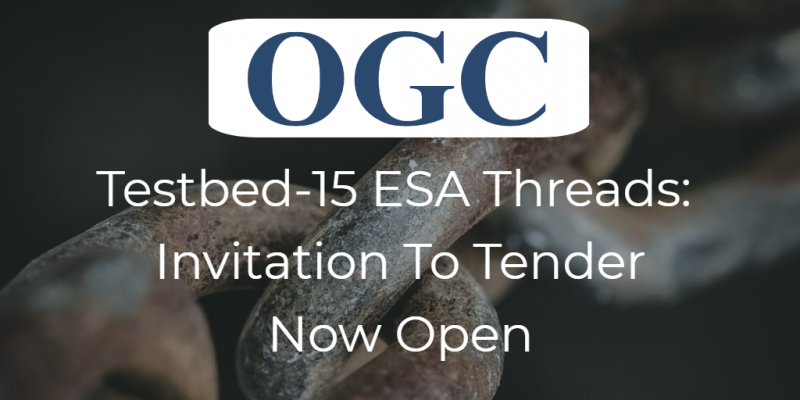 The Open Geospatial Consortium (OGC) announces that the European Space Agency (ESA) has released the Open Invitation To Tender OGC Testbed 15 – ESA Sponsored Threads – Exploitation Platform.
This tender allows interested and eligible parties to join those Testbed-15 activities that are sponsored by ESA. It complements the OGC Testbed-15 Call for Participation released in January.
Due to ESA's specialized procurement requirements, the Testbed 15 solicitation is issued in two parts:
Part 1 – the CFP document issued directly by OGC on January 8 and referred to as the "Part 1 CFP" or just "CFP"
Part 2 – this Invitation To Tender pack ("Part 2 ITT" or just "ITT") for ESA Work Items.
The ESA ITT is available on EMITS (AO700000 under the Telespazio Vega UK entity). It includes components that are part of the 'Earth Observation Process and Application Discovery' task as described in CFP Technical Architecture, section B.10.
Note that only entities from countries listed in the "Special provision" of the EMITS publication are eligible to bid.
Both the Part 2 ITT and Part 1 CFP calls are for work that will be performed as part of the Testbed-15 initiative. However, each solicitation stands on its own and there is no need to refer to the Part 1 CFP part in order to formulate a response to the Part 2 ITT.
If you have any questions, please join the 'Bidders Q&A Webinar' where interested parties can ask questions concerning Testbed-15. The webinar will be held on Monday 4th February 2019 at noon US Eastern Time. Registration is free but mandatory. Further information on Testbed-15 is available on the Testbed-15 page on OGC's website.
If you are unable to attend the webinar and can't find the information that you're after, please feel free to contact Scott Serich, Director Innovation Programs, on techdesk@opengeospatial.org.
About OGC
The Open Geospatial Consortium (OGC) is an international consortium of more than 525 companies, government agencies, research organizations, and universities participating in a consensus process to develop publicly available geospatial standards. OGC standards support interoperable solutions that 'geo-enable' the Web, wireless and location-based services, and mainstream IT. OGC standards empower technology developers to make geospatial information and services accessible and useful within any application that needs to be geospatially enabled. Visit the OGC website at www.opengeospatial.org.
"