Workshop will focus on Geospatial Data Interoperability for Cumulative Effects and examine novel, standards-based solutions that address the challenges of integrating disparate data.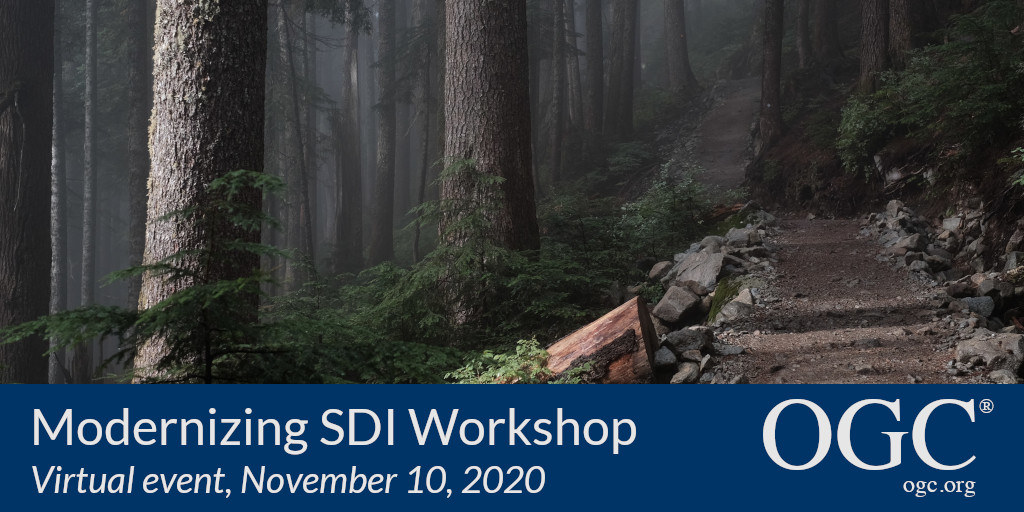 The Open Geospatial Consortium (OGC) and OGC Strategic Member Natural Resources Canada (NRCan) invite participation in the Modernizing Spatial Data Infrastructure (SDI) for Cumulative Effects Workshop to be held virtually on November 10, 2020.
The 3-hour community workshop will be presented in three parts:
An overview of data interoperability challenges in an SDI environment, using a real-world case study.
An initial panel discussion with invited subject matter experts – including data scientists, cumulative effects / environmental assessment practitioners, data producers, solution providers, standards advocates, and OGC members. The panel will take a deep dive into the challenges to data interoperability.
A second panel discussion will examine possible standards-based solutions to these challenges.
Panel sessions will be followed by an audience Q&A session and open discussion.
The workshop forms part of OGC's Modernizing SDI: Enabling Data Interoperability for Cumulative Effects Concept Development Study (CDS). The CDS seeks to identify standards-based solutions that enable interoperability of key environmental data from multiple jurisdictions. These solutions will focus on using emerging Internet-based technologies such as machine learning/reasoning, data fabrics, data lakes, cloud services, open APIs, and others. The workshop follows up on the recent Request for Information (RFI). Twenty-two organizations provided responses to the RFI concerning the challenges that cumulative effects studies face when integrating data from different sources, across multiple jurisdictions, and with varying levels of quality, detail, and standardization.
OGC members and non-members alike are invited to join the workshop. Registration is free but required. For more information on the workshop, including how to register, visit the Modernizing Spatial Data Infrastructure (SDI) for Cumulative Effects Workshop event page on ogc.org.
About NRCan
Natural Resources Canada (NRCan) develops policies and programs that enhance the contribution of the natural resources sector to Canada's economy, improve the quality of life for all Canadians, and conduct innovative science in facilities across Canada to generate ideas and transfer technologies. The department is an established leader in the fields of: Energy Sources and Distribution; Forests and Forestry; Minerals and Mining; Earth Sciences; Energy Efficiency; and Science and Data. NRCan also represents Canada at the international level to meet the country's global commitments related to the sustainable development of natural resources.
Visit nrcan.gc.ca to learn more.
About OGC
The Open Geospatial Consortium (OGC) is an international consortium of more than 500 businesses, government agencies, research organizations, and universities driven to make geospatial (location) information and services FAIR – Findable, Accessible, Interoperable, and Reusable.
OGC's member-driven consensus process creates royalty free, publicly available geospatial standards. Existing at the cutting edge, OGC actively analyzes and anticipates emerging tech trends, and runs an agile, collaborative Research and Development (R&D) lab that builds and tests innovative prototype solutions to members' use cases.
OGC members together form a global forum of experts and communities that use location to connect people with technology and improve decision-making at all levels. OGC is committed to creating a sustainable future for us, our children, and future generations.
Visit ogc.org for more info on our work.
"