A meeting of the OGC India Forum was held on October 18, 2023, in Hyderabad, where over 40 experts from government, industry, and academia met to discuss the future of geospatial technologies in India. With its booming tech industry, Hyderabad provided an apt backdrop for discussions on innovation and standards in the geospatial realm.
The event was supported by the following organizations: The Association of Geospatial Industries (AGI India), which represents India's geospatial private sector capabilities; the Bureau of Indian Standards (BIS), the national standards body that underpins technical excellence; and Geospatial World, a media company and the host for GeoSmart India 2023, where the forum was organized.
A pivotal moment at the event was the unveiling of the OGC India Forum's new Charter, heralding a renewed commitment to advancing geospatial standards and innovation within the Indian context. Also at the Forum, OGC and AGI India renewed their partnership in line with the policy priorities of India.
The forum facilitated a series of expert-led panels, dissecting the latest trends, challenges, and opportunities in the geospatial and Earth Observation sectors. It provided a platform for participants to contribute insights and actively shape the Forum's committees and future directives.
Emphasizing the Economic Value of Geospatial Standards
Harsha Madiraju, Lead – OGC India Forum, set the stage with a presentation on the economic impact of standards in geospatial technologies. Citing the 2012 ISO publication on Standards and Economic Growth, he highlighted the positive correlation between the proliferation of standards and national economic development. This underscores the importance of investment in geospatial interoperability and its tangible benefits to industries and economies.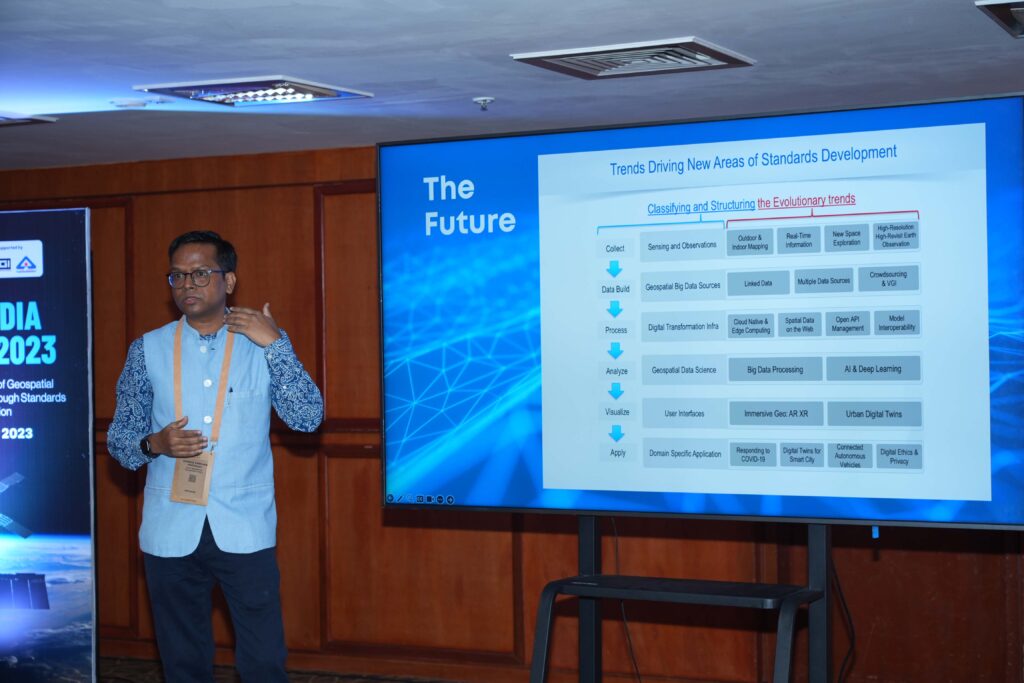 From the Indian Context, Harsha said that we need proven methodologies and best practices for implementing Standards in India's diverse and complex landscape. From this perspective, he said, the "Guide to the Role of Standards in Geospatial Information Management" prepared by ISO/TC 211, OGC, and IHO, and endorsed by UN-GGIM, provides a reliable framework around geospatial standards implementation. Quoting the guide, he said the Indian community can refer to the Goal-based Approach to geospatial standards implementation, where different maturity levels from Tier 1 to Tier 4 are prescribed. 
Harsha said about the interoperability scenario in India: "Our data and systems are not yet fully interoperable, and our community is at varying stages of maturity compared to more developed geospatial ecosystems. The opportunity here is immense. It's not just about sharing maps: it's about evolving towards a spatially enabled nation where we can take advantage of the authoritative datasets coming up for India."
He further called for collaboration by saying "In a country like India, with its unique challenges and opportunities, the role of standards in accelerating the maturity of our technology ecosystems is crucial. At OGC India Forum, we aim to work on standards, compliance, and innovation. It's not just the responsibility of a few: it's a collective endeavor. Your expertise and contributions can shape the future of geospatial technology in India."
Concluding his talk, he said, "We have the framework, the global endorsement, and, most importantly, a community willing to drive change. Let's invest wisely in standards to shape a future that benefits us all."
Panels and Discussions for India – Tech Trends, Adoption of Standards, and Academic Perspectives.
The event then proceeded with three panels on the following topics:
Panel on Geospatial and Earth Observation Technology Innovation in India
The panel discussed India's contributions to geospatial and Earth Observation technologies and the possible advancements that may come from the Indian government, private sector, and especially start-ups. The session also discussed the untapped sectors and applications that these technologies could significantly impact. Finally, the discussions identified key challenges in technology adoption and scalability and discussed how the community can help overcome these challenges.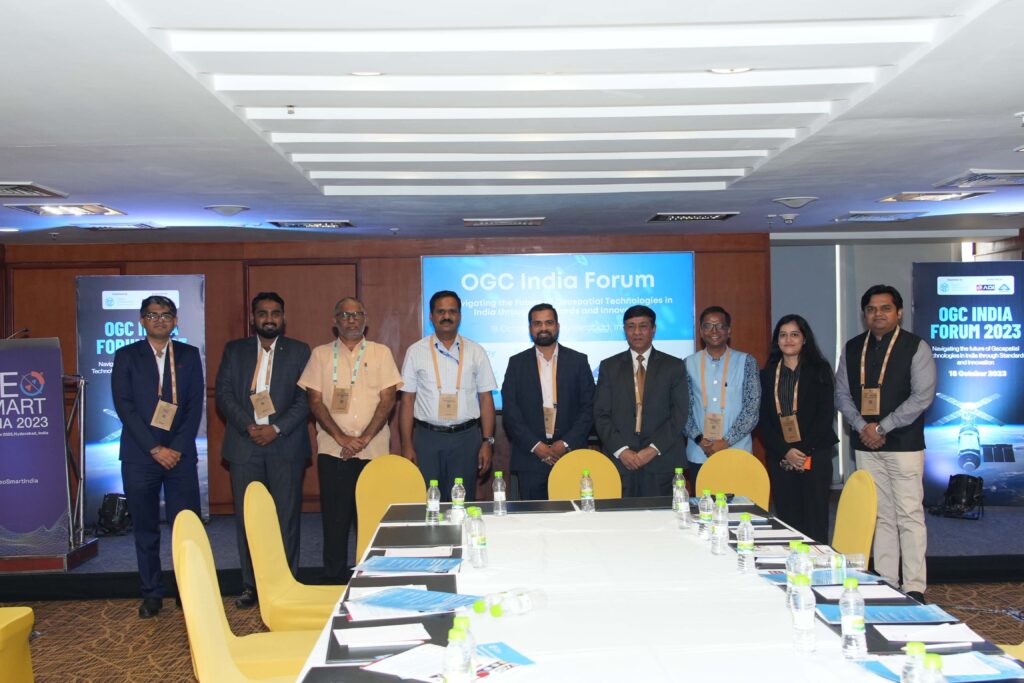 Rajesh Mathur, Esri India, said that federated GIS architecture is a new paradigm enabling collaboration and data sharing. According to him, India's National Geospatial Policy 2022 is a progressive and transformational initiative that will accelerate the adoption of geospatial technologies by encouraging collaboration and data sharing among all the stakeholders. This opens up exciting opportunities for GIS deployment – both on the Cloud and in a federated architecture. Data partnerships enabled by Standards and interoperability will allow users from multiple organizations to collaborate and share content through trusted and secure workflows. 
Shubham Sharma, GalaxEye Space, said that the OGC India Forum provided a great platform to interact with the panel members and the audience with diverse experiences. With discussions ranging from the evolution of technology in the geospatial sector to standardization, the discussions centred around the implementation of OGC standards in India. With the continued expansion of the geospatial sector, Open Standards will pave a smoother road for building scalable and sustainable products.
S S Raja Shekar, National Remote Sensing Centre (NRSC), said OGC standards have changed how geospatial data and applications are handled, providing simple solutions to complex exchanges of data and services. A growing focus on standards in the space domain and in sectors of priority to the country where geospatial applications are critical is needed. This session also brought perspectives and ideas from entrepreneurs and proved to be highly constructive.
Akshay Loya, Founder & CEO of GISKernel Technologies, said "I was asked how I envision the evolution of the geospatial industry in India. My response was straightforward: we, as young founders, can share our insights alongside esteemed figures on a platform like OGC India Forum, which is a significant evolution in our industry."
Panel on Geospatial and Earth Observation Standards in India
The second panel examined the current adoption of BIS/ISO and OGC standards in India, focusing on areas where they are most – and least – implemented. The panel also discussed the avenues available for contributing to geospatial and Earth Observation Standards, both at a national and international level. The session then also delved into the compliance and procurement aspects.
Abhiroop Bhatnagar, Lead, Platform at Aereo, said "I would like to share the message regarding the importance of cloud-native geospatial formats. The essential property of cloud-native formats is that they allow data delivery directly from cloud-based storage to clients without involving any compute in between – for example consider direct requests to S3 from web browsers. The world is quickly transitioning towards a cloud-based data-delivery paradigm. Under this new paradigm, if we have to ensure scalability along with preserving efficiency, it is critical to utilize cloud-native geospatial formats. In that respect, Cloud-optimized GeoTIFF has already been accepted as an OGC standard and is well-supported by the ecosystem. We at Aereo have already integrated support for COGs in our WebGIS platform, Aereo Cloud. We actively promote it as the preferred format for raster data within the industry and the government."
Ashish Tiwari, Joint Director of the Bureau of Indian Standards (BIS), said that ISO/TC211 and OGC have a strong history of collaboration on geospatial standards. BIS, through the Geospatial Information Sectional Committee, has adopted over twelve Standards and is working on adopting fourteen more. BIS looks forward to collaborating with the OGC community, as this will be valuable in many areas where BIS can understand recent trends and best practices.
Participating in this session, Vishnu Chandra, Former Deputy Director General & HOG -NIC, Geospatial Technology Services Division, said that open geospatial Standards are the core foundation of geospatial information interoperability and play a crucial role through open geospatial APIs for the exchange of data and Service Delivery. OGC India Forum can play a critical role in bringing the global OGC standards to India in collaboration with various government, industry, and academic stakeholders.
OGC standards have a significant role given the context of the Indian National Geospatial Policy 2022, which calls for the creation of the National Geospatial Foundation around 14 Thematic Areas to support UN-GGIM objectives associated with the UN Sustainable Development Goals. These themes also have relevance in digital public infrastructures and platforms for specific governance, planning, and service delivery in the Indian context. Therefore, each data theme needs Standards implemented across the entire geospatial information value chain.
Panel providing Perspectives from Academia & Research on Innovation and Standards in India
The final panel discussed the current awareness and usage of geospatial and Earth Observation Standards in academic programs and research projects. The discussions explored the extent to which Standards are integrated into educational curricula. The panel also delved into how academic and research institutions can contribute to standards development, implementation testing, and even lead the creation of new standards.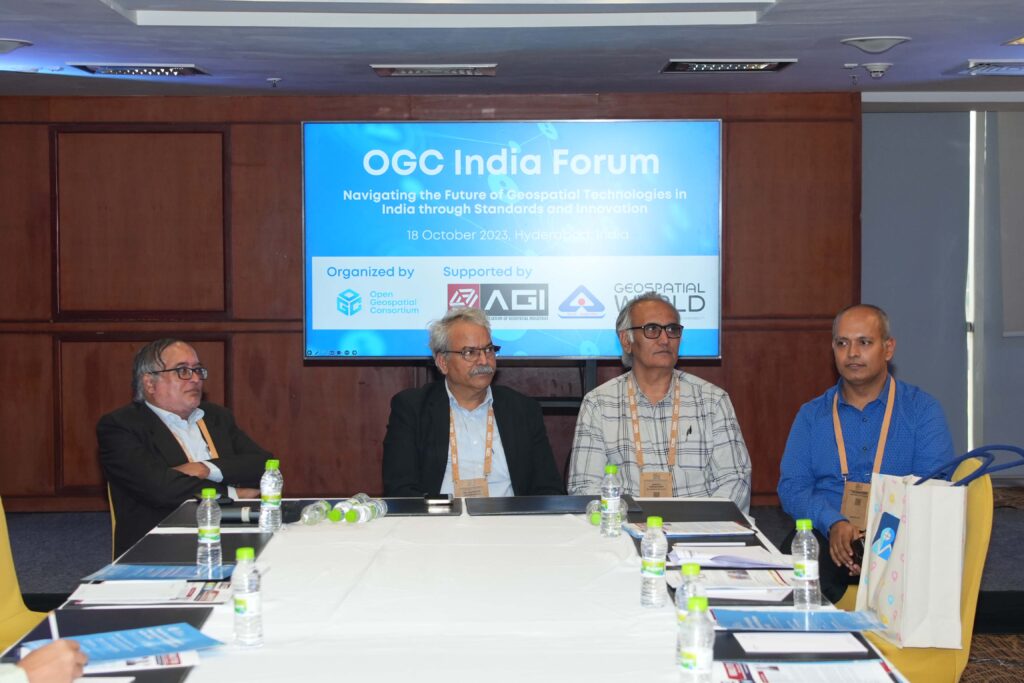 Dr. Sanjay Chaudhary, Professor and Associate Dean, Ahmedabad University, School of Engineering and Applied Science, said "There is a lack of interest in geospatial technologies in India from the students in the broader computer science and IT community. Helping them understand the value and opportunities available in this sector will be important. With the evolution of OGC Standards into APIs and the availability of developer resources, we can make these students learn and invest in this direction, which will be valuable to their professions and bring skilled resources to India."
Professor Dr. Karbhari Vishwanath Kale, Vice-Chancellor of Dr. Babasaheb Ambedkar Technological University, Lonere, Raigad, Maharashtra, said "Through our engagement with the Bureau of Indian Standards, I have been making personal efforts to bring awareness in our professional circles on the value and importance of Standards. As an OGC Member, our university closely follows the development of international Standards by OGC. Some of our core interests lie in the intersection of multi- and hyper-spectral sensor data for agriculture, material detection, disaster management, and health care. We must invest in developing sensors and data dissemination platforms and make applications and data more broadly available, specifically in agriculture. In line with the Indian National Education Policy 2020, our university has set goals to establish and design the course curriculum with a research lab where IoT, sensors, and Standards can be brought together for the overall benefit of end users. We look forward to collaborating with the international network of OGC and taking this on."
Dr. Sumit Sen, GISE Hub, IIT Bombay, said "Our Hub is established as an interdisciplinary project funded by the Department of Science and Technology, Govt. of India, to enable the research and development of geospatial technology solutions. In turn, our hub works with many academic and research organizations to further fundamental research in GIScience. Standards and Interoperability is one of the focus areas, and we continue to work closely with OGC and other stakeholders like IIT Kanpur, IIT Tirupati, and IIIT Hyderabad in enabling the geospatial community with the right skills on OGC Standards and APIs. The Winter School is one of India's unique learning programs on geospatial standards. It is a fifteen-day on-campus training program supported by OGC Staff and Members. It provides hands-on and practical training on OGC Standards to India's government, private, and research organizations. The 2023 program will be on the OGC API Stack. We will continue our international engagement and work closely with the OGC India Forum community."
Next Steps
The OGC India Forum 2023 event was a success. The event concluded with a broader agreement around the need to identify areas of engagement in the coming days. It was agreed that there is a need for partnerships and to organize events, training programs, and policy roundtables on geospatial standards, in collaboration with OGC Members and Partners in India and the broader community.
Tags:
India
,
OGC India Forum
,
OGC Regional Forum