Marie-Francoise Voidrot
Director, Collaborative Solutions and Innovation Program
France, Europe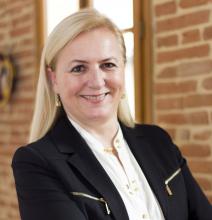 About Me:
Marie-Francoise Voidrot is responsible for planning and managing interoperability initiatives such as testbeds, pilots and interoperability experiments with an emphasis on activities in Europe.
Prior to joining OGC, Mrs Voidrot was Senior Project Manager for numerous meteorological information systems with Meteo-France for Meteo-France but also for major customers in spatial, defense or aeronautical activities. Hence, she brings a global end to end view of the information systems from production to a large variety of activities. Since 2009 she has also served as member company representative to the OGC and as a co chair of the MetOcean Domain Working Group contributing to the connection between the Met Ocean communities and OGC standards experts.
She holds a MS in Informatics from the Ecole Centrale Paris and a MS in Meteorology from the Ecole Nationale de la Meteorologie (French National School in Meteorology) As part of her MS in informatics, she worked on multidimensional data visualisation at the Space Science and Engineering Center in Madison, Wisconsin.