Meteorology and Oceanography Domain Working Group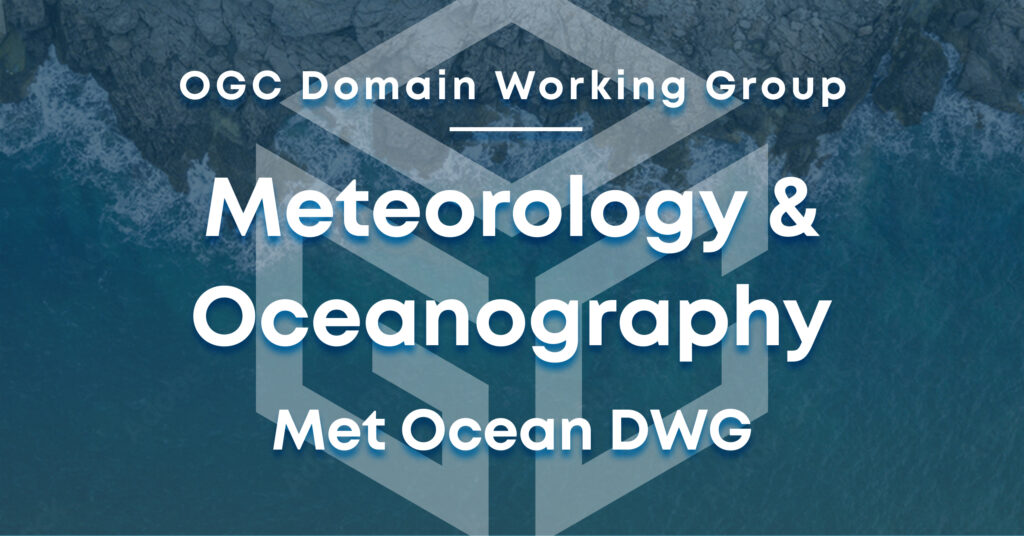 The OGC Meteorology and Oceanography DWG was established to ensure that OGC standards and profiles allow the meteorological community to develop effective interoperability for web services and content across the wider geospatial domain. Meteorological and oceanographic data, in general, are/is multidimensional, continually evolving, highly spatial and highly temporal in nature. This Meteorology and Oceanography Domain Working Group brings together OGC members in an open forum of the wider meteorological and oceanographic communities to work on oceanographic, meteorological and climatological data, metadata, and web services interoperability, greatly improving the way in which this information is described, shared and used. Please join the MetOcean DWG mailing list to stay up-to-date on group activities and post questions for this community of experts.
Resources
MetOceanDWG
Official public repository for the OGC MetOcean Domain Working Group.
CoverageJSON
Supports the efficient transfer from big data stores to lightweight clients, such as browsers and mobile applications.
OGC API – Environmental Data Retrieval (EDR)
Interface for sampling data about the natural or built environment, using a spatio-temporal query pattern.
MetOceanDWG ad hoc
Working area for MetOceanDWG.
Abstract Specification on Time
Repository for the OGC Temporal Domain Working Group to develop an Abstract Specification for Time.
Time Series Modeling Language
Repository of the OGC Timeseries Markup Language (TSML) Standards Working Group.
Weather on the Web
Effort to clarify and formalize the weather related standards used to develop web services.
Tags:
Climate
,
CoverageJSON
,
Geospatial
,
Oceans
,
OGC API - EDR
,
Weather