OGC Newsletter - October 2005
OGC News:
October 2005CONTENTS
CEO's Message
News From The Blogosphere
Books of Note
NATO News
Imagery Provider Offers Open Interfaces
Website of the Month
DEPARTMENTS:
IP Update
,
New Members
,
OGC In The News
,
Events
,
Contact
,
Subscribe/Unsubscribe
Back issues of OGC News are
available
.
CEO'S MESSAGE
Weathering the Geospatial Tornado
In last month's CTO Message in this newsletter, Carl Reed wrote about a paradigm shift in our industry: search engine companies' introduction of mapping capabilities. Reed explained that it is not a technology paradigm shift, but a business paradigm shift that is enabled by a variety of standards.
Geoffrey Moore, in his books
Crossing the Chasm
and
Inside the Tornado
, advises businesses on how to think about paradigm shifts, that is, how to succeed in an environment of "discontinuous innovation." Our industry needs this kind of thinking, because we will succeed or fail based on decisions made in the next few years of discontinuity.
How will we know if we have succeeded or failed? User and provider OGC members would no doubt like to see continuing development of standards and continuing growth in the market for technology and data products for "serious users." Serious users are those engaged in government, research, planning, resource management, and other application areas that require sophisticated tools and data. We will have succeeded if this takes place at the same time that development resources flow into location services and consumer applications like those offered by the search engine companies. We will have failed if virtually all resources for development and growth are pulled into the potentially more profitable "tornado" of consumer applications.
Crossing the Chasm
deals with bridging the market gap between sales to visionaries (or geospatial professionals, in our case), a relatively small segment of the market, and sales to pragmatists (corporate and consumer channels), a much larger segment. The geospatial market overall seems to be about to cross the chasm. Going "Inside the Tornado" is a metaphor for the exponential growth that sometimes occurs after crossing this difficult chasm. Going inside the tornado takes you places you didn't expect to go, like Dorothy's tornado ride to the Land of Oz.
As we face a possible tornado, we should begin to think carefully about our wishes. The Web itself began as a tool for serious (that is technical and academic users) but it exploded into a commerce-driven world of pop culture, games and chat. The sheer volume of websites and browser users created huge profit potentials that funneled investment into the consumer commerce Land of Oz.
Inside the Tornado
documents the tumult and confusion in the history of companies that latch on to wildly successful products. Ready profit trumps other motivators. One result is that lines of business, partners, and development projects that made sense in leaner times suddenly become under-funded and financially non-viable.
Facing possible hypergrowth, should we in the geospatial industry worry about continuity of resources for development of quality technology, data products and standards for serious non-consumer applications? The business model for search engine companies, at this time, is an advertising business model in which search engine company profits grow as they become increasingly able to help advertisers find well qualified prospective consumers and then connect directly to them. In what ways is this relevant or irrelevant to the National Spatial Data Infrastructure (NSDI)? Google and others, in an admirable display of public spirit, jumped in to provide spatial information and spatial searches to aid Katrina hurricane disaster relief efforts, and advertising was, to be sure, not a significant factor. But in day to day maintenance and use of the NSDI, is it practical to suppose that such a free and generous approach could be sustained by the companies? As we in the industry ponder this question, it will be useful to consider the ideas presented by Geoffrey Moore in his keynote address at the Open Source Business Conference 2005, in which he outlined the mutual interests of the competitive capitalist community (his phrase) and the collaborative, cooperative open source community. His message was that companies should identify and focus on their "core" value creating activities and they should find ways to leverage the collaborative capabilities of the open source community to manage "commonality." Commonality refers to necessary activities or resources that do not differentiate competitors or do not provide a competitive advantage.
Here, Moore is essentially giving business advice to the capitalist community and giving the open source community a way to pitch their services. But open source and related kinds of commonality, such as consensus standards and policies, should also be valued as expressions of culture or civilization. They raise the quality of what is available to everyone, both producers and consumers. They weigh against monopoly. And they provide balance in a world where investor profit too often trumps all other purposes.
One question for people engaged in SDI efforts is this: What are the proper roles of the private sector in creating and maintaining a well-organized spatial data "commons" that meets, for example, the simple information needs of hurricane survivors as well as the complex needs of those who are charged with disaster mitigation, preparedness, response and recovery? How will resources for serious uses be allocated, reallocated or de-allocated as we enter the tornado of mass consumption of online mapping resources? Quality is a key consideration.
The emergence of search engine companies into our market is a result of the inexorably falling costs of technology commodities: processing power, memory, storage and bandwidth. What remains -- algorithms, data, information and standards -- are mostly not commodities. We would like this remainder to be well funded, vital, steadily increasing in variety, quality and usefulness, and not monopolized. That is the challenge for our members who have been working for many years to develop socially responsible and high quality technology for use in a wide variety of public service applications.
David Schell, CEO
Open Geospatial Consortium, Inc. (OGC)
NEWS FROM THE BLOGOSPHERE
Discussions of OGC specifications and interfaces are popping up all over the blogosphere (the world of blogs). A few posts worthy of note:
Martin Kyle notes that national scale dataset for Canada is
now available
in GML.
Andrew Hallam
explores
whether or not Google Earth should support WMS. He concludes, "After digging around in a few Web Map Services and building some sample KML files I'm not so sure. Issues were found in both the Google Earth and Web Map Service camps."
Hallam also notes an
article
in InfoWorld. His
take
:
"The article points out that for most point-to-point web services plain old XML over HTTP is all you need. This is the approach taken by the Web Map Service (WMS) and Web Feature Service (WFS) standards.
"When the services get more complex then the WS-* stack becomes relevant, but the technical complexity and opportunity for vendor lock-in suddenly increase dramatically. However, most of us can get the job done by moving XML documents around the Web."
Jamais Cascio
notes
that after the December tsunami there was increased interest in sharing ocean monitoring data. He highlights OpenIOOS commenting that it "is a good start at this, and deserves to get greater attention and support. OpenIOOS -- the IOOS, in this case, stands for Integrated Ocean Observing System -- is a project of the Office of Naval Research and NOAA's National Ocean Service, and combines a wiki with tools for displaying data meeting the Open Geospatial Consortium standards."
BOOKS OF NOTE
Two new books include "how to" content on using OGC standards within GIS software. Tyler Mitchell's (O'Reilly and Associates, 2005)
Web Mapping Illustrated
includes details of using WMS within MapServer. So does Bill Kropla
Beginning MapServer - Open Source GIS Development
(Apress, 2005). These titles may be of interest to readers of OGC News.
Know of other books that provide "how to's" for OGC standards? Drop and e-mail to the
adena

[at]

opengeospatial.org

(editor)
.
NATO NEWS
NATO recently released a Request for Tender to design and build an Enterprise Geographic Services Capability that relies entirely on OpenGIS® interfaces, as illustrated by this graphic taken from the procurement document.
Source: NATO BC-AIS Core Geographic Services, SOW, Annex D, Design Principles
IMAGERY PROVIDER OFFERS OPEN INTERFACES
Lance McKee
Google's recent routing and imagery offerings and the well publicized map and imagery offerings from MapQuest and Microsoft have sparked awareness that there's e-business potential in Web-based delivery of geospatial information. But these companies are just playing catch-up with GlobeXplorer, a company with a long and successful geospatial e-business track record, a sophisticated Web services based technical approach, and a commitment to open standards.
GlobeXplorer, a data aggregator, provides access to the world's largest online library of commercial earth imagery. Using a variety of mechanisms - a portal, an application programming interface (API), and Web services, GlobeExplorer distributes interactive maps and aerial and satellite imagery to businesses and researchers around the world. Unlike many competing imagery providers, they are not just serving images. They are also integrating spatial data on the fly using Web services, including Web services that implement the Open Geospatial Consortium's OpenGIS Web Feature Service (WFS) and Web Map Service (WMS) Specifications. They also offer "wire service" access to their backend processing system through servlets that run on their Web servers.
GlobeXplorer has over 600Tb of imagery content and they add as much as 1Tb more each week. This is mostly commercial imagery data (including over 2M square kilometers of Digital Globe content). It also includes other remotely sensed data sources and ancillary map data overlays that can be overlaid onto images (e.g. flood zones and data parcel data.) Most of the imagery consists of 6-inch and sub-meter resolution data from around the world, and includes some data at 3-inch resolution. GlobeXplorer has a very popular portal for individual consumers who might want to buy, for example, a high resolution image of their neighborhood, but most of their images are served to business customers via Web services. They serve over 2 million maps/day.
"GlobeXplorer provides its customers with the most detailed, affordable and accurate views of the planet so that our customers have the information they need to make better and faster decisions," said Rob Shanks, president of GlobeXplorer.
MapQuest's Web mapping application was based on the API that GlobeXplorer developed. The current GlobeXplorer API supports WMS as well as http, SOAP and various proprietary interfaces offered by geospatial software vendors. GlobeXplorer's API enables businesses to dynamically access GlobeXplorer image, map overlay and database information directly inside their own Internet-enabled applications, devices and workflows. On the server side, GlobeXplorer manages the sophisticated hardware and software that are necessary to make the user interactions truly dynamic and interactive despite huge file sizes.
To see high-volume, large-scale commercial applications that use WMS and WFS, look at these GlobeXplorer links:
--
Property Analyst
, for detailed property reports. Users can search by address, parcel id, or owner name to find a wealth of information on any desired property or area. Once a search is initiated, a property map is displayed and the user can access assessors data, run sales comparables, download text and map data, create reports, or view MLS data and related property information.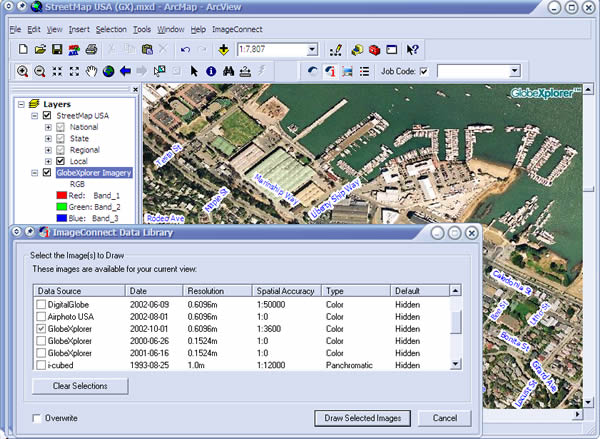 --
ImageConnect
links GlobeXplorer imagery to any WMS-enabled software, such as that provided by ESRI, MapInfo, AutoCAD, Intergraph or other WMS-enabled clients. This open access lets users gain instant access to a wealth of premium imagery and maps from national governments and over 50 global private providers including AirPhotoUSA, DigitalGlobe, EarthSat, and many others.
--
ImageBuilder
developer toolkits give developers the tools they need to rapidly build custom aerial, satellite, and map viewing functions into applications, tapping into GlobeXplorer's dynamic archive. HTML, SOAP and WMS are supported.
GlobeXplorer has six years of experience in business-to-business e-commerce, selling to customers in markets such as real estate, insurance, engineering, and telecom/utilities. GlobeXplorer operates as a business unit of the Stewart Real Estate Information group and thus provides access to an immense library of real estate information. The company has provided its subscription-based services to leading Internet portals such as those of ESRI, Mapquest.com, Maps.com, National Geographic, ADT, real-estate companies, and U.S. Government agencies including the Environmental Protection Agency, the Census Bureau and the Lawrence Livermore National Lab. For all of these customers, an important part of the GlobeXplorer e-commerce offering is a robust metering system for tracking content. The system automates the billing process and pays royalties based on accurate and verifiable usage of each supplier's content.
Chris Nicholas, a key member of GlobeXplorer's technical staff, was an active participant in OGC in its early days, and GlobeXplorer intends to continue to support OGC standards. Rob Shanks says that the company will continue to suggest additions or changes that may make the specifications more viable commercially. The OpenGIS Web Coverage Service Specification (WCS) may make sense for them in the future, and they are feeding their "lessons learned" back into OGC's GeoDRM (digital rights management) effort, explaining, for example, how GlobeXplorer enhanced WMS with username and password services.
Few companies have focused as intently or as successfully on geospatial e-commerce as GlobeXplorer. Standards have played a role in their efficient development of in-house capabilities as well as their ability to "plug and play" with the resources of clients and partners. Through their intelligent application of OGC standards, they have become a leading exemplar of how standards contribute to growth of the industry.
| | |
| --- | --- |
| | --- |
WEBSITE OF THE MONTH

A bit of the browser based application for the Katrina Image Warehouse.
Other tools for access are available, including any WMS client.

Last month the geospatial community rallied its combine resource to support rescue and recovery efforts in the south eastern United States following Hurricane Katrina. While many, many applications were built, only a handful support OGC standards, allowing data to be directly included in clients that support those standards.
The
Katrina Image Warehouse
, the result of work by a number of open source practitioners, offers up imagery from NOAA, USGS, Landsat, DigitalGlobe and TopoZone via the OpenGIS Web Map Service Implementation Specification (WMS), as well as proprietary interfaces. The getcapabilities statement is
here
.
Tyler Mitchell explains how the application was built using open source software in his
blog
.
Know of a website that uses OpenGIS specifications to solve a real world problem or demonstrates an interesting use? Drop the
adena

[at]

opengeospatial.org

(editor)
an e-mail with the details including the URL, organization behind the website, specifications used, technology used and the goal of the website.
IP UPDATE
OWS Web Services, Phase 3 (OWS-3): nearing completion
The OGC Web Services 3 (OWS-3) testbed activity began in April. On October 18-21 OWS-3 will culminate with two milestones: a demonstration of the functionality and the delivery of Interoperability Program Reports (IPRs).
OWS-3 Sponsors included: BAE Systems, IONIC Software, GeoConnections (Canada), Lockheed Martin, MAGIC Services Initiative, National Aeronautic and Space Administration (NASA), Oak Ridge National Laboratory (ORNL), NAVTEQ, Questerra, US Geological Survey (USGS) and other organizations. OWS-3 sponsorship was approximately $1.9M, a figure that is more than matched by in-kind investment on the part of industry participants. Approximately 47 member organizations are contributing to OWS-3 developments.
IPRs will be posted for review during the Specification Program meetings in November in Bonn. IPRs were developed in each of the threads of OWS-3 including:
- Sensor Web Enablement (SWE) Thread
SWE Architecture IPR
SWE Schemas
SensorML Recommendation Paper Change Request
TransducerML IPR
Sensor Observation Service (SOS) IPR
Sensor Planning Service (SPS) IPR
- Geospatial-Decision Support Services (GeoDSS) Thread
GeoDSS Client IPR
Symbology Management Architecture IPR
Feature Portrayal Service IPR
GeoVideo Service IPR
Schema Tailoring IPR
Data Aggregation Service IPR
GML Investigations IPRs
- Geospatial-Digital Right Management (GeoDRM) Thread
GeoDRM Architecture IPR
Change Requests for OWS as needed
- Common Architecture Thread
Several IPRs on CS/W profile IPR
The OWS-3 demonstration will be held at the SAIC Public Safety Integration Center, in McLean, Virginia. There are plans to capture the demonstration in several ways to allow presentation of the OWS-3 results in many ways. An OWS-3 Video will summarize the advances in interoperability accomplished in OWS-3 suitable for a broader technical audience, while an interactive product will allow an individual to review the demonstration in as much detail as they like and at their own pace. The OWS-3 Demo Box will host each of the OWS-3 clients and, with network access, recreate the OWS-3 demon in a distributed fashion. For more information on the OGC Interoperability Program, contact
percivall

[at]

opengeospatial.org

(George Percivall)
.
NEW MEMBERS
OGC welcomes new members who joined us recently.
Cornell University
(US)
University
GDC
(UK)
Associate
Spacebel s.a.
(Belgium)
Associate
US General Services Administration
(US)
Government
OGC IN THE NEWS
- OGC in the Press
OGC's OWS-3 Initiative: An Interview with OGC's George Percivall
Nora Parker
Directions Magazine
September 28, 2005
Carbon Project, CubeWerx and geoLeaders Help Pioneer GML Deployment
September 27, 2005
eSpatial Announces the Availability of iSMART 5 GeoSpatial Suite
September 18, 2005
Partners Pioneer GML Deployment for NSDI
Jeff Harrison
Directions Magazine
September 19, 2005
Cadcorp Announces Latest Version of Its Digital Mapping/GIS Software Suite
September 14, 2005
Folksonomy Extends Geospatial Taxonomy
Dr. Terry Keating and Antonio Montoya
Directions Magazine
September 17, 2005
CustomWeather and Carbon Project Announce Strategic Partnership
September 9, 2005
Skylab Mobilesystems offers OGC WMS compatible "Spot for Blackberry"
September 8, 2005
Profiles Make GML Easier to Swallow
Ron Lake
GeoWorld
September 7, 2005
Cadcorp embeds Google search capabilities into the Cadcorp SIS digital mapping/GIS software suite
September 1, 2005

PCI Geomatics contributes key tools to the OGC demonstration in Korea
August 30, 2005
- OGC Press Releases
OGC Adds Membership and Recruitment Incentives
September 19, 2005
OGC Teams with GIS Development
September 16, 2005
OGC and DGIWG Announce Memorandum of Understanding
September 9, 2005
EVENTS
October 29
Tshwane (Pretoria), South Africa
The User and the GEOSS Architecture II - Applications for Africa; including an OGC Demonstration
November 7-11
Bonn, Germany
OGC Technical and Planning Committee Meetings

December 5-9
San Francisco, California
American Geophysical Union Fall Meeting

January 23-26, 2006
London, England
DGI Europe 2006 - London

March 6-10, 2006
Huntsville, Alabama
OGC Technical and Planning Committee Meetings

April 23-26, 2006
Tampa Florida
GITA's Annual Conference 29


For further info on events please contact gbuehler [at] opengeospatial.org (Greg Buehler).

CONTACT
Please send comments and suggestions to:
adena [at] opengeospatial.org (Adena Schutzberg)
Editor, OGC News
Open Geospatial Consortium
35 Main Street Suite 5
Wayland MA 01778-5037
USA Phone: +1 508 655 5858
Fax: +1 508 655 2237
SUBSCRIBE/UNSUBSCRIBE
To subscribe send mail to:
newsletter-request

[at]

opengeospatial.org
with "subscribe" (no quotes) in the subject.
To unsubscribe send mail to:
newsletter-request

[at]

opengeospatial.org
with "unsubscribe" (no quotes) in the subject.
Visit our
subscription page
Copyright 2005 by the Open Geospatial Consortium, Inc.