OGC Newsletter - August 2005
OGC News:
August 2005CONTENTS
President's Message
News From The Blogosphere
Call for Papers: AGU
Growing Open Source and Open Standards in Spain
Website of the Month
DEPARTMENTS:
IP Update
,
New Members
,
OGC In The News
,
Events
,
Contact
,
Subscribe/Unsubscribe
Back issues of OGC News are
available
.
PRESIDENT'S MESSAGE
OGC's Role in Earth Observation
For reasons that hardly need noting, governments, researchers, businesses, and citizens seek greater understanding of the Earth systems – oceans, fresh water, land, plants, animals and atmosphere. In the last five decades, remote sensing, or Earth Observation (EO), has become an increasingly important geosciences tool for improving our understanding.
Thanks to participation by expert members of the EO community in OGC Working Groups and Interoperability Initiatives, OGC's OpenGIS® Specifications today play a critical role in advancing the power and utility of EO. OGC's specifications are critical because complex geosciences problems require massive integration of data, widespread cooperation across different communities of practice, and an approach to scientific data management that accommodates change. All these requirements call for open, consensus-derived abstract models, interfaces, schemas and encodings, which is what our specifications are. Thanks to EO community participation, OGC specifications address EO needs, and the specifications are becoming widely used.
But are the specifications good enough or complete enough to satisfy all EO requirements? No. That is why it is so important that OGC runs an open and well respected consensus process, and why it is so important that EO organizations participate in this process.
Differences in technological approaches, not similarities, bring organizations into OGC. Early work by the Committee on Earth Observation Satellites (CEOS) on interoperable catalogs, for example, contributed significantly to OGC's OpenGIS Catalog Services Specification, but there were alternative approaches that had to be accommodated. CEOS member organizations that also hold membership in OGC have provided important communication and cross-fertilization between CEOS and OGC. Most uptake of OGC specifications is inspired indirectly through members communicating with their partners, stakeholders and customers, many of whom are not OGC members. But it is also through such communication that the specifications' shortcomings become known.
Strengths and shortcomings of specifications are subjective. Your view depends on whether or not the specifications meet your requirements, and the specifications can only be expected to meet the requirements they are designed to meet. To solicit and discuss requirements, OGC's Earth Observation Working Group (EO WG) has interactions with CEOS, the inter-governmental ad hoc Group on Earth Observations (GEO), the International Society for Photogrammetry and Remote Sensing (ISPRS), the Institute of Electrical & Electronic Engineers Geoscience and Remote Sensing Society (IEEE-GRSS), the Global Spatial Data Infrastructure Association (GSDI), the International Organization for Standardization Technical Committee 211 (Geographic information/Geomatics) (ISO/TC 211) and other EO organizations. These requirements fertilize and guide specification development in OGC's EO WG, the Image Exploitation Systems Working Group (IES WG), the Sensor Web Enablement Working Group (SWE WG), the Natural Resources and Environment Working Group (NRE WG), the new Planetary Working Group and others.
OGC's Interoperability Program is also an important part of this process. The OGC Web Mapping Testbed, OGC Web Services Phase 2 (OWS-2) and other initiatives have contributed significant EO standards. Currently, OWS-3 is underway and is making major progress on SWE and Image Handling for Decision Support. Also, the GALEON (Gateway or Geo-interface for Air Land Earth Ocean NetCDF) Interoperability Experiment is about to begin, and it will result in open interfaces for access to atmospheric and oceanographic modeling and simulation outputs.
The entire suite of OGC standards is positioned to be key components of the architecture of the Global Earth Observing System of Systems (GEOSS), a new international effort to "achieve comprehensive, coordinated and sustained observations of the Earth system." OGC is an original Participating Organization, and the GEOSS Implementation Plan calls for the use of open standards for service interoperability. In a special one-day workshop at the IEEE-GRSS's 25th International Geoscience And Remote Sensing Symposium (IGARSS) in Korea, 25-29 July 2005, OGC staff and participants described an architecture for GEOSS and applied it to a tsunami use case, demonstrating what OGC has done with Image Handling for Decision Support. A number of senior Asian country participants attended the workshop (see details below). We can be fairly certain that GEOSS will evolve an open architecture based on OGC standards, but we can be even more certain that GEOSS will bring additional requirements.
A GEOSS Interoperability Initiative has been proposed within OGC. An Interoperability Initiative begins with a Concept Development Plan, and the "GEOSS Concept Development Plan" has been posted for review by OGC members. (Look under the Project Quick Selector menu on the portal.) I encourage all members to review this plan and consider how they and their EO partner organizations might become involved in this or the many other exciting projects being advanced by OGC members.
Mark Reichardt
President
OGC
NEWS FROM THE BLOGOSPHERE
Discussions of OGC specifications and interfaces are popping up all over the blogosphere (the world of blogs). A few posts worthy of note:
Ed Parsons
on GML profiles
. He's for them.
Nat at O'Reilly
highlights
code by David Knight that will integrate Google Maps with (most) any Web Map Service (WMS). Detailed instructions are
here
.
Responses
to requests for enhancements to Microsoft SQL Server prompted Andrew S. to details his wish for "some spatial functionality" in particular, those "defined by the Open GIS Consortium."
CALL FOR PAPERS: AGU
The American Geophysical Union (AGU) has issued a call for papers to be presented at the 2005
AGU Fall Meeting
, 5-9 December 2005, San Francisco, CA, USA. The session is titled "Transforming Geoscience Access Through Standards Implementation." Open standards for geospatial data interoperability have reached a level of maturity that enables broader integration of geoscience data products, associated processing services, sensor webs, and analytical Earth science models into solutions for society.
The organizing committee encourages submissions of papers describing geoscience applications, research methods, strategic goals, or decision processes, enabled by interoperable access to Earth science data, services, and models. They are especially interested in the societal benefit areas identified in the Global Earth Observation System of Systems and the U.S. Integrated Earth Observation System, including agriculture, air quality, carbon management, coastal management, disaster management, ecological forecasting, energy, invasive species, public health, and water management.
Abstract Deadlines:
Postal - 1 September 2005
Electronic - 8 September 2005
GROWING OPEN SOURCE AND OPEN STANDARDS IN SPAIN
Looking for an Open Source/Open Standard Solution
At the end of 2002, the "Conselleria de Infraestructuras y Transporte" (Council of Infrastructure and Transportation) of the "Generalitat Valenciana" (Regional Government of the Comunidad Valenciana in Spain) began a global migration towards open systems under Linux. Due to its heavy use in the Conselleria, this process required a focused examination of GIS and CAD software migration. Further, GIS and CAD are relative newcomers to the Free and Open Source (FOSS) software world, meaning few widely used options are available.
The Conselleria began by defining their requirements and then did an evaluation comparing FOSS solutions to commercially developed proprietary software. A survey gathered information from current and future users about their requirements for working with spatial information. The survey collected a great deal of data including specifics on the type of tasks to be addressed and the performance of software and hardware of the surveyed users. It addressed both graphical and non-graphical data, GIS/CAD tools and integration, formats and data types, common operations, frequency of use and other considerations.
A Procurement
After reviewing the findings, the team concluded that there was no existing GIS/CAD software solution that would serve the Conselleria's needs. The decision was made to begin a new project to address the current deficiencies and support the transition to FOSS.
The Conselleria issued a public procurement for GIS development, with these requirements:
Portable: provides support for multiple hardware / software platform, in particular support for Linux and Windows at the outset
Modular: is extendable with new functionality
Open Source: follows FOSS ideals, that is, is both free and the source code is available
License "Free": includes an open source license with no limitation in the number of installations allowed
Data Interoperable: can access data from proprietary programs without format conversion
Standards-Supporting: follows the Open Geospatial Consortium (OGC) and European Union directives
Participants in Development
The project, called
gvSIG
, pulled together many different players from the community:
Generalitat Valenciana through the Conselleria served as the client, designing requirements and reviewing progress, and providing funding.
Universidad Jaume I, a member of the TeIDE consortium and of OGC, served as coordinator and supervisor of the development, in particular regarding the implementation of international standards
IVER Tecnologías de la Información won the public bid and served as developer.
Two pilot projects were developed; one in C and one in Java. Java was selected as the programming language, as it more easily fulfilled the platform requirements.
During the gvSIG development the team ran into an added requirement. The Conselleria was tasked with studying the nascent work on Spatial Data Infrastructures (SDIs). Exploration of the INSPIRE European initiative and the public SDIs turned gvSIG (essentially a GIS client) into an SDI client as well. In fact, the gvSIG project itself morphed into a Free Software SDI implementation.
The project grew in other ways. gvSIG became a "complete" GIS client incorporating the Web Map Service, Web Feature Service - Transactional and Web Coverage Service, and the Web Catalog Service. It thus gained the ability to integrate data from different origins together with local data, in the same view.
The team developed a spatial metadata generation protocol based on the International Standards Organization (ISO) 1915 standards and integrated work from the NEM (Núcleo Español de Metadatos) for the Spanish Spatial Infrastructure Data (IDEE) using a tool of Free Software (
CATMDEdit
).
Because gvSIG is but a client, the Conselleria had to consider which map server to use. Currently, it is testing
MapServer
,
GeoServer
and
Deegree
(which are all open source and implement one or more OGC standards) and expects to use
PostGIS
(the spatial module for PostgreSQL) as the database manager.
Beyond Open Source and Open Standards
In addition to solving the Conselleria's needs, the project has had other impacts. It provides a solution for tapping into nascent SDIs in Spain, Europe and worldwide. It serves as the foundation of a new Free Software area at IVER, enhancing that company's business opportunities.
The project and product also help highlight new ways of thinking about software:
Independent control of the product: A user, not a vendor "called the shots."
Investment is focused on development: The whole investment is dedicated to development and not licenses.
Maximization of client rights: clients can do with the software what they like, not what the vendor requires.
Maximizing users: The combination of free software, open source software and standard-supporting software into a single offering opens the doors to a whole new set of users, including those of limited means.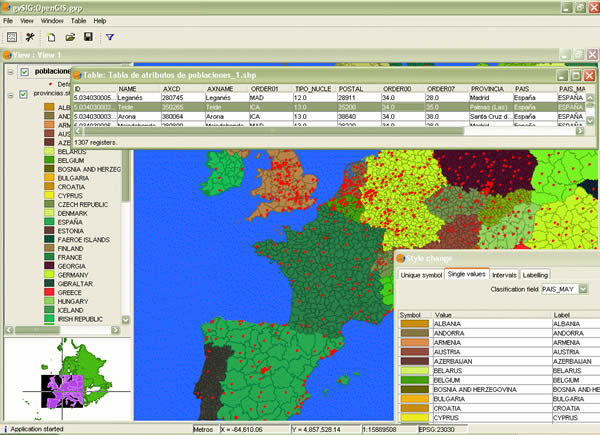 Figure 1: Unique Values Map
Figure 2: Visualizing raster and vector information
Figure 3: Labeling features
WEBSITE OF THE MONTH
International Wayside Gold Mines Ltd. offers the
IWA MapServer Website
, an online mapping website for the companies of the Cariboo Gold Project. Developed by GIS technician and geologist Ken Lord, it's built on MapServer and PostGIS and includes customizable property maps with features on more than 100 layers showing a variety of historic and recent gold exploration data. Many map layers contain features that can be queried to return detailed information such as assays, cross sections, and reports. Visitor generated maps can be printed with a detailed legend in a printer friendly format.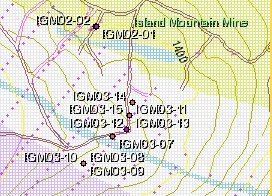 Island Mtn area with drill holes noted.


Cross section of IGM01-07, which is linked to the map and stored in a PDF.

From a gold standpoint, the company is very successful: The Cariboo Gold Project's land holdings now cover 456 square kilometers (170 square miles) covering 57 kilometers (34 miles) in length and over 8 kilometers (5 miles) in width. In the Barkerville Camp, 79 creeks have reported placer gold production. Recorded production from the area was 3.8 million ounces of gold (2.6 million ounces from placer and 1.2 million ounces from lode mining.
Know of a website that uses OpenGIS specifications to solve a real world problem or demonstrates an interesting use? Drop the
adena

[at]

opengeospatial.org

(editor)
an e-mail with the details including the URL, organization behind the website, specifications used, technology used and the goal of the website.
IP UPDATE
Kentucky Pilot Projects
Members participating in two Interoperability Program pilot projects, Kentucky Landscape Census (KLC) and Kentucky Watershed Modeling Information Portal (KWMIP) continued work in June. KLC is sponsored by NASA and will result in a reference implementation services portal for Kentucky, and KWMIP, sponsored by EPA, will add watershed modeling to the services framework established in KLC. Both projects are run out of the Kentucky state government's Division of Geographic Information (DGI).
KLC will provide online access to several Land Cover Classification maps of the Commonwealth using Open GIS Web Map and Web Coverage Services in addition to Change Detection Maps. A previous project, the Kentucky Landscape Snapshot (KLS), provided an update to the state-wide land cover classification at Anderson Level II (National Landcover Dataset 2001, or NLCD01), and a more detailed one, intensifying the forested and wetland classes, at Anderson Level III (Kentucky Land Cover Dataset 2001, or KLCD01). KLS also created two county-wide (Pulaski and McLean counties) high resolution land cover datasets, and KLC will provide online access to these data as well as to imagery and a state-wide change detection mask extracted from early 90's and early 2000's imagery. KWMIP will add the capability to harvest data and metadata to provide watershed modelers with the input to selected water quality and quantity models.
The first capability of KLC will be demonstrated at the
Kentucky GIS Conference
, 22-25 August to be held at Bowling Green, KY. KLC pilot work is being conducted by OGC members IONIC Enterprise, Advanced Technology Solutions (ATS), Compusult, Ltd., and Sanborn Engineering. KLC is integrated for direct access to The Commonwealth Map (TCM), which runs on OGC member ESRI's software, for background map displays. KWMIP will access elevation data from the Kentucky Geography Network (KYGEONET) via the KYRaster service. Both TCM and KYRaster are provided as a public service by Kentucky's DGI.
For more information on these projects contact Raj Singh, Director of Interoperability Programs at
rsingh

[at]

opengeospatial.org
.
OWS and GEOSS
OGC Web Services (OWS) as applied to the Global Earth Observing System of Systems (GEOSS) architecture were successfully demonstrated at a Workshop on 24 July 2005 in Seoul, Korea, on the opening day of the International Geosciences and Remote Sensing Symposium, IGARSS 2005.
The workshop, titled "The User and the GEOSS Architecture - Applications for Asia and Pacific Rim," was originated by the IEEE Committee on Earth Observation (CEO) and co-sponsored by the IEEE Geoscience and Remote Sensing Society (GARSS), the IEEE Aerospace and Electronic Systems Society, the Open Geospatial Consortium (OGC) and the International Society for Photogrammetry and Remote Sensing (ISPRS).
The OGC Demonstration applied components with a wide range of OWS interfaces in a scenario of damage assessment from the recent Andaman Sea Tsunami. The demonstration was developed by OGC Members Boeing S&IS Mission Systems (US), DM Solutions Group (Canada) (in partnership with several East Asian Universities), the European Space Agency (ESA) (including Spacebel as contractor), George Mason University (GMU) (US), Intergraph (US), the US National Aeronautics and Space Agency (NASA), PCI Geomatics (Canada), Raytheon (US), Spot Image (Canada), and the US Geological Survey (USGS).
For more information on this program, please contact George Percivall, Executive Director, Interoperability Architecture at
gpercivall

[at]

opengeospatial.org
.
NEW MEMBERS
OGC welcomes new members who joined us recently.
Dubai Municipality, GIS Center
(United Arab Emerites)
Government
OGC IN THE NEWS
- OGC in the Press
Commonwealth of Kentucky Selects IONIC's RedSpider Product Line
July 26, 2005
Tamworth Borough Council Selects Cadcorp SIS Software to Underpin its New Corporate GIS
July 21, 2005
Consortium Standards Bulletin: Standards in Space
July 2005
- OGC Press Releases
OGC Web Services for GEOSS Demonstrated at Workshop in Korea
August 5, 2005
EVENTS
August 10, 2005
Reston, Virginia
Fundamentals of Open-Geospatial Development
September 15-16
Montreal, Canada
ISO/TC 211 21th Plenary

November 7-11
Bonn, Germany
OGC Technical and Planning Committee Meetings

December 5-9
San Francisco, California
American Geophysical Union Fall Meeting

For further info on events please contact gbuehler [at] opengeospatial.org (Greg Buehler).

CONTACT
Please send comments and suggestions to:
adena [at] opengeospatial.org (Adena Schutzberg)
Editor, OGC News
Open Geospatial Consortium
35 Main Street Suite 5
Wayland MA 01778-5037
USA Phone: +1 508 655 5858
Fax: +1 508 655 2237
SUBSCRIBE/UNSUBSCRIBE
To subscribe send mail to:
newsletter-request

[at]

opengeospatial.org
with "subscribe" (no quotes) in the subject.
To unsubscribe send mail to:
newsletter-request

[at]

opengeospatial.org
with "unsubscribe" (no quotes) in the subject.
Visit our
subscription page
Copyright 2005 by the Open Geospatial Consortium, Inc.