OGC Newsletter - July 2005
OGC News:
July 2005CONTENTS
President's Message
News From The St. John's Meeting
GDSI Grant Opportunity
CustomWeather Leverages Web Standards for Web Delivery of Weather Information
Website of the Month
DEPARTMENTS:
New Members
,
OGC In The News
,
Events
,
Contact
,
Subscribe/Unsubscribe
Back issues of OGC News are
available
.
PRESIDENT'S MESSAGE
For more than a decade, OGC has been promoting the benefits of open geoprocessing interface and encoding specifications. Thankfully, the membership saw value in this idea and worked together to develop and maintain these standards and to implement them in products and applications. The federal and national agencies involved -- organizations big enough to see themselves as "enterprises" -- began enthusiastically deploying these standards based products as soon as the products started to become available.
The foresightedness of long-time OGC members is highlighted by studies that document and measure the enterprise benefits of developing and implementing standards. Examples of such studies include: "The Economic Benefits of Standardization," Published by the DIN German Institute for Standardization, e. V. Beuth Verlag, in April, 2000; "The Value of Standards: A Delphi Study" published in June, 2003; and, most recently, the April, 2005 "
Geospatial Interoperability Return on Investment Study
," prepared by Booz Allen Hamilton, Inc. for the National Aeronautics and Space Administration (NASA) Geospatial Interoperability Office.
These reports echo an array of benefits that accrue to users in the organization, the organization itself, organizational partners and stakeholders, the industry, and society. The enterprise "return on investment" in open interfaces is unquestionable today, though it was hardly common knowledge when OGC was founded in 1994. The rapid trend toward open standards is apparent across the Information and Communications Technology (ITC) industry, and it is part and parcel with "open architectures," enterprise ITC system designs that depend on open standards.
Benefits to an enterprise that commits to implementing open standards include, among others: the ability to leverage IT investments in unforeseen ways; avoidance of further generations of closed, dead end solutions; componentization and on-demand applications; agility in choosing and deploying solutions with a lower cost of ownership; clear definition of quality criteria and a higher level of quality for products and services; objective and internationally recognized parameters and yardsticks for business activity; promotion of innovation and competition; greater legal certainty for enterprises; more open markets; and an added measure of resilience and flexibility for legacy systems.
But what about the benefits to the three-person GIS shop in a regional development office serving 15 counties that don't have GIS? Who benefits in a university with few professors and instructors teaching GIS and remote sensing? What about the town that's too small to have begun thinking about itself as "an enterprise"? Or the fire department in a city that hasn't put its data on a network yet? The answer is that open standards are ending the isolation of these "mini-enterprises." It gets easier and easier for partners to get on the Web, and when they do, the "spatial web" is ready to help them serve each other's spatial information needs.
In recent months the US Federal Geographic Data Committee (FGDC), the National Geospatial Programs Office, and the federal CIO Council's Architecture and Infrastructure Committee have been addressing the need for a common geospatial perspective among collaborating US federal and non-federal organizations. On May 2, 2005 they held the kick-off meeting for an inclusive "
Geospatial Community of Practice
" whose members have begun working to integrate and promote geospatial concepts in the context of enterprise architecture practices.
A major enabling condition for this effort is the maturation of open geospatial architectures. Every local or private sector data provider or data user, whatever their software, whatever their data model, can be brought into "the enterprise" through the use of profiles of various standards. Whether the imperative is security, budget reductions or an increased need for regional planning, the previously intractable problems of integrating different geoprocessing systems and different data models are no longer intractable. The long awaited grassroots build-out of the US NSDI and other NSDIs can now accelerate.
Mark Reichardt
President
OGC
NEWS FROM THE ST. JOHN'S MEETING
The 54th meeting of the OGC Technical and Planning Committees was held in St. John's, Newfoundland June 13th-17th. The meetings, hosted by Compusult with co-sponsorship from many Newfoundland agencies and organizations, were extremely productive and successful. The key actions and recommendations resulting from the meetings are:
Release of the candidate specification GML in JPEG 2000 for Geographic Imagery (GMLJP2) for a 30 day public comment period.
Release of the GML Simple Features Profile Specification for a 30 public comment period followed by an electronic vote for approval as an adopted OpenGIS Specification.
Approval to release two new OGC White Papers: "Interoperability and Open Architectures: An analysis of existing standardisation processes and procedures" and the "SIDP Notional Architecture Executive Summary".
Approval to release a new version of the Catalog Services - Web ebRIM Profile. ebRIM is an OASIS standard for an ebXML Registry Information Model [ebRIM]; it provides information on the types of metadata that are stored in the Registry as well as the relationships among the various metadata classes.
Approval to release a new OGC Discussion paper titled "GeoXACML, a Spatial Extension of XACML". XACML (Extensible Access Control Markup Language) is an OASIS standard.
Approval to have an electronic vote for the adoption of ISO 19136, after minor edits, as GML 3.2.
Approval to release the GML Point Profile as an OGC Discussion paper.
Approval to release the Web Processing Service (WPS) candidate implementation specification as an OGC Discussion Paper.
Endorsement of a joint ISO/OGC editing team to move Web Feature Service and Filter Encoding as ISO Committee Drafts.
The next OGC meetings will be held in Bonn Germany the week of November 7.
Carl Reed
Chief Technology Officer
OGC
GDSI GRANT OPPORTUNITY
The Global Spatial Data Infrastructure Association announced its Small Grants Program for the year 2005. The Global Spatial Data Infrastructure (
GSDI
) Association is dedicated to international cooperation and collaboration in support of local, national and international spatial data infrastructure developments that would allow nations to better address social, economic, and environmental issues of pressing importance. The GSDI Association along with partners and participants has allocated resources from the U.S. Federal Geographic Data Committee and the GISCorps of URISA, to fund a small grants program to support national or sub-national activities that foster partnerships, improve data compatibility and access, and increase political support for spatial data infrastructure development.
The grants are limited to US$ 2,500 and up to an equivalent amount in SDI/GIS consulting and development services.
Activities to receive support may focus on technical or institutional projects, as long as there are concrete/tangible outputs and several institutions collaborate.
Proposals are due on 15 August 2005. Complete details are
online
.
CUSTOMWEATHER LEVERAGES WEB STANDARDS FOR WEB DELIVERY OF WEATHER INFORMATION
CustomWeather (San Francisco, USA) provides syndicated weather content over the internet, taking advantage of XML and OGC Web Services. CustomWeather takes in over 8 GB/day of National Weather Service raw model data, satellite feeds, radar feeds and lightning feeds. From these constantly changing inputs the company generates forecasts and weather maps for over 58,000 unique locations worldwide, delivering real-time and forecasted mapping layers through interfaces that implement the OpenGIS® Web Map Service (WMS) and Web Feature Service (WFS) standards. Portrayal of the data is tailored to customer needs.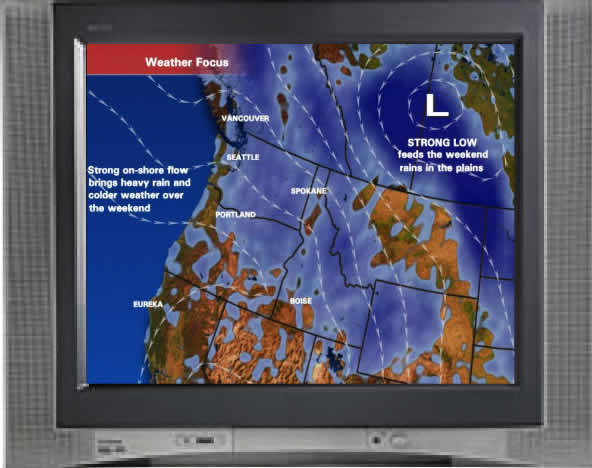 Figure 1: CustomWeather provides user-tailored weather maps.

OGC standards also play a role in CustomWeather's delivery of electrical grid sensor data and weather data to users of a number of industry leading Outage Management Software systems, which provide integrated views of weather and electric power grid operation. Other application domains include transportation, travel, defense, wireless, consumer services, and insurance.
Among the weather variables that can be plotted using CustomWeather's OpenGIS-based map server are high and low temperatures, humidity, precipitation, fire danger, UV index, surface wind speed and direction, visibility, sunshine, dew point, and jet stream winds. CustomWeather has also added the ability to plot synoptic weather features for all portions of the world. (Synoptic-scale weather phenomena are those at the continental or oceanic spatial scale, such as migrating cyclones and anticyclones, air masses and fronts.)
Figure 2: CustomWeather uses a variety of means, including OGC Web Services, to integrate sensor feeds.

Murray Armstrong, V.P. Sales and Business Development, CustomWeather Inc. explained that all of the weather maps are available through CustomWeather's proprietary mapping system, which allows its clients to request custom maps with specified layers for any portion of the globe for a variety of forecast times over the next 7 days. Based on OGC standards, CustomWeather's mapping system also allows for the specification of metric or imperial units, image type, image size, and bounding coordinates, as well as color and font type and size. "In the true spirit of CustomWeather, we have given control to our clients to request exactly the type of map that they are looking for along with the specific area that they want covered. Our contour weather maps are available for resolutions as small as 1 kilometer for all portions of the world. CustomWeather clients can create their own custom contour map in real-time or rely upon our wide selection of pre-generated maps.''
For more information visit
www.customweather.com
or check the weather at
www.myforecast.com
.
WEBSITE OF THE MONTH
MedGIS
might make you think of "medical," but in this case Med is for Mediterranean, as in Mediterranean Sea. The pilot project is part of the Mediterranean Action Plan (MAP) and demonstrates the capabilities of a GIS and Web Map Service for the Mediterranean marine and coastal protected areas, sites of conservation interest and biodiversity.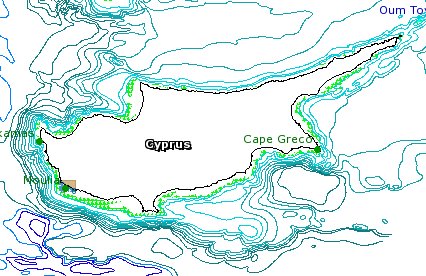 Data for the coast of Cyprus. Green hatch indicates areas of high biodiversity.


In addition to providing a robust mapping and query interface of its own, MedGIS is also a Map Server. "MedGIS is more than just a mapping application prototype - It has capabilities which enable it to share data with other web based mapping applications. One of the aims of this pilot project was to demonstrate this capability. We have prepared MedGIS as web map server without necessarily establishing such connections during the three months of the project. If your Web mapping application has WFS and/or WMS client capabilities" after agreeing to some
provisions
you can connect to it.
Know of a website that uses OpenGIS specifications to solve a real world problem or demonstrates an interesting use? Drop the
adena

[at]

opengeospatial.org

(editor)
an e-mail with the details including the URL, organization behind the website, specifications used, technology used and the goal of the website.
NEW MEMBERS
OGC welcomes new members who joined us recently.
ABACO srl
(Italy)
Small Company
City of Nanaimo, British Columbia
(Canada)
Government
Distributed Instruments, LLC (U.S.)
Small Company
Fuller, Mossbarger, Scott & May Engineers, Inc.
(U.S.)
Associate
GeoTango
(Canada)
Small Company
Land Information New Zealand
(New Zealand)
Associate
McGuireWoods LLP
(U.S.)
Associate
Tenet IT Mapping Ltd.
(UK)
Associate
OGC IN THE NEWS
- OGC in the Press
Blue Marble Geographics Releases GeoMapServer IMS
June 24, 2005
OGC's New User Focus
Sam Bacharach
Directions Magazine
Jun 21, 2005
Open Source - Opens Doors
Tyler Mitchell
Directions Magazine
June 17, 2005
Cadcorp announces new free interoperable solution for managing OS MasterMap data
June 14, 2005
MapInfo Delivers Unparalleled Collaboration and Data Access in Flagship Location Intelligence Solution
June 6, 2005
View Standards as Ecosystem Entities
Mark Reichardt
GEOWorld
June 2005
ArcGIS 9.1 Now Available
May 25, 2005
- OGC Press Releases
OGC Invites Public Comment on GML in JPEG 2000 Specification
July 5, 2005
OGC announces GALEON Interoperability Experiment
July 1, 2005
OGC Invites Comment on GML Simple Features Specification Profile
June 27, 2005
Doug Nebert Receives OGC's Gardels Award
June 20, 2005
EVENTS
July 18-22, 2005
Vancouver, British Columbia
GML And Geo-Spatial Web Services Conference 2005
August 10, 2005
Reston, Virginia
Fundamentals of Open-Geospatial Development

September 15-16
Montreal, Canada
ISO/TC 211 21th Plenary

November 7-11
Bonn, Germany
OGC Technical and Planning Committee Meetings

For further info on events please contact gbuehler [at] opengeospatial.org (Greg Buehler).

CONTACT
Please send comments and suggestions to:
adena [at] opengeospatial.org (Adena Schutzberg)
Editor, OGC News
Open Geospatial Consortium
35 Main Street Suite 5
Wayland MA 01778-5037
USA Phone: +1 508 655 5858
Fax: +1 508 655 2237
SUBSCRIBE/UNSUBSCRIBE
To subscribe send mail to:
newsletter-request

[at]

opengeospatial.org
with "subscribe" (no quotes) in the subject.
To unsubscribe send mail to:
newsletter-request

[at]

opengeospatial.org
with "unsubscribe" (no quotes) in the subject.
Visit our
subscription page
Copyright 2005 by the Open Geospatial Consortium, Inc.