OGC Newsletter - July 2004
OGC News:
July 2004CONTENTS
Presidents Message
LandXML Interoperability Experiment Kickoff
OGC Web Services (OWS-2) Demonstrations Planned
Monitoring Science & Technology Symposium
Upcoming Sponsor Meetings
GOS Version 2 Portal Specifications Request for Comments (RFC) Announced
Website of the Month
DEPARTMENTS:
New Members
,
OGC In The News
,
Events
,
Contact
,
Subscribe/Unsubscribe
Back issues of OGC News are
available
.
PRESIDENTS MESSAGE
Selling Interoperability
We in OGC share a guiding vision of a world in which everyone benefits from geographic information and services made available across any network, application, or platform. Our mission is to make that vision a reality by delivering spatial interoperability specifications that are openly and freely available for use by the world's software developers.
How do we know which interoperability specifications to deliver and how do we know how to structure the interfaces? Very simply: Both technology users and technology providers have requirements for interoperability, and they discuss what needs to be done. Together, they develop a requirements roadmap for defining and evolving OGC specifications.
The consensus process -- and our outreach activities -- demand that we have open minds. As we invite people who live outside of "OGC space" to consider with us how they are using geospatial information and how they could benefit from interoperability, we have the opportunity to increase our collective understanding of geospatial interoperability and standards requirements. We must remember to be an organization that continually responds to the requirements of all markets that use geospatial content and services – not just the traditional GIS market. We have to think of application profiles and channel profiles of our existing standards. We need to accommodate people who have a geospatial interoperability need but who may not be interested in GIS or remote sensing, per se. By doing so, we can realize our vision in which *everyone* benefits from geographic information and services.
Our experience with OpenLS (Open Location Services) taught us this lesson. It was a struggle at first, but by listening to all the users in the emerging LS value chain we were able to build specifications that are now being widely implemented. Now we are applying this lesson in Sensor Web Enablement (SWE). Most people who have an abiding professional interest in sensors do not share our abiding professional interest in geospatial technologies. Users typically want to be able to easily obtain real time samples from a distributed set of sensors. They may wish simply to have the sensor data entered into a database for further analysis or they may wish to plot the sensor data, such as temperature or traffic flow, on a reference map.
As we work on interface standards for describing and accessing sensors, we will create a set of specifications that fit into the existing OGC Reference Model, the OpenGIS(R) Abstract Specification and a body of implementation specifications. Professionals, in worlds as diverse as SCADA, environmental monitoring, and plant security, will be able to benefit from more timely and integrated sensor information. Similarly, we will create standards in the domain of CAD/GIS integration, and the benefits of the OGC's process and platform will become apparent to civil engineers, Homeland Security implementers and municipal GIS departments. In yet another domain, people in the insurance industry will discover how they can have their own profile of Geography Markup Language (GML) and OGC Web Services, and how those profiles will help them plug into their companies' enterprise systems as well as outside resources.
All of these communities can benefit from bringing their requirements into a mature process that has produced a broad and flexible geospatial standards platform. All of us can invite and welcome them into the process. All members benefit from membership growth and expanded use and development of OpenGIS Specifications, so we all have a reason to show people in other markets how the OGC can address their requirements. We can help professions, disciplines, communities of practice, and industry sectors develop geospatial standards that will improve efficiencies, reduce technology risk and stimulate market growth and innovation. But we need to humbly try to see the world through their eyes before prescribing interoperability solutions.
David Schell
President, OGC
LANDXML INTEROPERABILITY EXPERIMENT KICKOFF
The formal kick off of the LandGML Interoperability Experiment Testing and Integration phase took place on July 19, 2004 by teleconference.
Much progress has been made with a schema defined and  tools developed to move LandXML (an encoding supported by 46 engineering software packages) into LandGML, a GML 3 application schema (an encoding supported by more and more geospatial applications all the time). One example of process was illustrated at the recent GML Days event. Data from a real world project to design sports fields at Nashua High School in New Hampshire was moved from Autodesk's Land Desktop, which supports LandXML, into LandGML. That data (the surfaces, geometry, points, etc.) were then read into Intergraph's GeoMedia. It's important to note that the actual data, not a graphic representation of them, were delivered, resulting in "no interpretation" being required. The data were also brought in to Autodesk's Envision, and viewed in 3D, draped with aerial imagery and analyzed for flooding risks. A tool to move GML 3 data into LandXML is also in development.  
Autodesk's Nathan Crews, who headed up the LandXML effort, and is participating in the Interoperability Experiment, notes that "since all of the major U.S. civil engineering software vendors already support LandXML, this tool will immediately make their data accessible to GML 3 supporting GIS packages." He also explains the importance of the work for disaster and event planning. "If engineering data, such as new roads or new buildings are updated only every year, it's nearly impossible for planners and responders to do their jobs effectively. If we can automate the data sharing, it will make a big difference."
More information on the LandGML IE can be found
online
. Members interested in learning more about the LandXML 1.0 to GML 3.0 conversion tool can visit the demonstration
site
.
OGC WEB SERVICES (OWS-2) DEMONSTRATIONS PLANNED
Two demonstrations are currently planned to illustrate advances in OpenGIS Implementation Specifications made during OWS-2. Focus areas for the initiative and the demonstrations included Image Handling, Information Interoperability, and Common Architecture. Space is limited. Those interested in attending (who are not sponsors or participants) are asked to contact
sbacharach

[at]

opengeospatial.org

(Sam Bacharach)
for information.
The Natural Resources Demonstration is scheduled for September 2 and the Defense Demonstration is tentatively scheduled for September 23. Both will be held in the Washington DC area.
MONITORING SCIENCE & TECHNOLOGY SYMPOSIUM
The Monitoring Science & Technology Symposium will be held from September 20-24 2004 in Denver, Colorado. OGC is hosting several panel sessions at this event, and will be participating on the exhibit floor. The symposium promises to draw several thousand professionals from across the monitoring community. OGC members interested in attending or exhibiting at the conference should visit the
website
. Or, contact Mark Reichardt or Carl Reed of OGC for more information.
UPCOMING SPONSOR MEETINGS
A series of three sponsor meetings have been scheduled to begin a dialog on areas of member interest and priority for interoperability standards. OGC members have expressed interest in Sensor Web, Geo Digital Rights Management (DRM), and other priority areas. These meetings will help explore requirements and resources to move these and other work forward in the coming months. With OWS-2 winding up, now is the time to begin planning for OWS-3. Potential sponsors need to not only identify potential OWS3 requirements, but also to understand member desires for pilots, experiments and other related initiatives.
The first meeting is scheduled for August 25 at OGC office in Herndon, Virginia (further details and dial-in information will be provided). The second meeting will be held during TC/PC week in Chicago. The third meeting will be held in the DC area in early November. An additional meeting may be added in Europe in October if we receive sufficient member feedback. The
first meeting
will include 1) an overview of the OGC technical baseline, 2) discussion of OWS2 results, 3) discussion of priority requirements for OWS3 and other potential initiatives.
GOS VERSION 2 PORTAL SPECIFICATIONS REQUEST FOR COMMENTS (RFC) ANNOUNCED
The functional specifications for Version 2 of the Geospatial One-Stop Portal are available for review and comment through August 15, 2004. Background, context, and details can be found in the RFC document available for 
download
.
Comments may be submitted in any of three ways (email being the preferred method):
email:
geodata

[at]

fgdc.gov
Postal Mail:
GOS RFC
590 National Center
12201 Sunrise Valley Drive
Reston, VA 20192
Fax: 703-648-5755
WEBSITE OF THE MONTH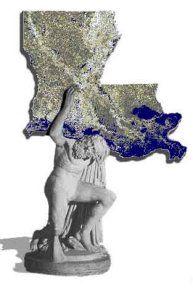 The Louisiana Atlas' mascot.
The Louisiana Statewide GIS, also known as "The Louisiana Atlas" serves up data from the state including DEMs, DRGs, DOQQs, LiDAR and census data. Recently, the Atlas was upgraded to be a Web Feature Server. There is detailed information on how to turn a desktop GIS into a WFS client, as well as suggestions of how best to use the layers available via W.  Visitors can download zipped data sets or access some of them "live" via WFS before downloading.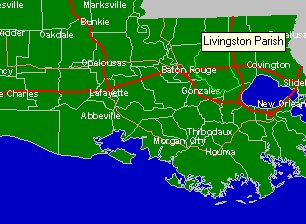 The Atlas provides an interface for searching for data sets for download, as well as a WFS for those who want to access the data "live."
This page is currently maintained by the CADGIS Research Laboratory at LSU in Baton Rouge, Louisiana, a lab supported by the LSU College of Art and Design and the LSU Department of Geography and Anthropology.  The technology behind the implementation is Intergraph's GeoMedia WebMap.
NEW MEMBERS
OGC welcomes new members who joined us recently.
SWBB GmbH
(Germany)
Associate
Carmenta AB
(Sweden)
Associate
Cosiro GmbH
(Germany)
Small Company
Cambridge Systematics, Inc.
(US)
Associate
Kentucky Commonwealth Office of Technology
(US)
Government
OGC IN THE NEWS
- OGC in the Press
Web Services Provide a Path for Enterprise Integration
Winnie S.M. Tang and Jan Selwood
GeoWorld
July 2004
After Slow Start, Location-Based Services Are on the Map
Anne Chen
eWeek
Jul 12, 2004
Open Standards Will Evolve Location-Based Services
Anne Chen
eWeek
Jul 12, 2004
Easier-to-Use Mapping Applications and Standards Help Bring Environmental Maps to Canadians
Dan Ahern
Directions Magazine
Jul 19, 2004
IONIC Releases RedSpider Catalog 2.1 and the "askTheSpider" Geo-Discovery Portal
July 08, 2004
Product Overview : MapInfo's MapXtreme 2004 on Microsoft .NET
Directions Magazine  
Jun 29, 2004
- OGC Press Releases

New OGC Digital Rights Management and University Working Groups
July 23, 2004
Geospatial Software Vendors Declare OGC Plugfest a Success
Jul 19, 2004
EVENTS
September 13-17, 2004
Chicago, Illinois
OGC Technical Committee/Planning Committee Meeting
September 20-24, 2004
Denver, Colorado
Monitoring Science & Technology Symposium
September 26, 2004
Orlando, Florida
SpatialTech 2004
October 2-8, 2004
Pallanza (Verbania), Italy
ISO/TC 211 19th Plenary and WG meetings
October 12, 2004
Arlington, VA
Second Annual Workshop on Web Enabled Modeling and Simulation
October 20-21
Washington, DC
Interoperability 2004
For further info on events please contact Greg Buehler.
gbuehler

[at]

opengeospatial.org
.
CONTACT
Please send comments and suggestions to:
adena [at] opengeospatial.org (Adena Schutzberg)
Editor, OGC News
Open GIS Consortium
35 Main Street Suite 5
Wayland MA 01778-5037
USA Phone: +1 508 655 5858
Fax: +1 508 655 2237
SUBSCRIBE/UNSUBSCRIBE
Visit our public
subscription page
.
Copyright 2004 by the Open Geospatial Consortium, Inc.