OGC Innovation Days, Disaster Resilience and Climate Workshop
Start:
Tuesday, 6 December 2022 12:00 EST
End:
Thursday, 8 December 2022 12:00 EST
Event Description: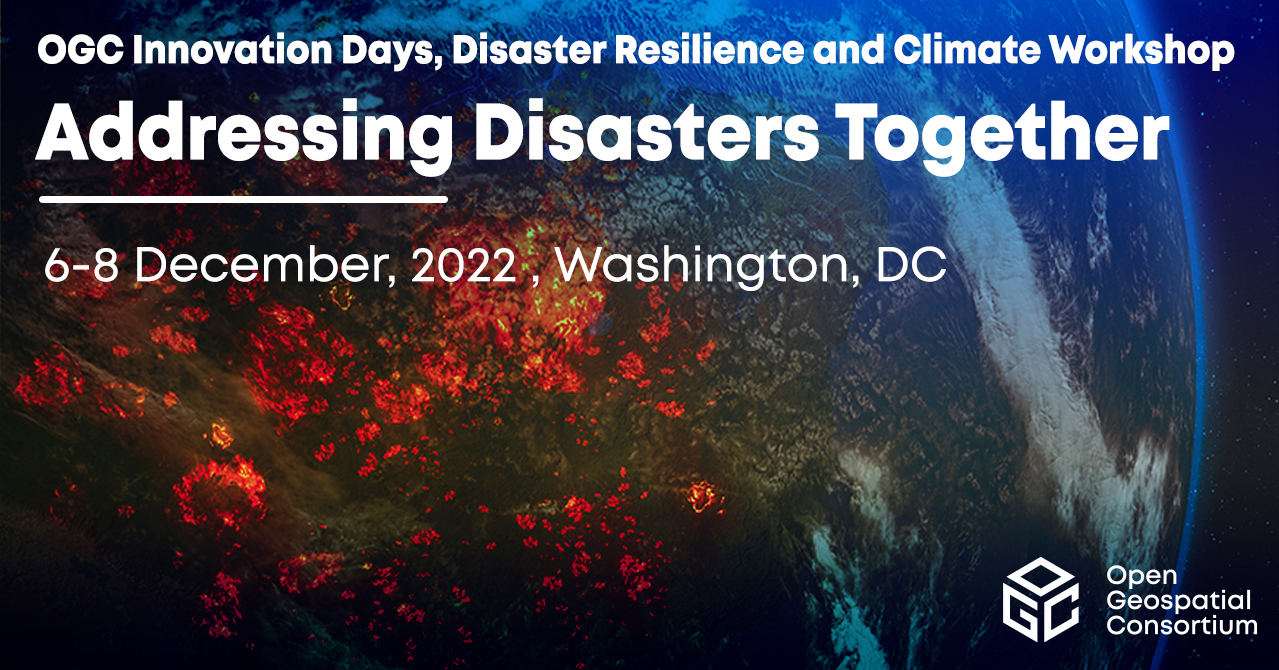 Addressing Disasters Together
OGC is excited to announce a three-day event on the future of innovation for disaster and climate change engagement: OGC Innovation Days. This event brings together OGC members, stakeholders, and guests who are critical to disaster and climate focused policy formulation and technology advancement.
Join us to contribute to discussions on identifying gaps, understanding future requirements, and building capabilities to respond to climate challenges including natural hazards and disaster vulnerabilities.
The "Addressing Disasters Together" event will comprise a two-day workshop, followed by a day of solutions presentations and a strategic planning session.
The initial two-day workshop will reflect on current geospatial technologies and practices for disaster management. It will particularly focus on the current capabilities and roles of local, regional, and national organizations, as well as their evolving needs and challenges. The objective of the workshop will be to identify requirements, priorities, and gaps for serving communities facing disaster and climate circumstances.
The third day will engage executive and director level decision makers and policy makers. It will go beyond disasters to include innovations and strategies that produce actionable solutions and lead to improved interoperability across stakeholders, science domains, industry, and government.
Due to the nature of this event, OGC Innovation Days will be held in person and space is limited. If you have any questions regarding the event or your registration, email info [at] ogc.org (Subject: OGC%20Innovation%20Days) .
Agenda
December 6th
Morning

Welcome, and setting the scene!
Today's interoperability problems as seen by OGC's Strategic Members

Afternoon

Understanding the disaster oriented problem solving ecosystem

December 7th
Morning

Disaster Readiness outcomes of the OGC Disasters pilot for flooding & landslides

Afternoon (wildfire workshop)

Community scoping of Disaster Pilot 2023 - wildfires and drought

December 8th
Morning

Highlights of OGC's Collaborative Innovation & Solution programs

Afternoon

Synthesis and next steps: Sponsors only meeting focused on delivering strategic plan and sponsorship commitments for 2023-2024
---
Location:
Trajectory Event Center
13665 Dulles Technology Dr. 
Herndon, VA 20171 US
571-392-7210