OGC Innovation Days, Disaster Resilience and Climate Workshop
Start:
Tuesday, 6 December 2022 09:00 EST
End:
Thursday, 8 December 2022 14:30 EST
Event Description: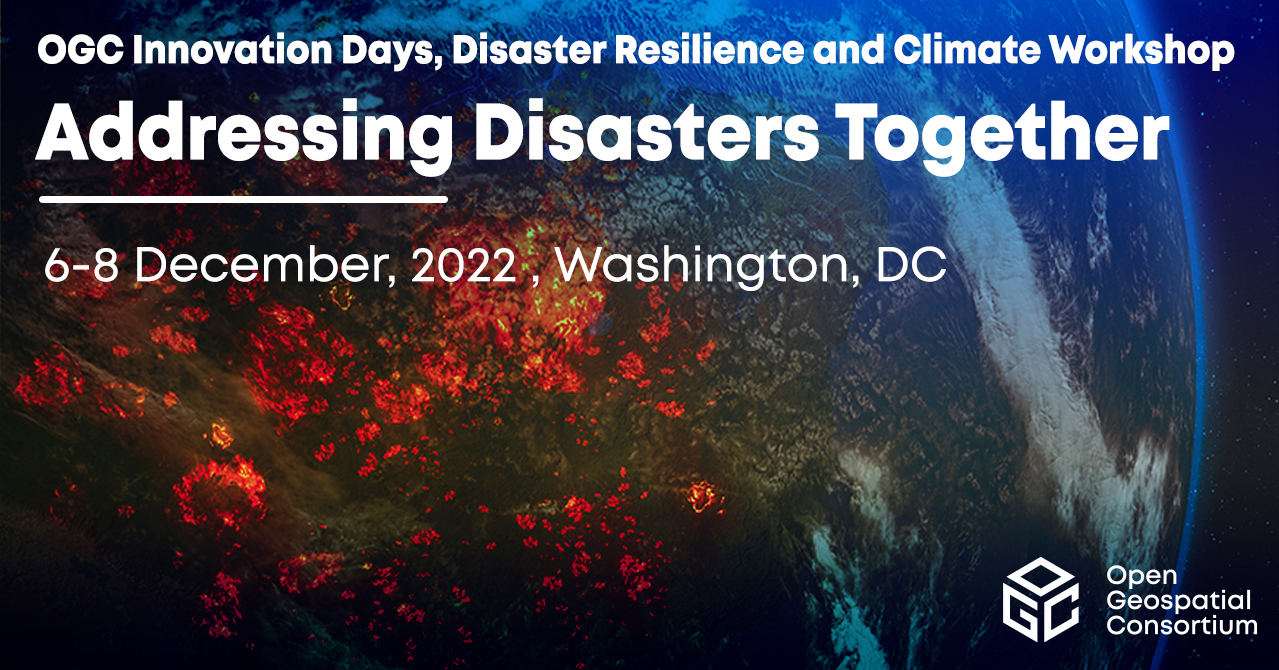 Addressing Disasters Together
OGC is excited to announce a three-day event on the future of innovation for disaster and climate change engagement: OGC Innovation Days. This event brings together OGC members, stakeholders, and guests who are critical to disaster and climate focused policy formulation and technology advancement.
Join us to contribute to discussions on identifying gaps, understanding future requirements, and building capabilities to respond to climate challenges including natural hazards and disaster vulnerabilities.
The "Addressing Disasters Together" event will comprise a two-day workshop, followed by a day of solutions presentations and a strategic planning session.
The initial two-day workshop will reflect on current geospatial technologies and practices for disaster management. It will particularly focus on the current capabilities and roles of local, regional, and national organizations, as well as their evolving needs and challenges. The objective of the workshop will be to identify requirements, priorities, and gaps for serving communities facing disaster and climate circumstances.
The third day will engage executive and director level decision makers and policy makers. It will go beyond disasters to include innovations and strategies that produce actionable solutions and lead to improved interoperability across stakeholders, science domains, industry, and government.
Due to the nature of this event, OGC Innovation Days will be held in person and space is limited. There will not be any online participation options.
Agenda
December 6th
Morning Session: 9am ET

Today's disaster information interoperability issues as seen by OGC and strategic members

Welcome, and setting the scene
Nadine Alameh, OGC
Investing in Climate and Disaster Initiatives
Ingo Simonis, OGC
Keynote Speech
Mike Tischler, USGS
Panel: The challenges disasters apply to geospatial
Moderator:
Nadine Alameh, OGC
Speakers:
Mike Tischler, USGS
Tom Moran, All Hazards Consortium
Jonathan Duran, NSGIC
Lawrence Friedl, NASA
Executive Roundtable: Disaster and Climate Resilience
Moderator:
Josh Lieberman, OGC
Speakers:
Joshua Delmonico, FGDC
David Green, NASA
James Carey UKHO
Norman Speicher, DHS
Iain Burnell, DSTL

Afternoon Session: 1pm ET

Understanding the disaster oriented problem solving ecosystem from a state, province, and local level

Stakeholder roles and responsibilities
Josh Lieberman, OGC
The role of the local city during a disaster
Alan Leidner, NYC GIO
The role of state during a drought
Jonathan Duran, NSGIC
The role of NAPSG for first responders
Tari Martin, NAPSG
 Drought response in Canada and the Province of Manitoba
Mai Gagujas, Manitoba Emergency Measures Organization
Ryan Ahola, NRCan
CEOS Analysis Ready Data
David Borges, NASA
Tim Stryker, USGS
Industry Lightning Talks:
Aaron Gussman, Google
Barry O'Rourke, Compusult
Darren Butler, AEVEX Aerospace
Lain Graham, ESRI
Disasters and Societal Data
Greg Yetman, University of Columbia
Alan Leidner, NYC Geospatial Information Systems and Mapping Organization (NYC GISMO)
Baig Furqan, University of Illinois
Day 1 Closing
Ingo Simonis, OGC

December 7th
Morning Session: 9am ET

Disaster Readiness outcomes of the OGC Disasters pilot for flooding & landslides

Disaster initiatives accomplishments
Josh Lieberman, OGC
Climate initiatives accomplishments 
Nils Hempelmann, OGC
The value of public-private partnerships and international cooperation
Eldrich Frazier, USGS
Panel: Past experience addressing disasters in OGC initiatives
Ryan Burley, Geosolutions
Shayna Solis, Navteca
Dean Hintz, Safe Software
Ajay Gupta, HSR Health
Dave Jones, StormCenter Communications
New approaches to wildfire information innovation
David Green, NASA
Activities and goals in the 2023 OGC Disasters Pilot and Similar Initiatives
Mike Cosh, USDA-ARS
Ryan Ahola, NRCan
Todd Bacastow, MAXAR
Scale and agility in cloud native geospatial and mediated information tools 
Mark Korver, AWS

Afternoon Session: 1:30pm ET

Community scoping of Disaster Pilot 2023 - wildfires and drought

New tools and technologies for wildfire and drought
Sean Ahearn, CARSI
Antonio Correas, Skymantics
Sheila Steffenson, 1Spatial
Benjamin Pross, 52 North 
Keynote Speech
Sumit Gera, NRCan
Next Steps: a multi-year path forward for wildfire and drought
Nadine Alameh, OGC
Nils Hempelmann, OGC
Day 2 Closing
Ingo Simonis, OGC

December 8th
Morning Session: 9am ET

Highlights of OGC's Collaborative Innovation & Solution programs

Introduction and Objectives
Nadine Alameh, OGC 
Workshop Outcomes 
Ingo Simonis, OGC
Testbed Highlights
Josh Lieberman, OGC
FMSDI Highlights
Sina Taghavikish, OGC
Modernizing Spatial Data Infrastructure
Josh Lieberman, OGC
Looking ahead toward climate resilience, digital twins, analysis-ready data, and more
Nadine Alameh, OGC

Afternoon Session: 12:30pm ET

Closed session for OGC Strategic Members
---
Event Location:
Trajectory Event Center
13665 Dulles Technology Dr #150
Herndon, VA 20171
If you have any questions regarding the event or your registration, email info [at] ogc.org (Subject: OGC%20Innovation%20Days) .
Housing Details:
The Homewood Suites by Hilton Dulles Int'l Airport, located at 13460 Sunrise Valley Dr., Herndon, VA 20171 is conveniently located 6 minutes walk away from the meeting site. The rate is $159.00 per night plus tax and is available until November 12. 
Reserve housing using this link: https://www.hilton.com/en/book/reservation/deeplink/?ctyhocn=WASDLHW&groupCode=CHWOGC&arrivaldate=2022-12-06&departuredate=2022-12-08&cid=OM,WW,HILTONLINK,EN,DirectLink&fromId=HILTONLINKDIRECT
Thank You Sponsors and Supporters:
The OGC Innovation Days would not be possible without the support of organizations across the globe. The organization feels that location is everywhere, and that open standards and interoperable technologies will lead to a future for FAIR data. Thank you:
Sponsor or Support the OGC Innovation Days Event
Participating Organizations: