Défi GéoHack 2014 "Geo Challenge-Hackathon" Tackles Real-world challenges in City of Québec
On October 8th in a unique one-day event called Défi GéoHack 2014 (or "Geo Challenge-Hackathon") 25 passionate geospatial developers gathered.  The event was held in Quebec City in Canada during the international GeoConference 2014. This event was a hackathon for developers, integrators, designers, cartographers and citizens, all of whom became absorbed in addressing a mix of challenges submitted by real « seeker » in the world of GIS in Québec and surrounding area.
Real problems were submitted by the City of Québec, City of Montréal, Ministry of Culture and Communication of Québec, University Laval and Ministry of Public Safety of Québec. Six projects were based and oriented on open data, standards and web mapping applications. This event was sponsored by: Hydro-Québec, OSGeo-Québec and the Canadian Institute of Geomatics – Montréal Branch. The Open GeoSpatial Consortium (OGC) was a supportive partner of Défi GéoHack 2014. (See OGC's event notice).
Three cash prize rewards were given to the best demonstrations and projects, as judged by participants and sponsors. The OSGeo-Québec Award was given to the best project using OSGeo open source software, as voted by a formal jury. The use case was road overcrowding analysis using GIS tools and crowd-sourcing open data. An application launched by the City of Québec won the award. GIS solutions supporting the application were: PostGIS, OGR, MapCache (TMS Base map), MapServer, styling GeoJSON in Leaflet and imposm. The source code is available.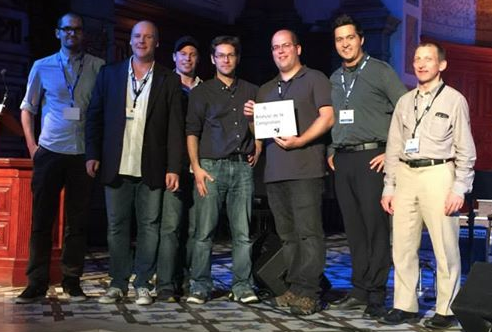 The Canadian Institute of Geomatics – Montréal Branch award was given to the most popular project, as voted by the participants. The aim of the winning project was to develop an online self-guided tour of the University Laval Campus. This mobile application uses the geolocation of the user on the Campus as a starting point. This project was realized with CartoDB and Leaflet, while incorporating GeoJSON data on the map. The source code is available.
The Hydro-Québec award was given randomly to one of the projects for their participation. The winning team developed a viewing tool of aerial photographs of Montréal published in OGC Web Map Server (WMS) Interface Standard. The tool uses uses the GetFeatureInfo capability in WMS to enable users to preview these aerial photographs files. This project was implemented using MapServer and OpenLayers.
Other projects of the Défi GéoHack 2014 are also available online, such as the aggregation of cultural heritage photographs in Quebec and the viewing tool of public emergency alerts using the Common Alerting Protocol, published as WFS in GeoJSON output format.
Congratulations to all teams for their achievement and thank you to the sponsors of the event!
Thanks to Nicolas Loubier (OGC rep) for his English translation of this post. He attended the DefiHack event. Thanks also to two others who contributed to this post: Nicolas Delffon, Project manager at Effigis, and Simon Mercier, Vice president at Mapgears Solutions.
Nicolas Gignac serves as GIS Specialist at the Ministère de la Sécurité publique du Québec.